A gender affirming care ban is now in effect in North Carolina. The new law prohibits the initiation of any gender-affirming care in NC for people under the age of 18, including puberty blockers, gender-affirming hormone therapy, and surgery. However, it does not restrict care that has  already been initiated. And young people who were already receiving a "course of treatment" prior to August 1, 2023 can continue receiving that care.
The Campaign for Southern Equality is working with Equality NC and partners across North Carolina to provide resources and information to impacted families. Please use this form below to request more information.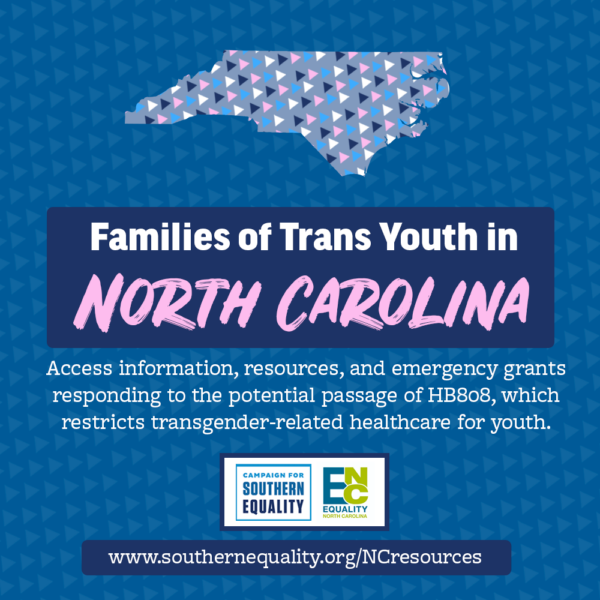 Resource Guide About HB808
We know this is a very challenging time filled with many questions. The Campaign for Southern Equality, Equality NC, and other partners have developed a resource guide with up-to-date information and concrete resources about the law and how families can get support. 
North Carolina Town Hall About HB808 & Other Laws
On Monday, August 21 at 7pm ET, ACLU of NC, Campaign for Southern Equality, Equality NC, and Planned Parenthood South Atlantic hosted a virtual event focused on helping families understand a slate of anti-LGBTQ+ legislation that has passed in North Carolina. At the event, we discussed the new laws and shared resources that are available, including patient navigation support, referrals to out-of-state gender-affirming care, and emergency grants for families of transgender youth.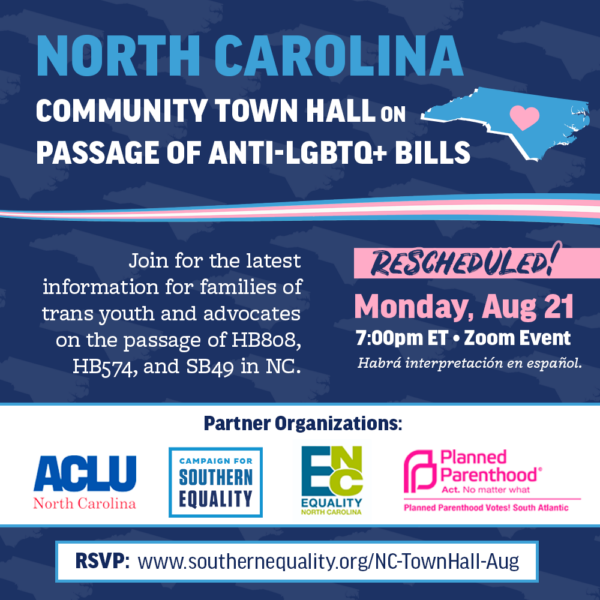 Emergency Grants & Patient for Impacted Families
The Campaign for Southern Equality is facilitating rapid response emergency grants of $500 to help parents and caregivers to youth who would be directly impacted by HB808 during this challenging time. Grants can be made to the parent/caregiver of an impacted youth. To learn more about these grants and to request one, fill out the form below.
Digital Toolkit to Spread the Word
It is critical that we get the word out to families and young people about resources that are available, including support identifying in-state and out-of-state care and emergency funding. Thank you for helping to share information with your networks. Please use these templates to share information with your email lists, social media networks, and in-person community spaces.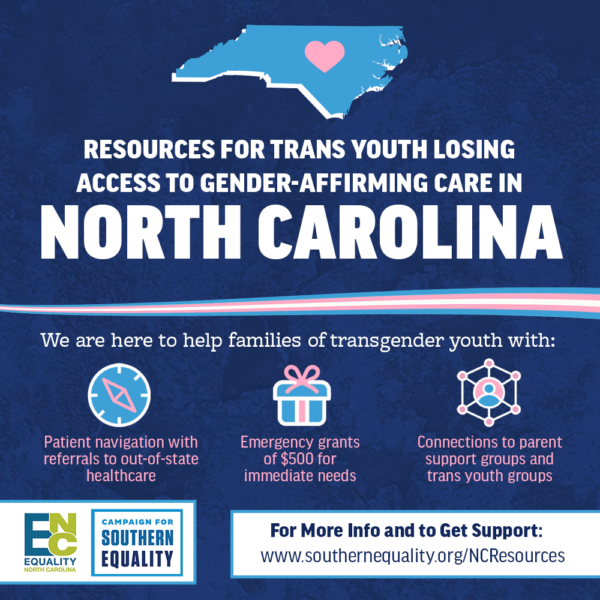 Send a Message About These Resources
This form is intended for transgender individuals (especially those under the age of 18) and their parents/caretakers who would be impacted by the passage of HB808  which prohibits the initiation of transgender-related healthcare in North Carolina for people under the age of 18 after August 1, 2023. After filling out this form, a representative of Campaign for Southern Equality will reach out to you via email or phone and begin assisting you.
This post is also available in: Español (Spanish)