Until they repeal it, we will resist it.

Why #DefyHB2?
#DefyHB2 is a new campaign to resist HB2. HB2 continues to be disaster for North Carolina; you can read the full text of the law here. Thousands of people have protested its attempt to mandate discrimination against transgender and other LGBTQ North Carolinians. A national boycott has cost our state millions of dollars and hundreds of jobs. NC is being sued US Justice Department for breaking civil rights laws. Even the legislators who passed it know how bad it is, and they made a deal to repeal it—although they broke their promise, as soon as they got what they wanted from the deal. But they forgot that in a democracy, the politicians are only borrowing the power of the people. If they won't repeal it, we will resist it.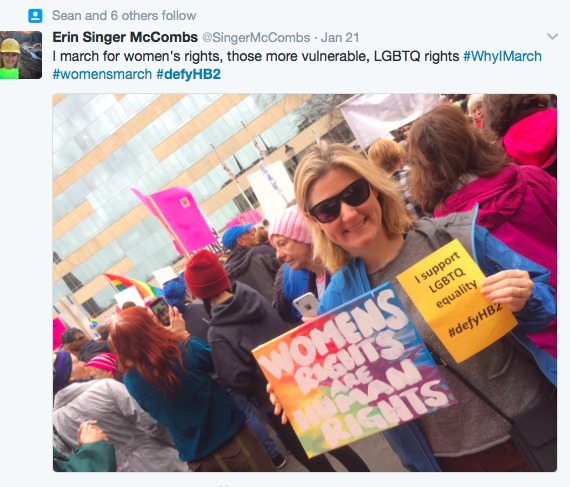 Ready to get started?
Here are three simple ways that anyone can use social media to #DefyHB2 right now:
      Post a selfie saying "I STAND FOR LGBTQ EQUALITY IN NC" and use the #DefyHB2 hashtag. Feel free to get creative!
      Post a shout out to your favorite business or organization that pays a living wage or has gender inclusive restrooms. Example: ".@HighFiveCoffee, thx 4 having all-gender restrooms & paying living wage #DefyHB2"
      Challenge your city or county on social media to protect LGBTQ people from discrimination in public accommodations. Example:  "[your town] #defyHB2 and pass non-discrim protections for LGBTQ people"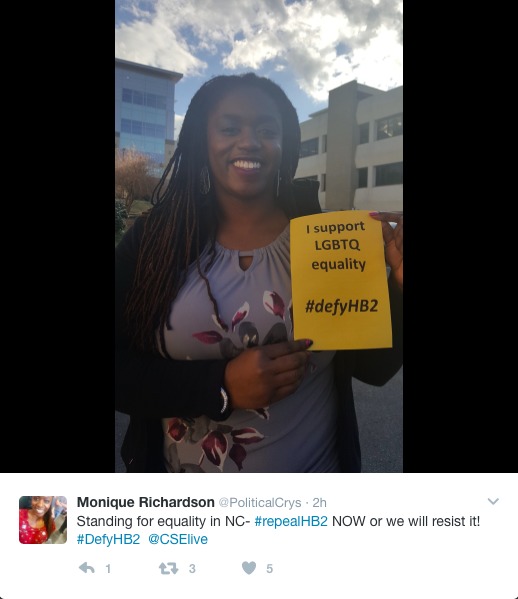 If you're ready to do more than just post, check out #DefyHB2 – Act Now for actions that take an even stronger stand against HB2.
What should I say?
We encourage posts that are positive and encouraging; there's enough name-calling online already. Show your support for LGBTQ equality. Celebrate businesses, organizations and employers that are LGBTQ-friendly, pay a living wage, or have gender inclusive facilities. Encourage your town or county to pass an inclusive non-discrimination law. Use pictures, gather friends, be creative. Most important, remember the hashtag #DefyHB2!
Is posting on social media really breaking the law?
It is not against the letter of the law, but it is against the spirit of the law. HB2 is an example of "expressive legislation."  It was never meant to be enforced, it was passed to make a point—part of the wave of anti-gay and anti-trans legislation that has come as a backlash against marriage equality and other legal and legislative victories by the LGBTQ community.
By posting your support for LGBTQ people, trans-friendly organizations and businesses, and encouraging your town or county to pass an inclusive non-discrimination ordinance, you are exercising your own right to 'express' a vision of an inclusive and welcoming North Carolina, which defies the intolerant, bigoted representation of our state that the General Assembly has created.
Is there more I can do than just post on social media?
Yes, much more! Check out #DefyHB2 – Act Now. We offer a number of different strategies that individuals, businesses, employers, agencies, towns and counties can take to #DefyHB2. Some are simple, and some rise to the level of civil disobedience—intentionally breaking the law to show that it is unjust. We are here to support you every step of the way.
Won't we get into trouble for breaking the law?
Not with HB2. When they passed the law, the General Assembly neglected to include any way to enforce it. #DefyHB2 is a way to show that the emperor has no clothes—you could break the law right in front of the whole General Assembly, and they couldn't do a thing to stop you. 
For example, HB2 says that no city, town or county in North Carolina can enforce a non-discrimination ordinance that is stricter than that of the state—specifically targeting those local governments who had included non-discrimination protections for LGBTQ people. But the key word is 'enforce'.  They can't stop you from proposing it, they can't stop your town or county from passing it, and they can't keep it off the books. (It just wouldn't take effect until HB2 is repealed or until a court order).
If a trans person uses the bathroom that fits their gender identity, is that a way to #DefyHB2?
If that person wants it to be, then yes. We firmly believe that every person should be able to use facilities that match their gender identity, and they should be able to do so safely. We also know that transgender and gender non-conforming people are already at an increased risk of violence, harassment and discrimination. They are not the ones that need to change. That responsibility, and the focus of #DefyHB2, is on the businesses, organizations and agencies that provide public facilities, who have a moral obligation to make them safe and inclusive for people of all genders.
Why is paying a living wage in there too?
Although it got famous as the "bathroom bill," HB2 contains a number of other provisions, including one that says no county or municipality can require a minimum wage higher than that of the state. This part of the law targeted several cities and counties that were committed to paying a living wage (that is, paying people enough that one full time job is sufficient to meet the basic needs of a family). But the state has absolutely no authority to prohibit voluntary compliance with a living wage policy—any employer, public or private, can pay their workers fairly and provide them with decent benefits if they choose to do so. Studies show that paying a living wage dramatically increases worker satisfaction and employee retention—and you can #DefyHB2 at the same time.
Will this affect the national boycott of North Carolina?
When the General Assembly finally does repeal HB2, it will be because of the economic damage the law has done to our state—not because they've finally decided to do right by LGBTQ North Carolinians. It is important, though, that we #DefyHB2 to show the world that we oppose the bigoted, intolerant version of North Carolina that the General Assembly is trying to promote.
But the boycott is hurting many businesses. Locally, we should do everything we can to spend our money at businesses and organizations that are committed to supporting LGBTQ equality, providing gender inclusive facilities, and paying their workers a living wage.
Nationally, it will be interesting to see if corporations, tourists and sports events will make an exception to the boycott for cities that #DefyHB2.  
Shouldn't we still work to repeal HB2?
Yes, absolutely. And we urge you to contact your legislators again and again with that message. Please visit Equality NC's Action Center to do just that.
The power to repeal the law is in the hands of the General Assembly, and they have repeatedly refused to act. Even when they promised to repeal HB2, they broke that promise and the repeal never even came to a vote! We have to remind them that power lies with the people of North Carolina, not with back room deal making. We have the power to #DefyHB2, and they can't take that power away. Until they repeal it, we will resist it!
And of course, repealing HB2 isn't the end either. Ending a bad law isn't the same as passing a good one. The next challenge will be making sure that every LGBTQ person in North Carolina—and every other state in the South—has legal protection from harassment and discrimination in every part of their life.
What can I do if I don't live in North Carolina?
Stand with us! Wherever you are, workers need a living wage and LGBTQ people need respect, safety and equality. We invite you to #DefyHB2 with us—especially if you live in Texas or one of other states that is considering copycat legislation!