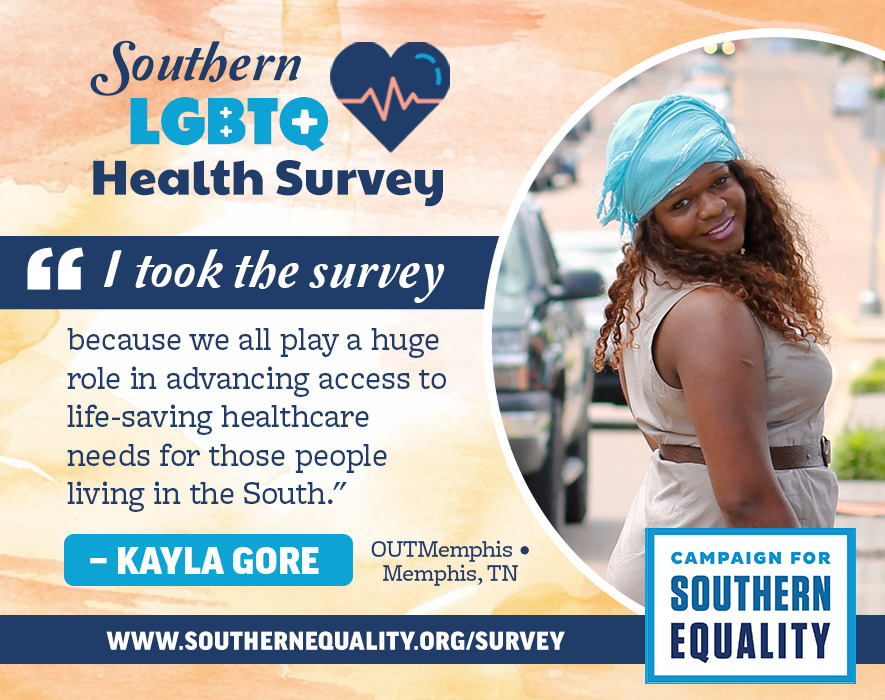 Share your experiences to help improve LGBTQ health care in the South! If you are an LGBTQ person who lives in the South and is 18 years or older, we hope you'll take part and also spread this to your networks!
English: www.surveymonkey.com/r/southernlgbtqhealthsurvey
Spanish: www.surveymonkey.com/r/EncuestadeSaludLGBTQdelSur
The survey is part of the Southern LGBTQ Health Initiative, a new collaboration between the Campaign for Southern Equality and Western NC Community Health Services to increase access to LGBTQ-friendly health care in the South. We want to thank the following organizations for their help in sharing this survey with as many Southern LGBTQ people as possible:
Supporting Partners:
Equality North Carolina
Gender Benders
South Carolina Equality
Latinos in the Deep South
Transcend Memphis
El Centro Hispano
The Montrose Center
Queer Appalachia
The PAIGE Memphis
POZ-Empowerment
ImpactOUT
Transcend Charlotte
Asheville Gay Men's Chorus
Twin Oaks Gathering
Beer City Sisters
AIDS Services Coalition
Dr. Amy Murphy-Nugen
Transform Houston
Nelway Ishkamewe
Mississippi Rising Coalition
Birmingham AIDS Outreach
Central Alabama Pride
Comunity Estrella
Relationship Unleashed
**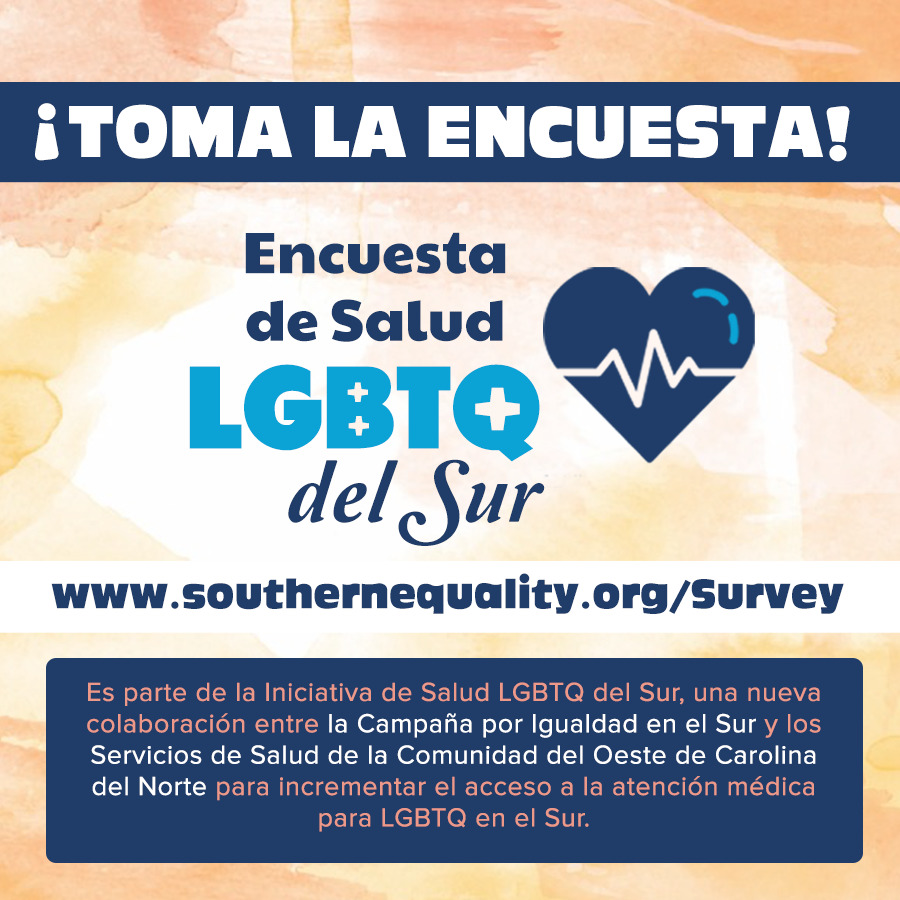 ¡Nos emociona anunciar que la Encuesta sobre la Salud LGBTQ Sureña ya está lista!
Esta encuesta ayudará a comprender mejor las experiencias de la población LGBTQ que vive en el Sur en relación con su salud y acceso a atención médica. Está disponible en inglés y en español y llenarla toma menos de 15 minutos. Si eres una persona LGBTQ viviendo el Sur, y tienes 18 años o más, ¡esperamos que participes y que también la compartas en tus redes!
Inglés: www.surveymonkey.com/r/southernlgbtqhealthsurvey
Español: https://www.surveymonkey.comr/EncuestadeSaludLGBTQdelSur
Esta encuesta es parte de la Iniciativa de Salud LGBTQ Sureña, una nueva colaboración entre la Campaign for Southern Equality y la clínica Western NC Community Health Services que busca aumentar el acceso a servicios de salud amigables con la población LGBTQ en el Sur.Queremos agradecer a las siguientes organizaciones por su ayuda compartiendo esta encuesta con tantas personas LGBTQ Sureñas como sea posible:
Equality North Carolina
Gender Benders
South Carolina Equality
Latinos in the Deep South
Transcend Memphis
El Centro Hispano
The Montrose Center
Queer Appalachia
The PAIGE Memphis
POZ-Empowerment
ImpactOUT
Transcend Charlotte
Asheville Gay Men's Chorus
Twin Oaks Gathering
Beer City Sisters
AIDS Services Coalition
Dr. Amy Murphy-Nugen
Transform Houston
Nelway Ishkamewe
Mississippi Rising Coalition
Birmingham AIDS Outreach
Central Alabama Pride
Comunity Estrella
Relationship Unleashed