TurnOUT Asheville is a coalition of LGBTQ organizations working to turn out LGBTQ people and allies to vote in the 2017 Asheville City Council election and call for pro-LGBTQ policies. TurnOUT Asheville is coalition of non-partisan 501c3 organizations  – Campaign for Southern Equality, Tranzmission, Blue Ridge Pride Center and the Equality NC Foundation – working on issue-based advocacy, voter registration and turnout.
On October 25th, all six candidates for Asheville City Council took part in a TurnOUT Asheville forum focused on LGBTQ issues. Watch the full video here.
Asheville has a long history of leadership around LGBTQ civil rights. Especially in our current climate, we believe progressive cities have a critical role to play in advancing the next generation of pro-LGBTQ policies.
We support Asheville passing pro-LGBTQ policies that are already in place in other North Carolina cities, including:
1) Greensboro's inclusive Fair Housing Ordinance;
2) Charlotte's Community Relations Department; and
3) Durham's LGBT Liaisons to the City Executive.
We also support Asheville passing an inclusive non-discrimination ordinance that will go into effect when HB142 is struck down or expires (Dec. 1, 2020), whichever comes first. Asheville would be the first city in North Carolina to do so.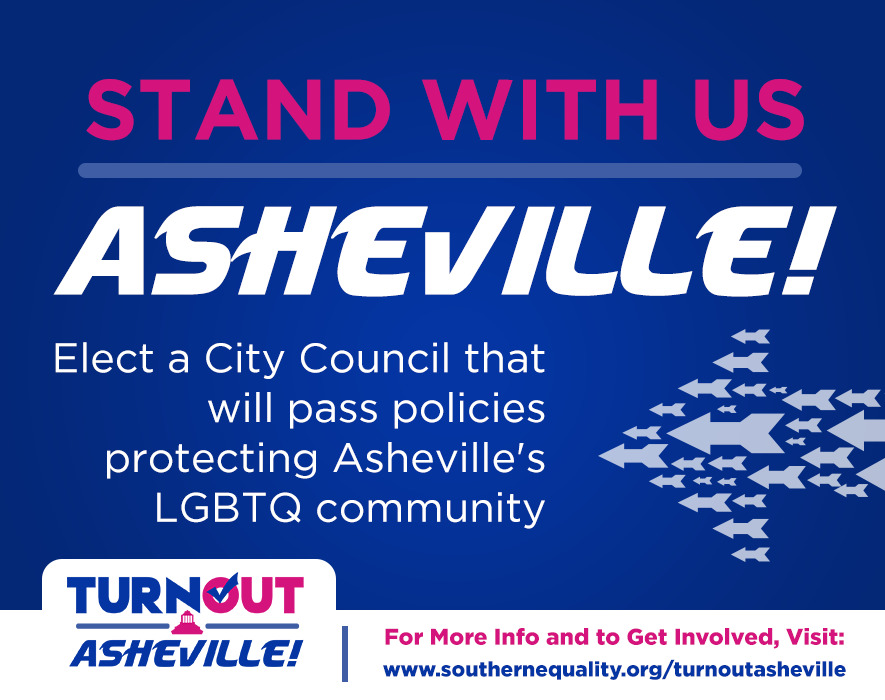 Pledge to Vote: 
Click here to pledge that you'll TurnOUT to vote in Asheville as a LGBTQ person or ally.
Voting Information:
Election Day is November 7th and polls are open from 6:30 AM to 7:30 PM across Asheville. Click here for more information and to look up your polling place.