Fighting Back Against HB142
Join us in Asheville on August 22nd as the ACLU of NC's Legal Director Chris Brook will provide updates about their new federal lawsuit challenging HB 142, the anti-LGBTQ law that replaced HB 2.
Jasmine Beach-Ferrara of the Campaign for Southern Equality will host a community conversation featuring Equality NC, Tranzmission and Blue Ridge Pride. We'll be talking about how to push for LGBTQ protections and equality at the local level – including schools, cities , counties, businesses and faith communities – in our current landscape.
Co-Sponsored by the Campaign for Southern Equality and the ACLU of North Carolina and its Western NC chapter. This event is free and open to the public.
LGBTQ Health Initiative Launches in Asheville to Promote Innovation
The Campaign for Southern Equality (CSE) is providing a grant of $10,000 to Western NC Community Health Services (WNCCHS) to support its leadership and innovation in LGBTQ health, including its Transgender Health Program and HIV/AIDS services.
WNCCHS and CSE are joining together to form this new LGBTQ Health Initiative to improve access to primary health care and support services for LGBTQ people across the 18 counties of Western North Carolina. The partnership will also collaborate on developing resources and trainings to support other Southern community health centers in offering LGBTQ-friendly primary health care and support services.
"The combined impact of discrimination and disparities impacts LGBTQ people's health and well-being. We start by asking what it will take for LGBTQ Southerners to survive, be healthy and thrive. Access to respectful, quality health care and legal services is a key part of the answer. We're thrilled to embark on this next chapter of our collaboration with WNCCHS, which has been a pioneer in LGBTQ healthcare in Western NC – and across the South," says Rev. Jasmine Beach-Ferrara, Executive Director of the Campaign for Southern Equality.
Voting and LGBTQ Rights: CSE Launches Voter Registration Drive
Limited legislative power and a lack of elected representation are two classic symptoms of political powerlessness. LGBTQ Southerners face both. This is part of why a law like North Carolina's HB142 passed even though the LGBTQ community vehemently opposed it.
As we work to overturn laws like HB142 that target our community, it's vitally important to build political power for the LGBTQ community. And you can't build that power without voting.
That's why we're excited to announce a new partnership with Democracy NC to register voters across Asheville heading into the 2017 municipal elections. You'll see our staff team and volunteers out and about making sure LGBTQ folks are registered to vote and understand the power of casting a ballot in the city election this fall.
We're also announcing #QueertheVote, a new round of Southern Equality Fund grants.
We'll be making grants to support grassroots voter registration and turnout efforts. And anyone in North Carolina who receives a grant is eligible to receive training from Democracy NC.
The grant cycle opens right now and will run through September 1. You can apply as an individual or a group and 501c(3) status is not required to receive a grant.
The LGBT South is a weekly email newsletter, compiling national, regional, and local news important to LGBT Southerners. Subscribe to get the latest edition to your inbox every Friday morning and keep up with what the Campaign for Southern Equality is up to!
Trump Administration Targets LGBTQ People
The Campaign for Southern Equality opposes President Trump's reckless announcement about banning transgender people from serving in the military.
Of course, early morning tweets from the President don't automatically rewrite Department of Defense policy. An estimated 15,000 trans folks are currently serving in the military and we applaud the bravery of those who are speaking out to oppose this directive from Trump.
Last night also brought news that the Department of Justice has argued against employment protections for gays and lesbians.
What is abundantly clear is that, from the White House to the DOJ, the Trump Administration is making LGBTQ people a target, just as they have other minority communities. We are more committed than ever to fighting for full equality.
Join us in standing up for trans equality right now:
1) Call the White House at 202-456-1111 and demand that President Trump clarify that transgender people can serve in the military.
2) Raise your voice on social media to support the trans community and condemn Trump's announcement.
Mississippi's HB 1523: Update and Fact Check
On June 22, 2017, a three-judge panel from the 5th Circuit ruled that plaintiffs in our challenge to HB 1523 – the most extreme anti-LGBT law in the nation – do not have standing to challenge this law. On July 6, 2017 our Legal Team filed a petition for review by the full 5th Circuit.
HB 1523 is not in effect in Mississippi. Passed in spring 2016, HB 1523 would empower Mississippi officials, state employees, and private individuals who hold certain religious beliefs to deny a wide array of services to LGBT individuals. Under the law, Mississippi clerks could refuse to provide marriage licenses to same-sex couples, public school counselors could turn away LGBT or questioning youth in crisis, and a cab driver could eject a same-sex couple en route to the airport to celebrate their honeymoon. Follow our challenge to HB 1523 here.

Safe Schools, Safe Communities: New Funding Available

Do you  need funding for your work? We've just launched Safe Schools, Safe Communities, a new round of rapid response grants to promote safety in schools and communities across the South.
We're open to all kinds of ideas. If it will make your community safer, we want to hear about it – whether you're organizing a rally to speak out against violence against trans women of color; hosting trainings to provide sanctuary for undocumented immigrants; educating legislators about the importance of access to affordable healthcare; or building a coalition of staff, faculty and parents to reduce bullying against LGBTQ, immigrant and Muslim students.
We need all of these efforts and more to protect and defend those who are most vulnerable in our communities across the South.
Click here to apply for funding today. Grants are up to $500 and, once you apply, we'll get back to you within one month.
We believe that organizers on the frontlines of the Southern LGBTQ movement can transform our region—but they need the funding and support to do so. Through our Southern Equality Fund, CSE redistributes a percentage of our funding to grassroots leaders doing vital and transformative work in their communities across the South. The fund prioritizes groups and individual leaders whose access to funding and support is limited due to barriers such as not having 501c3 status, or being located in a rural area.
Trans in the South: A Guide to Services and Resources
New data from the Williams Institute shows that more than 300,000 trans folks call the South home. Too often, they face a lack of resources and support. We often hear stories of people going without medical care or traveling hours to reach a doctor who will treat them with respect. That's got to change. 
To respond to that need, the Campaign for Southern Equality is releasing Trans in the South: A Guide to Resources and Services.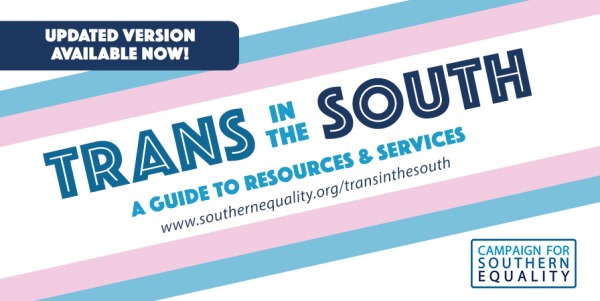 In the pages of this edition of Trans in the South you'll find lists of trans-friendly service providers – from doctors to attorneys to counselors – across the South as well as resources to assist with funding medical transition.
You can download a PDF of Trans in the South: A Guide to Resources by clicking here.
This information has been collected and vetted by Ivy Gibson-Hill, our LGBT Rights Toolkit Coordinator. We hope this resource guide helps people access the services they need to survive and to thrive.
Based in Asheville, North Carolina, the Campaign for Southern Equality is a non-profit organization that advocates for the full equality of LGBT individuals and families across the South.