Every school, every home, and every community should give every child the message that they are safe, respected and loved for exactly who they are. The Supportive Schools Program provides training, policy guidance, and assessment services to assist schools in becoming more inclusive and welcoming for students of every sexual and gender identity. Through the program, CSE also advises and advocates on other LGBTQ youth-related issues and policies, and supports the formation and networking of school GSA's and other youth organizations.
Supporting Local Organizing
Most of the progressive change happening in Southern school districts stems from the local organizing efforts of students, educators, parents and guardians. The CSE Supportive Schools staff support these local organizers by providing guidance, advice and support, connecting them with other resources in their state or region, offering opportunities to apply to the Southern Equality Fund, and using our communications platforms to share their stories and successes.
Policy Guidance and Advocacy
In the past, many schools have not had clear policies on how to protect and support LGBTQ students. As young people come out in record numbers, even in politically conservative counties, many school districts are struggling to become be a safe and affirming place for all their students. We are happy to provide models of LGBTQ-inclusive policies from other schools and school districts, provide guidance on how to implement these with a minimum of conflict, and offer suggestions for best practices from the classroom to the school to the district level.
Trainings and Workshops
We commonly hear from educators that they want to support their LGBTQ students, but they aren't sure how, and they know there's a lot they don't know. Our Supportive Schools team offers workshops and trainings that cover understanding LGBTQ terms and concepts, best practices for schools and classrooms, guidance on school and district policy, and discussions on how to become a more supportive school. Our training region focuses on Western North Carolina and upstate South Carolina, and we may be able to provide a referral to training resources in other parts of the South.
Targeting Anti-LGBTQ State Laws
The Campaign for Southern Equality is always scanning for opportunities to repeal or strike down anti-LGBTQ laws, and we have worked specifically on litigation centered on the freedom to marry, the freedom to adopt, and anti-LGBTQ laws like SB2 in North Carolina and HB1523 in Mississippi. We are also eager to explore challenges to anti-LGBTQ curriculum laws, which are on the books in South Carolina, Texas, and Alabama. These laws create a negative climate for students and block critical learning opportunities for young people considering their LGBTQ identity, often for the first time.
Supportive Schools for LGBTQ+ Students: A Guide to Policies and Best Practices
Supportive Schools for LGBTQ+ Students: A Guide to Policies and Best Practices, published September 2022, provides recommendations for schools that are seeking to create safe and supportive educational environments for all of their students, including students who identify as LGBTQ+.
This guide is written for anyone who shapes or is affected by policy and practices at K-12 public, private, and charter schools in the United States, with a particular focus on schools in the Southeast. Administrators and school board members are encouraged to use it as a guide to crafting or revising school and district policies. Students, family members, teachers, and other school staff are encouraged to use it as a 'know your rights' resource and as a tool for advocacy with a school or district.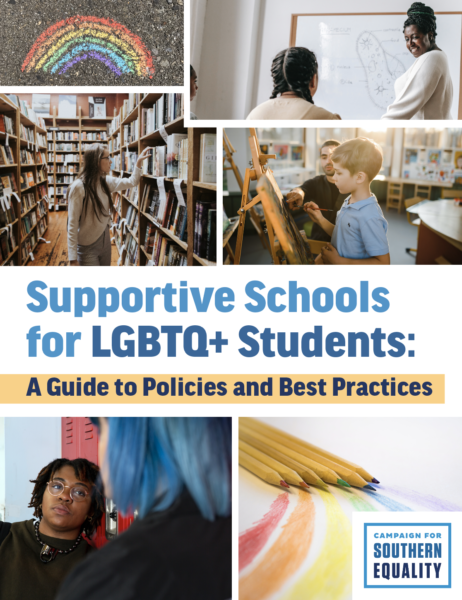 Urging the Department of Education to Support LGBTQ+ Students
On August 23, 2022 the Campaign for Southern Equality's Supportive Schools Director Craig White submitted a comment urging the Department of Education to approve as written the proposed rule Nondiscrimination on the Basis of Sex in Education Programs or Activities Receiving Federal Financial Assistance. "There are LGBTQ children and youth in every community and every school in the South, and yet only a handful of school districts have passed proactive policies to protect and support LGBTQ+ students," he wrote.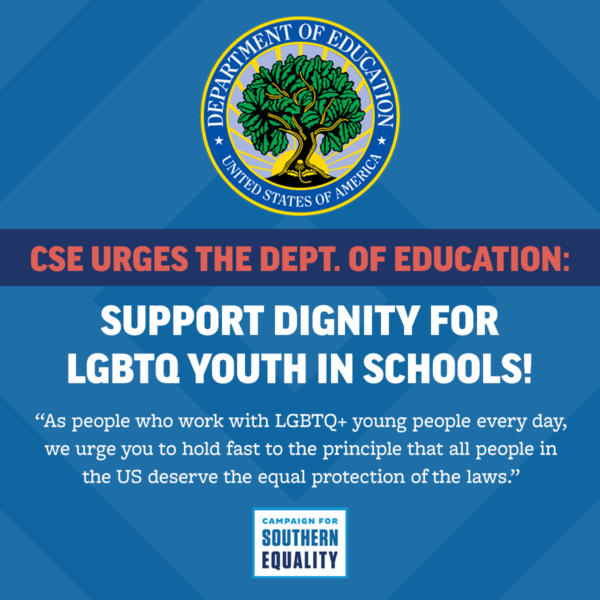 Knowing Your Rights & How to Fight for Them
Schools should be safe places where every student is treated with respect and receives a quality education. And yet, in 2021 and 2022 schools were once again being dragged into the culture wars, even as they faced real challenges related to being under-resourced, under-staffed, and grappling with the COVID-19 pandemic. Against that backdrop, it is critical that LGBTQ+ students, staff and faculty know your rights under the law and how to stand up for them. This series of blog posts, published in January 2022, shares insight for students, faculty/staff, and administrators.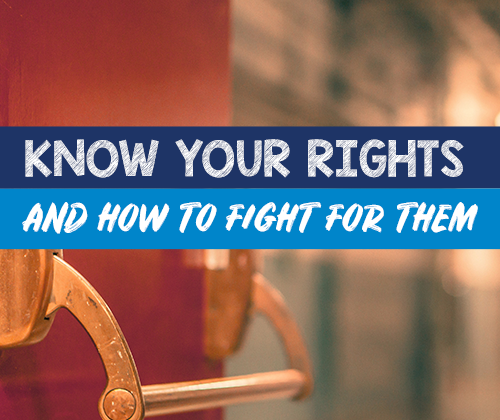 Summits and Conferences
In this dynamic time for organizing and advocacy for equality in the schools, coming together for support and learning is critical. In 2019, CSE worked with Youth OUTright WNC to organize a GSA Summit for LGBTQ+ student groups and leaders and educators in Western North Carolina. We offer an opportunity to seek Southern Equality Fund support for GSA gatherings in other regions. Our staff also travel to present on advocacy efforts and school best practices at conferences around the South.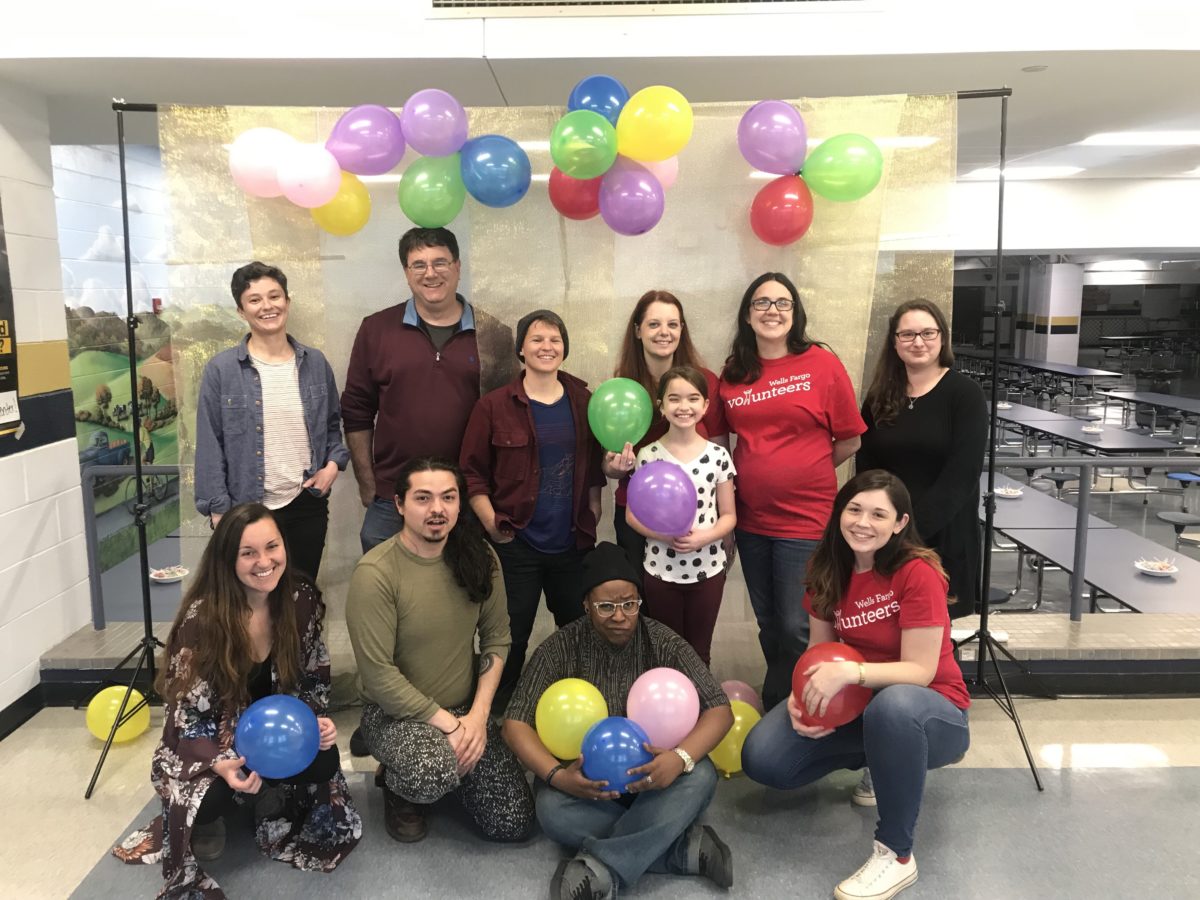 Protecting Young People from 'Conversion Therapy'
The Campaign for Southern Equality drives action and engagement around legislation at the state and federal level, including a specific push to protect young people from anti-LGBTQ 'conversion therapy.' In March 2019 we partnered with Equality NC to launch Protect Our Youth NC, and in August 2019 we celebrated as Gov. Roy Cooper signed an executive order cutting off public funding to the discredited, dangerous practice.