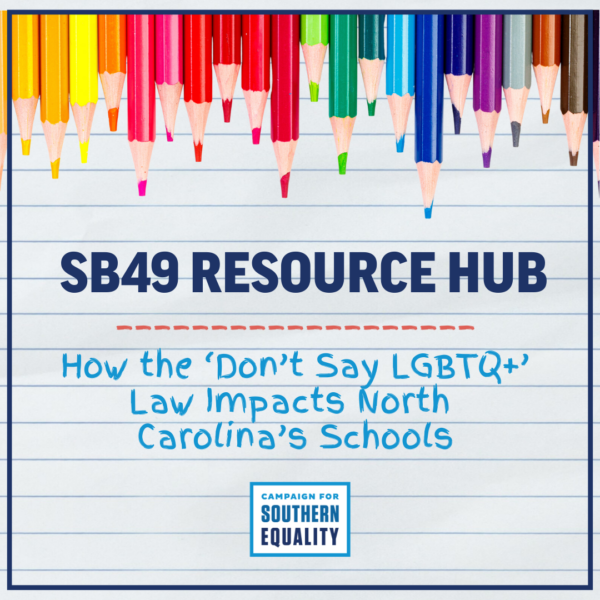 Senate Bill 49, also known as North Carolina's "Don't Say LGBTQ+" bill, was enacted in August 2023 following the NCGA's override of Governor Roy Cooper's veto. The anti-LGBTQ+ curriculum censorship and school policy law is a cruel attack on LGBTQ+ students and educators. Its implementation is currently being determined by individual school districts in North Carolina, and it's up to all of us to push back, speak out, and take action against this shameful law. 
This S.B. 49 resource hub compiles information about the law, why it is in stark violation of federal law, and how you can take action.
What is S.B. 49 and What is its Impact on North Carolina Schools?
S.B. 49 censors LGBTQ+ students themselves and LGBTQ-related school curriculum in a number of ways, including the following:
Prohibiting the discussion of gender identity, sexual activity, or sexuality in Kindergarten-4th grade
Requiring that schools create a process for parents to inspect and review all textbooks and instructional materials that will be used in their child's school, as well as access their child's records at the school library
Requiring that school personnel notify parents about changes in the name or pronoun used for a student at school. This has been called the "forced outing" provision of the law.
The impact of S.B. 49 is already being felt in North Carolina. It is a disturbing attempt to take away two proven lifelines from LGBTQ+ students in North Carolina: supportive teachers & school materials/books that affirm their identity.
Want to learn more about S.B. 49? View this FAQ document compiled by Equality NC, Campaign for Southern Equality, and Planned Parenthood South Atlantic.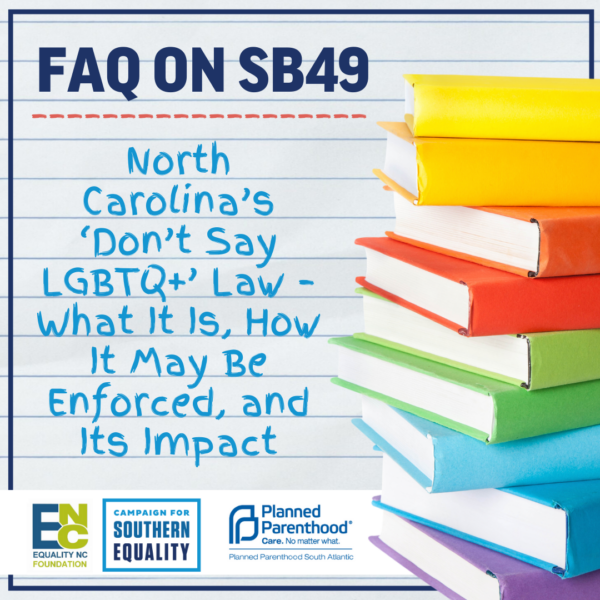 Memo: How S.B. 49 Violates Title IX
In October 2023 the Campaign for Southern Equality published a legal memorandum about S.B. 49. The memo highlights the many ways S.B. 49 creates a hostile educational environment for LGBTQ+ students. In doing so, S.B. 49 violates Title IX of the Education Amendments of 1972, a federal law that bars discrimination based on sexual orientation and gender identity in schools. 
The memo, which has been shared with the General Counsel of the North Carolina Department of Public Instruction and local Boards of Education, explains how school districts cannot both follow S.B. 49 and remain in compliance with Title IX. As a result, the Campaign for Southern Equality recommends that compliance with S.B. 49 be postponed or suspended until the Department of Public Instruction has had a chance to address the Title IX issues prompted by S.B. 49.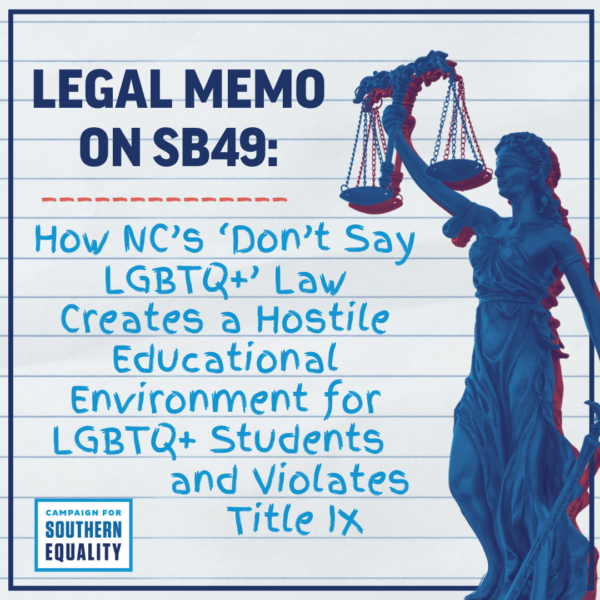 Take Action in Your School District
You can use these template letters to take action in your school district and let them know that there is no way to implement anti-LGBTQ+ elements of SB49 and maintain compliance with federal Title IX requirements. Just open the file, click "USE TEMPLATE" in the top-right corner, delete the top portion, and fill in the blanks with your information, expanding with any additional details you'd like.
Model Notice of SB49 Non-Compliance
This letter may be used by North Carolina school staff and faculty to notify your principal or superintendent that you refuse to comply with policies based on SB 49 that create a hostile educational environment for students. Be sure to attach the "Campaign for Southern Equality Memo" to the Department of Public Instruction as your legal evidence. The letter may be revised from "we" to "I" if a single staff or faculty member signs.
Model Title IX Complaint
This model Title IX complaint can be used by parents, students, or educators who have
concerns about actions their school or district has taken to comply with SB49. Be sure to include the "Campaign for Southern Equality Memo" for your legal evidence.
Your school policies should include information about who the Title IX Coordinator is, and how to submit the complaint. The Coordinator should investigate the allegation and provide you with a response in writing. If you are not satisfied with the response, you can appeal the decision to the Office of Civil Rights at the US Department of Education.
News Stories About S.B. 49
Speaker's Guide About SB49
Want to speak out against SB49 in your community? It can be confusing to wrap your head around all of the harmful components of the law – so take a look at this SB49 Speaker's Guide to get yourself prepared to speak about this at a School Board meeting, in the media, or in one-on-one conversations in your life.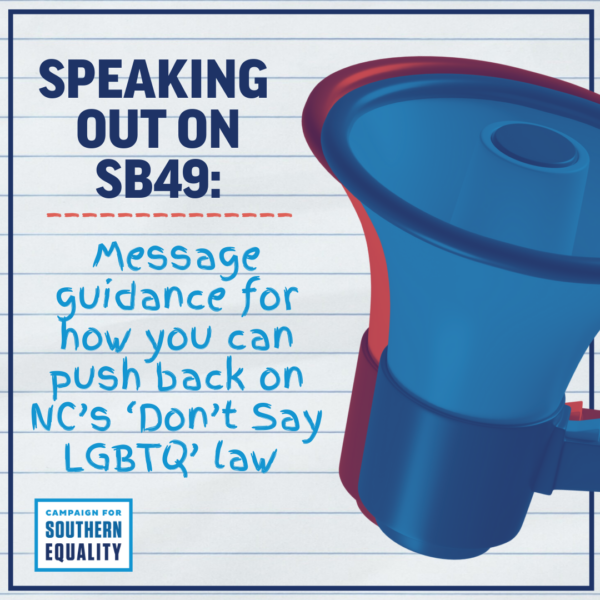 Videos: Speaking Out Against S.B. 49 at Asheville City School Board Meeting
At the October 9, 2023 meeting of the Asheville City Schools Board of Education, team members from the Campaign for Southern Equality spoke against S.B. 49, shared details of our legal memo that highlights why S.B. 49 violates Title IX, and urged the Board to press pause on implementing the harmful law.
Craig White
Allison Scott
Jasmine Beach-Ferrara
Report an Incident or Share How S.B. 49 is Impacting You:
Have you seen S.B. 49 or other anti-LGBTQ+ activities implemented in your school? Or do you want to share how you worry about S.B. 49 impacting your life in North Carolina? Please use this form below to share your story.
Blog Post: Stories of Resistance
Now that North Carolina has joined Florida and Alabama in passing broad anti-LGBTQ+ youth policy bills, known as the so-called "Don't Say LGBTQ+" policies, we're getting more questions than ever about how parents, teachers, and families can act.
Working with the Supportive Schools team at the Campaign for Southern Equality, we have access to things that don't make the news, as well as stories and rumors. In a September 2023 blog post, our team shares stories that we've heard in our work, as well as stories that have made the news, of how LGBTQ+ and allied students, teachers, parents, and educators are rising up against anti-LGBTQ+ education policies.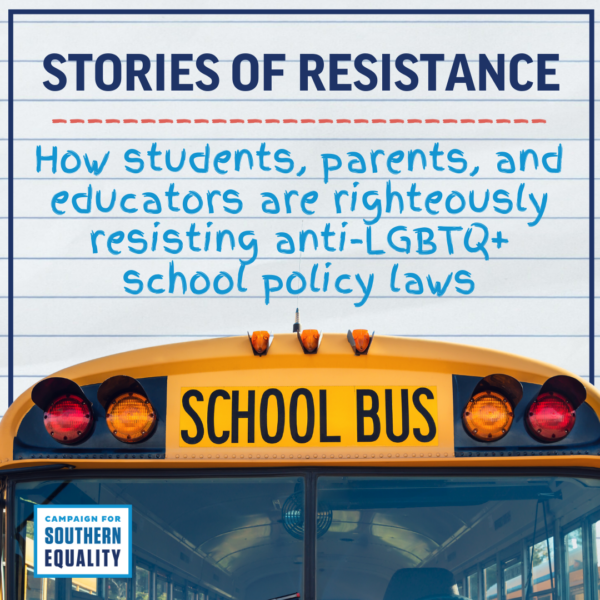 Make a Donation
The Campaign for Southern Equality is working to resist oppressive legislation, including S.B. 49 in North Carolina, and support families grappling with the barrage of anti-LGBTQ+ legislation that has passed in recent years. Your donation helps fuels our work.
Donate to CSE