Trans in the South: A Guide to Services and Resources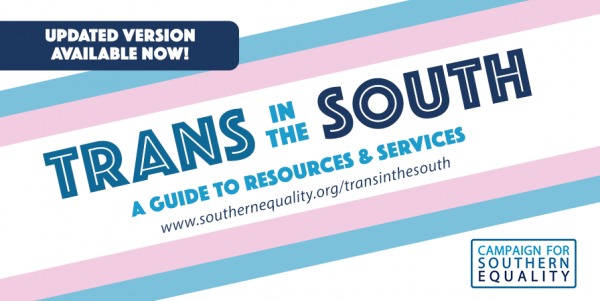 In this new edition of Trans in the South, you'll find lists of trans-friendly service providers – from doctors to attorneys to counselors – across the South as well as resources to assist with funding medical transition. And we've significantly expanded resources related to HIV/AIDS services and added resources that offer support services for trans folks.
Nationally, data shows that approximately a quarter of transgender people don't seek out healthcare at all because we fear discrimination.
Please help us get these resources into the hands of the 500,000 trans folks who live in the South by sharing this guide through your networks.
Southern Equality Fund – 2017 Annual Report

Since 2015, the Campaign for Southern Equality has given out $96,848 in grants to 155 LGBTQ organizers and groups across 12 Southern states!
We've created a new annual report to tell the story of the Southern Equality Fund and of an incredible group of grassroots LGBTQ leaders and groups that are transforming the South.
Mississippi's HB1523: Updates and Resources
HB1523, the nation's most sweeping anti-LGBT law, is in effect across Mississippi.
People who experience discrimination can report it to the Campaign for Southern Equality by calling or texting our hotline (828.242.1559), by email (info@southernequality.org), through this online form, or by posting at our Facebook page (www.facebook.com/southernequality). Our team of attorneys, clergy and organizers will respond with support and resources.  
The law authorizes Mississippi officials and service providers, such as doctors and store owners, to recuse themselves from serving LGBT individuals on the basis of three specific religious beliefs about gay marriage, transgender individuals, and sex before marriage.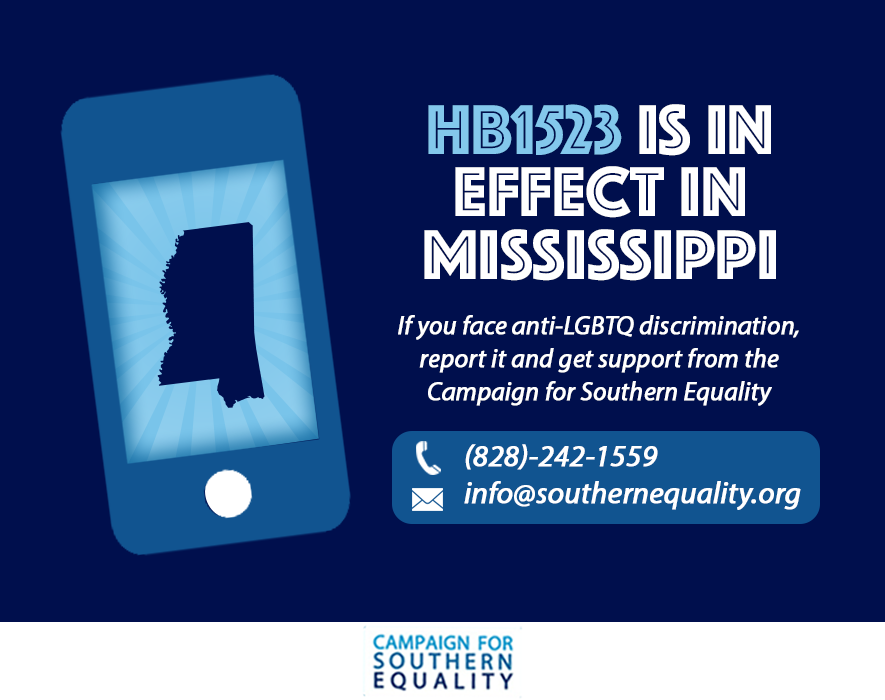 Mississippi is home to 60,000 LGBT adults and an estimated 11,400 transgender youth and adults, according to 2016 data published by the Williams Institute at the U.C.L.A. School of Law. The state is also home to 3,500 same-sex couples, 29 percent of whom are raising children—the highest rate in the nation.
A Year on the Road
During 2017, our team has crisscrossed the South from Henderson, North Carolina to Piedmont, South Carolina to Pass Christian, Mississippi to provide 26 free Pop Up Clinics on topics ranging from trans safety to name change documents to immigration law.
When we ran a free name change and family rights clinic at the public library in Pass Christian we didn't know if 5 or 15 people would show up. Turns out that more than 40 people packed the room that night, many of whom drove more than an hour to get there.
We ramped up our free clinics this year in response to the fear our community was experiencing as political attacks and threats of violence increased. We also ran more than 20 trainings across the South about transgender awareness and sensitivity with medical providers, educators and students.

(Que Bell and Daroneshia Duncan led a name change clinic in Selma, AL in January.)

(Fletcher Page and Ivy Gibson-Hill led a training at West Virginia Wesleyan last weekend with this great group of students.)
These clinics and trainings are about getting LGBTQ-friendly direct services to our folks in their hometowns. During these clinics, we often share a meal and create a space where people can build connections and be treated with respect and dignity.