Voting and LGBTQ Rights: CSE Launches Voter Registration Drive
Limited legislative power and a lack of elected representation are two classic symptoms of political powerlessness. LGBTQ Southerners face both. This is part of why a law like North Carolina's HB142 passed even though the LGBTQ community vehemently opposed it.
As we work to overturn laws like HB142 that target our community, it's vitally important to build political power for the LGBTQ community. And you can't build that power without voting.
That's why we're excited to announce a new partnership with Democracy NC to register voters across Asheville heading into the 2017 municipal elections. You'll see our staff team and volunteers out and about making sure LGBTQ folks are registered to vote and understand the power of casting a ballot in the city election this fall.
Join us for a name change clinic at NC Trans Pride!
We had a great time at NC Trans Pride and helped 17 folks complete name change documents.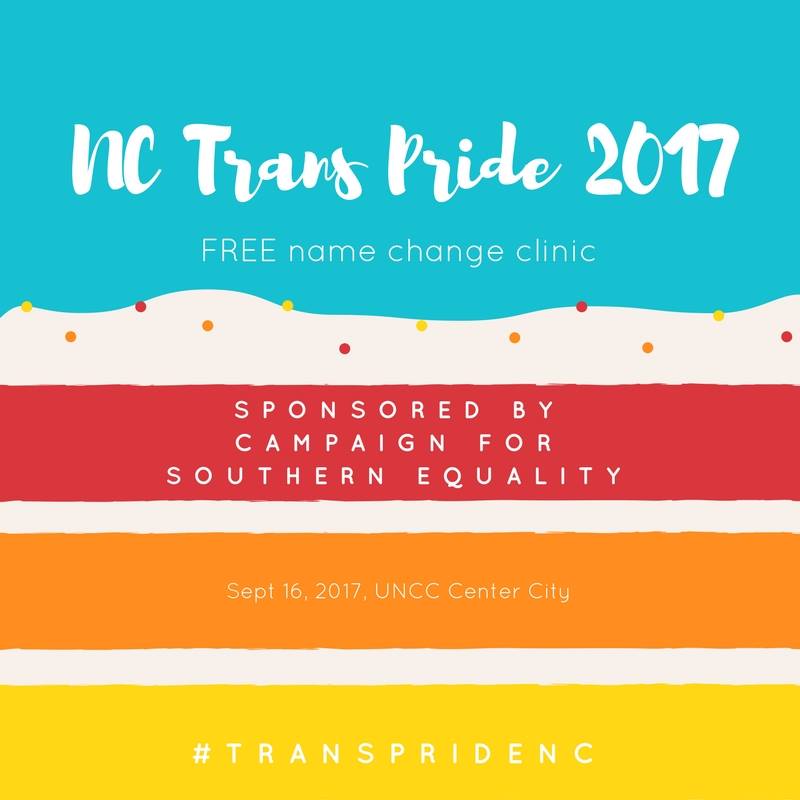 LGBTQ Health Initiative Launches in Asheville, Led by CSE and Western NC Community Health Services
The Campaign for Southern Equality (CSE) is providing a grant of $10,000 to Western NC Community Health Services (WNCCHS) to support its leadership and innovation in LGBTQ health, including its Transgender Health Program and HIV/AIDS services.
WNCCHS and CSE are joining together to form this new LGBTQ Health Initiative to improve access to primary health care and support services for LGBTQ people across the 18 counties of Western North Carolina.  Through this partnership, CSE will offer a series of free clinics at WNCCHS focused on legal and safety needs for the LGBTQ community.
The first clinic will take place on  October 4, led by and for trans folks and focused on safety issues. This free "Protect Yourself" clinic will feature a self defense class and safety planning. Learn more and pre-register here.
The LGBT South is a weekly email newsletter, compiling national, regional, and local news important to LGBT Southerners. Subscribe to get the latest edition to your inbox every Friday morning and keep up with what the Campaign for Southern Equality is up to!
Safe Schools, Safe Communities: New Funding Available

Do you  need funding for your work? We've just launched Safe Schools, Safe Communities, a new round of rapid response grants to promote safety in schools and communities across the South.
We're open to all kinds of ideas. If it will make your community safer, we want to hear about it – whether you're organizing a rally to speak out against violence against trans women of color; hosting trainings to provide sanctuary for undocumented immigrants; educating legislators about the importance of access to affordable healthcare; or building a coalition of staff, faculty and parents to reduce bullying against LGBTQ, immigrant and Muslim students.
We need all of these efforts and more to protect and defend those who are most vulnerable in our communities across the South.
Click here to apply for funding today. Grants are up to $500 and, once you apply, we'll get back to you within one month.
We believe that organizers on the frontlines of the Southern LGBTQ movement can transform our region—but they need the funding and support to do so. Through our Southern Equality Fund, CSE redistributes a percentage of our funding to grassroots leaders doing vital and transformative work in their communities across the South. The fund prioritizes groups and individual leaders whose access to funding and support is limited due to barriers such as not having 501c3 status, or being located in a rural area.
Based in Asheville, North Carolina, the Campaign for Southern Equality is a non-profit organization that advocates for the full equality of LGBT individuals and families across the South.