Take the Southern LGBTQ Health Survey!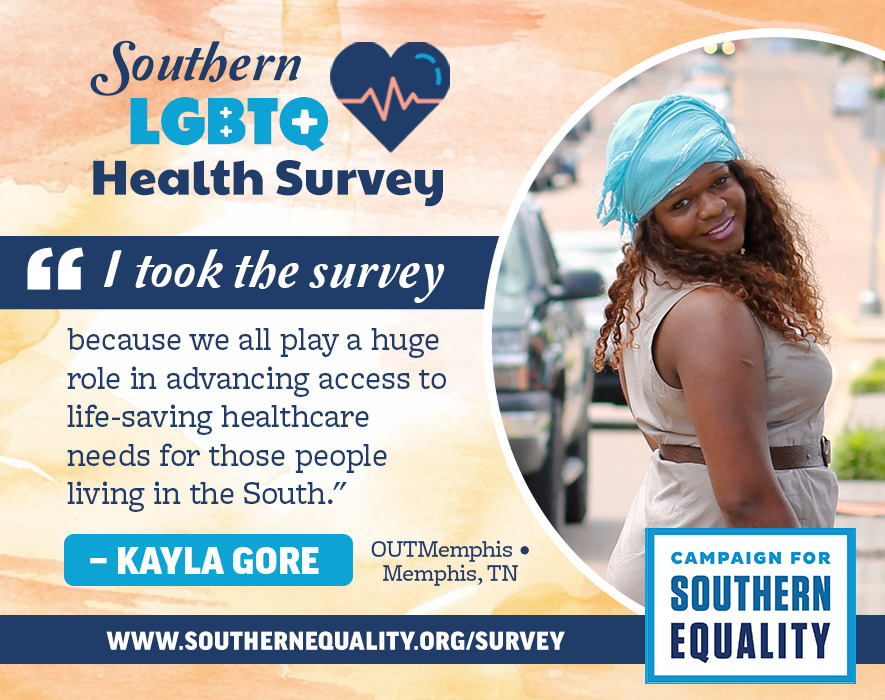 Share your experiences to help improve LGBTQ health care in the South! If you are an LGBTQ person who lives in the South and is 18 years or older, we hope you'll take part and also spread this to your networks!
English: www.surveymonkey.com/r/southernlgbtqhealthsurvey
Spanish: https://www.surveymonkey.comr/EncuestadeSaludLGBTQdelSur
Take Action: Oppose the Brett Kavanaugh Nomination for Supreme Court
Supreme Court nominee Judge Brett Kavanaugh has a long track record of positions that are hostile to civil rights, including LGBTQ rights and reproductive justice. If he is confirmed, it could set into motion a generation of rulings that roll back hard-won civil rights in our country. We need the Supreme Court to uphold the principles of equal protection for all.
Call your Senator and urge them to 1) demand an FBI investigation into allegations of sexual assault by Brett Kavanaugh and 2) vote against his nomination. Find your Senator's contact information here. 
Free Name Change Clinic: October 17 in Asheville, NC
When: October 17  | 5:30 – 6:45 PM
Where: Western NC Community Health Services (WNCCHS), 257 Biltmore Avenue, Asheville, NC
What: Come join us for a free Legal Name Change Clinic! Led by local attorney and transgender advocate, Diane "Dizy" Walton of CSE's Legal Team, this clinic will offer assistance completing North Carolina name change paperwork, and information on resources that are available for medical transition. We'll also offer need-based stipends to assist with name change fees. Drinks and snacks provided as well. Please help us spread the word by inviting your friends! This free clinic is hosted by WNCCHS and CSE as part of our Southern LGBTQ Health Initiative.
Click here for more information.
Moving Money in the South: Meet our 2018 Resource Mobilization Team
In June 2018, the Campaign for Southern Equality (CSE) launched its second iteration of the Southern Equality Fund Advisory Council, now known as the Resource Mobilization Team (RMT). As part of our Southern Equality Fund, the RMT works to increase capacity of Southern LGBTQ grassroots leaders by connecting them with funding, by providing opportunities for training and support and by expanding their organizing and social networks.
The 2018 Resource Mobilization Team is comprised of four amazing organizers: Natt Offiah from Jackson, MS, Kayla Gore from Memphis, TN, Demi Hickman from Charleston, SC, and Yaz Nuñez from Durham, NC. We are excited to partner with these leaders on building a pipeline of funding and other resources to LGBTQ grassroots organizers across the South. Learn more about them here!
Let Your Pride Always Shine: Limited-edition Posters Now Available
We've loved getting to collaborate with two amazing local artists, Liz Williams and Macon York (pictured below), to create this limited-edition run of letterpress posters. Let Your Pride Always Shine, we say. To buy one, visit CSE's Etsy shop or, if you're in Asheville, NC, swing by Horse and Hero to find posters, t-shirts and buttons.
Mississippi's HB1523: Updates and Resources
HB1523, the nation's most sweeping anti-LGBTQ law, remains in effect across Mississippi.
People who experience discrimination can report it to CSE by calling or texting our hotline (828.242.1559), by email (info@southernequality.org), through this online form, or by posting at our Facebook page (www.facebook.com/southernequality). Our team of attorneys, clergy and organizers will respond with support and resources.  
The law authorizes Mississippi officials and service providers, such as doctors and store owners, to recuse themselves from serving LGBT individuals on the basis of three specific religious beliefs about gay marriage, transgender individuals, and sex before marriage.