Mississippi's HB1523: Updates and Resources
HB1523, the nation's most sweeping anti-LGBTQ law, remains in effect across Mississippi.
People who experience discrimination can report it to CSE by calling or texting our hotline (828.242.1559), by email (info@southernequality.org), through this online form, or by posting at our Facebook page (www.facebook.com/southernequality). Our team of attorneys, clergy and organizers will respond with support and resources.  
The law authorizes Mississippi officials and service providers, such as doctors and store owners, to recuse themselves from serving LGBT individuals on the basis of three specific religious beliefs about gay marriage, transgender individuals, and sex before marriage.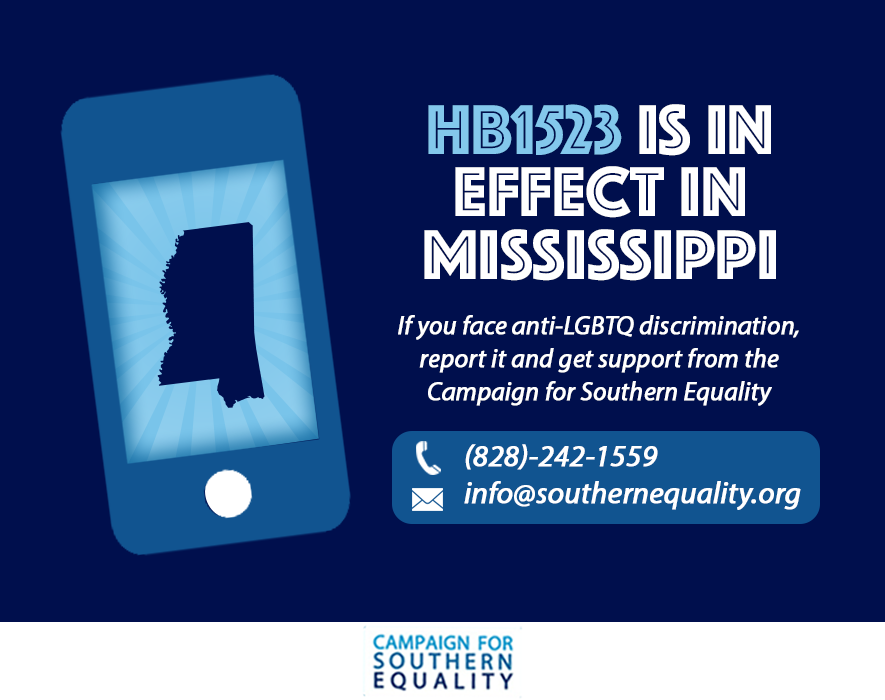 Save the Date: Asheville City Soccer Club Celebrates Pride Night, June 30
Join the Campaign for Southern Equality team as we cheer on Asheville City Soccer Club in their June 30th Pride Night match. Big thanks to Asheville City for honoring the LGBTQ community and supporting CSE's work. Click here for more info!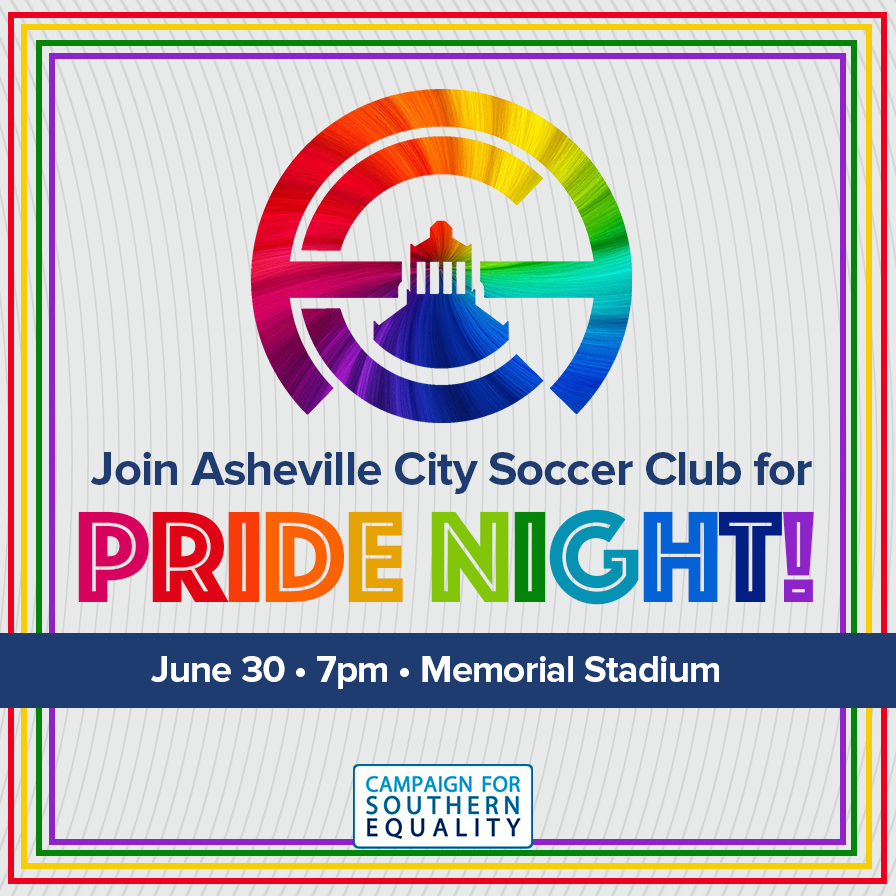 Trans in the South Guide: Annual Update Underway
Do you know of a trans-friendly provider in the South who should be included or do you have an update to share about an already-listed provider? Please fill out this form to share that information.
An amazing team of organizers, like Kayla Gore in Memphis, are doing research across the South to identify more providers for the 2018 guide.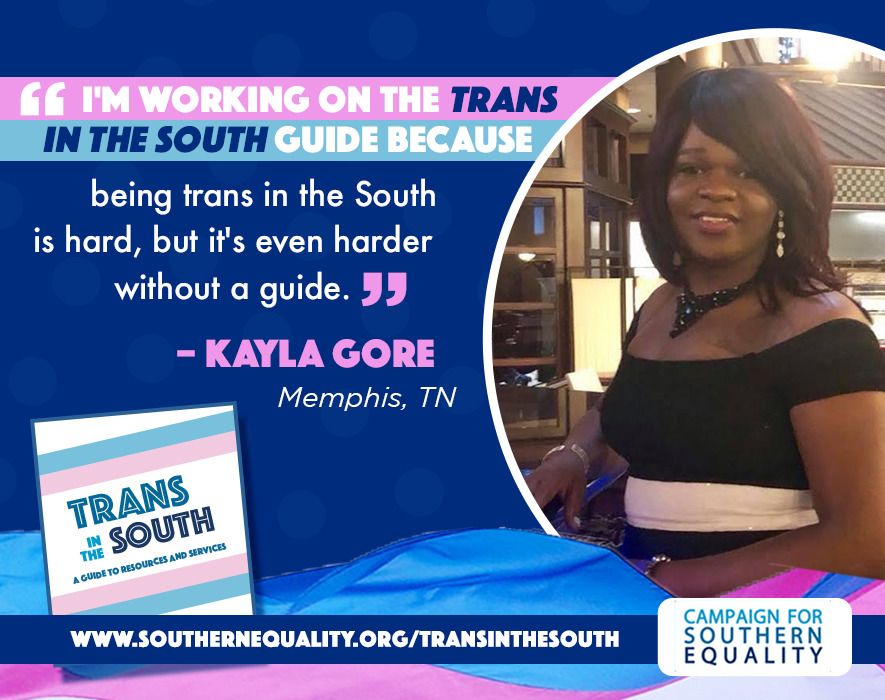 Tell Us About Your Favorite LGBTQ-Friendly Southern Business
As you probably know, earlier this week the U.S. Supreme Court issued a ruling in the Masterpiece Cake v. Colorado Civil Rights Commission case siding with a baker who refused to serve a gay couple. This ruling was limited to the facts of this single Colorado case and does not create a license to discriminate for any other business.
But in this climate, we want to shine a bright light on the incredible businesses across the South that are stepping up for LGBTQ equality. If you run a LGBTQ-friendly Southern business or frequent one, let us know you're out there by clicking here! We'll publish a special Summer 2018 list of every business across the South that signs up.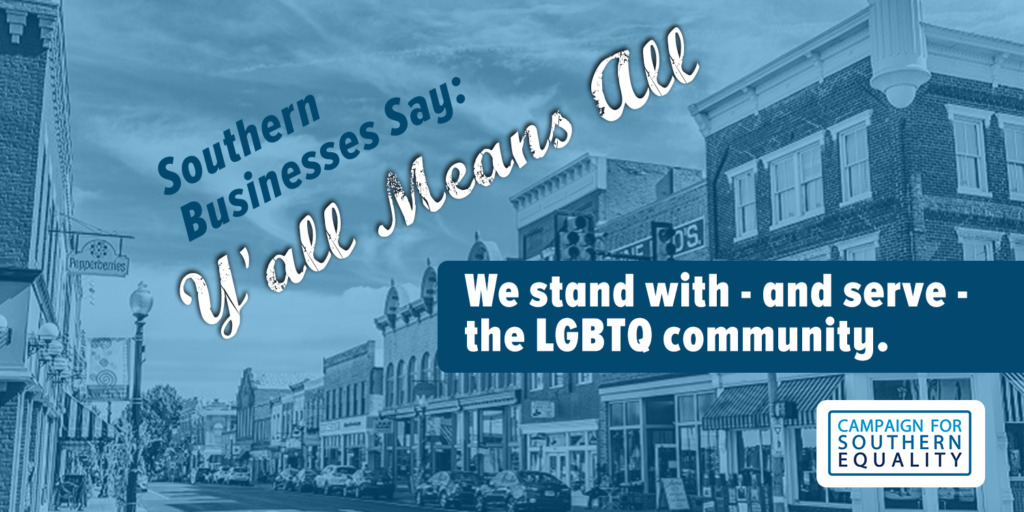 We travel around the South all the time and we've seen more businesses than we can count step up to say they stand with the LGBTQ community proudly. They serve everyone and do so with respect. They treat LGBTQ employees with fairness and dignity. And they are helping change the conversation in their hometowns. Click here to let us know about your favorite!
We are confident that the U.S. Supreme Court will ultimately rule that LGBTQ people should be protected from discrimination in public accommodations. Until then, we keep organizing and sharing the stories of Southerners who are taking a stand for full equality.​
ead more coverage here. And follow our friends at the ACLU, lead counsel on this case, for updates and analysis.
Starkville Pride: Largest  Ever Parade in Starkville, MS
On Saturday, March 24, more than 3,000 people took part in Starkville Pride, the first ever Pride parade and the largest ever parade in Starkville.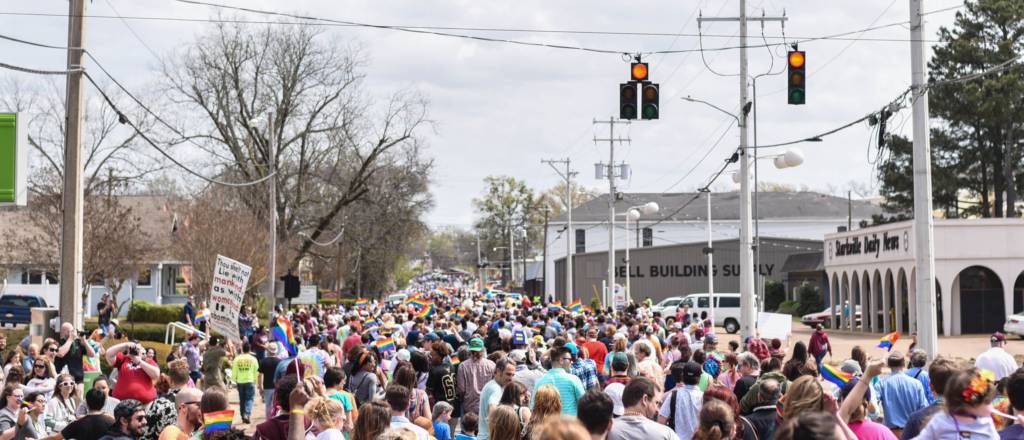 (photo credit: Logan Kirkland, Starkville Daily News)
Starkville Pride was led by student organizers Bailey McDaniel and Emily Turner. In late February, the City of Starkville denied their permit application simply because it was a LGBTQ event. Bailey, Emily and Starkville Pride quickly filed a federal lawsuit, represented by attorney Roberta Kaplan. Facing legal action, the City reversed itself and granted the permit.
Read more media coverage here.
"This is a testament to the strength and courage of the Starkville LGBTQ community," said Rev. Jasmine Beach-Ferrara of the Campaign for Southern Equality. "They wouldn't take no for an answer and then went on to organize the largest parade ever in Starkville. The reality is that LGBTQ people live in every town across Mississippi, and we will keep fighting until they are fully equal and free from discriminatory treatment."
Southern Equality Fund – 2017 Annual Report

Since 2015, the Campaign for Southern Equality has given out $96,848 in grants to 155 LGBTQ organizers and groups across 12 Southern states!
We've created a new annual report to tell the story of the Southern Equality Fund and of an incredible group of grassroots LGBTQ leaders and groups that are transforming the South.