CSE Statement on New Executive Order Protecting LGBTQ State Employees
"An Executive Order signed yesterday by Governor Cooper is a step in the right direction toward the ultimate goal of ensuring that LGBTQ people across North Carolina are fully protected under the law. This order provides employment protections to LGBTQ state employees and non-discrimination protections related to state funding and grants.
The fact remains that with a law like HB142 on the books, LGBTQ individuals in North Carolina remain second-class citizens. We will continue to advocate for communities across North Carolina to pass pro-LGBTQ policies and for the North Carolina General Assembly to enact state-level protections," says Rev. Jasmine Beach-Ferrara, executive director of the Campaign for Southern Equality.
2017 Trans in the South: A Guide to Services and Resources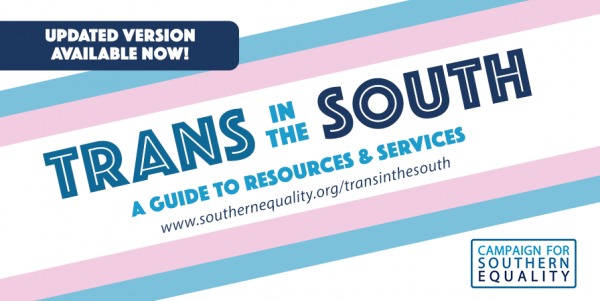 We are excited to release an updated version of Trans in the South: A Guide to Resources and Services!
In this new edition of Trans in the South, you'll find lists of trans-friendly service providers – from doctors to attorneys to counselors – across the South as well as resources to assist with funding medical transition. Over the past year we've worked hard to add more resources to each state in the guide. And we've significantly expanded resources related to HIV/AIDS services and added resources that offer support services for trans folks. In recognition and appreciation of grassroots work led by trans folks across the South, this update also includes links to local resource guides.
Nationally, data shows that approximately a quarter of transgender people don't seek out healthcare at all because we fear discrimination. Please help us get these resources into the hands of the 500,000 trans folks who live in the South by sharing this guide through your networks.
TurnOUT Asheville
TurnOUT Asheville is a coalition of LGBTQ organizations working to turn out LGBTQ people and allies to vote in the 2017 Asheville City Council election and call for pro-LGBTQ policies. The coalition includes Campaign for Southern Equality, Tranzmission, Blue Ridge Pride Center and the Equality NC Foundation.
On October 25th, join us for the first ever Asheville City Council forum focused on LGBTQ issues. All six candidates have committed to attend. The forum will take place at 6:30 PM in Friendship Hall at First Congregational UCC (20 Oak Street, Asheville, 28801). Free childcare is available; please email aaron@southernequality.org with the age of your kids. Learn more here.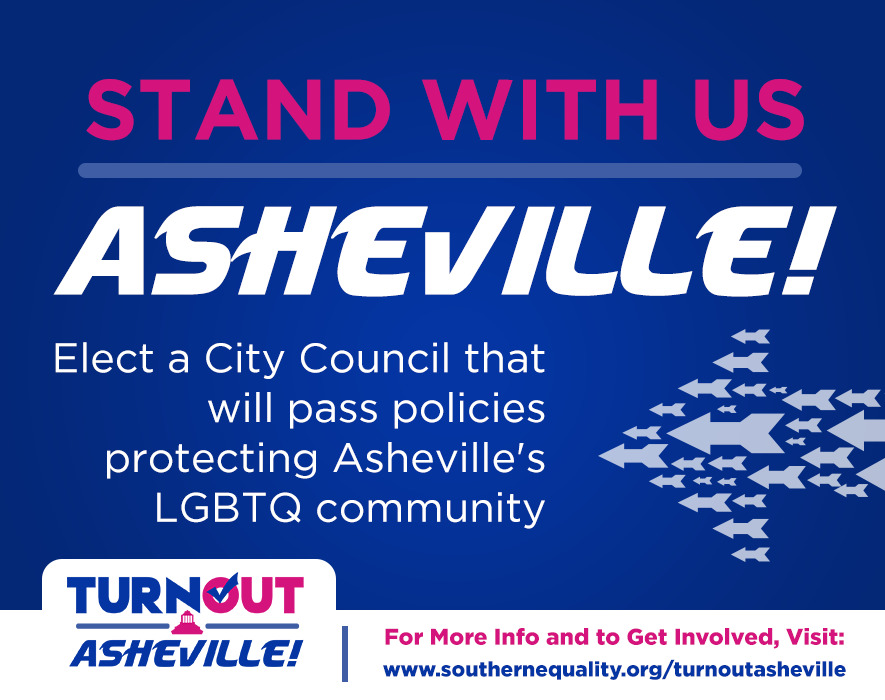 TurnOUT Asheville is coalition of non-partisan 501c3 organizations  working on issue-based advocacy, voter registration and turnout. Check out updates and more information about voter registration and early voting.
Mississippi's HB1523: Updates and Resources
HB1523, the nation's most sweeping anti-LGBT law, is now in effect across Mississippi.
The law authorizes Mississippi officials and service providers, such as doctors and store owners, to recuse themselves from serving LGBT individuals on the basis of three specific religious beliefs about gay marriage, transgender individuals, and sex before marriage.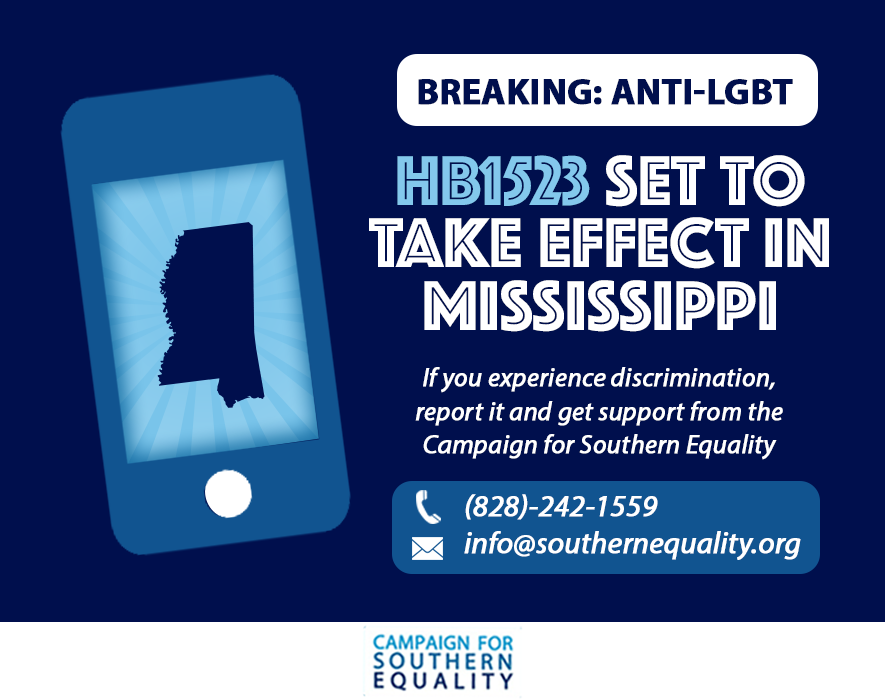 People who experience discrimination can report it to the Campaign for Southern Equality by calling or texting our hotline (828.242.1559), by email (info@southernequality.org), through this online form, or by posting at our Facebook page (www.facebook.com/southernequality). Our team of attorneys, clergy and organizers will respond with support and resources.  
The ACLU of Mississippi, Campaign for Southern Equality, Freedom for All Americans, Lambda Legal, the Human Rights Campaign, Mississippi Center for Justice, Mississippi Rising Coalition, and The Spectrum Center of Hattiesburg, MS released the following joint statement:
"HB1523 is the nation's most extreme anti-LGBTQ law. It will bring undeniable damage to the lives of thousands of Mississippians, paving the way for deep harm and discrimination. As a community, we will fight this law every step of the way. We stand proudly with LGBTQ Mississippians in working to ensure that everyone can live their lives free from fear of state-sanctioned discrimination. We stand ready to challenge discrimination in all forms and will bring lawsuits against those who discriminate against their LGBTQ neighbors and fellow Mississippians."
For those outside of Mississippi, send a message of support saying you stand with LGBTQ Mississippi. We will share these messages with community groups across the state.
Mississippi is home to 60,000 LGBT adults and an estimated 11,400 transgender youth and adults, according to 2016 data published by the Williams Institute at the U.C.L.A. School of Law. The state is also home to 3,500 same-sex couples, 29 percent of whom are raising children—the highest rate in the nation.
HIV/AIDS Contest Grant Round and Leadership Cohort
One half of all HIV diagnoses nationally occur in the South and 52 percent of all AIDS deaths occur in our region, according to the Centers for Disease Control.
Simply put, HIV is a crisis in the South, especially among LGBTQ folks. Approximately half of all transgender people who received an HIV diagnosis from 2009 to 2014 lived in the South. And gay men of color and trans women in the South are at particularly high risk.
Behind these statistics are the lives of LGBTQ Southerners who, too often, face stigma and significant barriers to accessing prevention and treatment options in their hometowns. We believe supporting the leadership of those most impacted by HIV/AIDS in the South is critical to reversing these trends.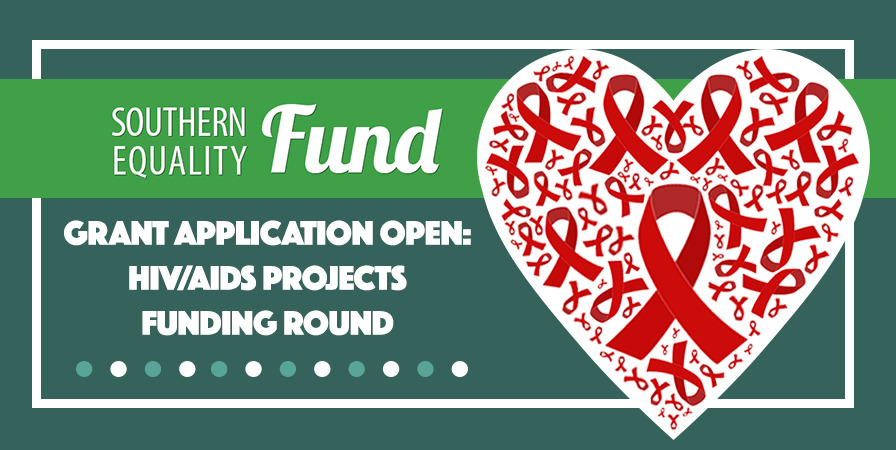 That's​ ​why​ we're launching​ an HIV/AIDS Contest Grant Round and Leadership Cohort. The Campaign for Southern Equality will award grants of up to $2,500 each for innovative projects based in the South that focus on HIV/AIDS in the LGBTQ community.
Projects should center the leadership of those most impacted by the HIV/AIDS epidemic in the South. Grantees will also be invited to take part in a HIV/AIDS Leadership Cohort, providing a year of intensive support and resources as they implement their projects.
The​ ​deadline to apply is November 3, 2017. ​Click here to​ ​apply​ ​as​ ​an​ ​individual​ ​or​ ​a​ ​group; ​501c(3)​ ​status​ ​is​ ​NOT required​ ​to​ ​receive​ ​a​ ​grant.
Voting and LGBTQ Rights: CSE Launches Voter Registration Drive
As we work to overturn laws like HB142 that target our community, it's vitally important to build political power for the LGBTQ community. And you can't build that power without voting.
That's why we're excited to announce a new partnership with Democracy NC to register voters across Asheville heading into the 2017 municipal elections. You'll see our staff team and volunteers out and about making sure LGBTQ folks are registered to vote and understand the power of casting a ballot in the city election this fall.
We're also hosting a city council forum on LGBTQ issues in Asheville on October 25th. This event is cosponsored by Tranzmission, Blue Ridge Pride Center, Western North Carolina AIDS Project (WNCAP) and the Campaign for Southern Equality.
RSVP for Asheville City Council Forum: LGBTQ Legal and Lived Equality here.
CSE's Name Change Clinic at NC Trans Pride
We had a great time at NC Trans Pride and helped 17 folks complete name change documents!
Completing the name change process ensures that trans folks can obtain documents that match their name. This matters most when it comes to issues of safety, health care, employment and housing. Having an ID that reflects who you are also makes a difference in countless daily moments.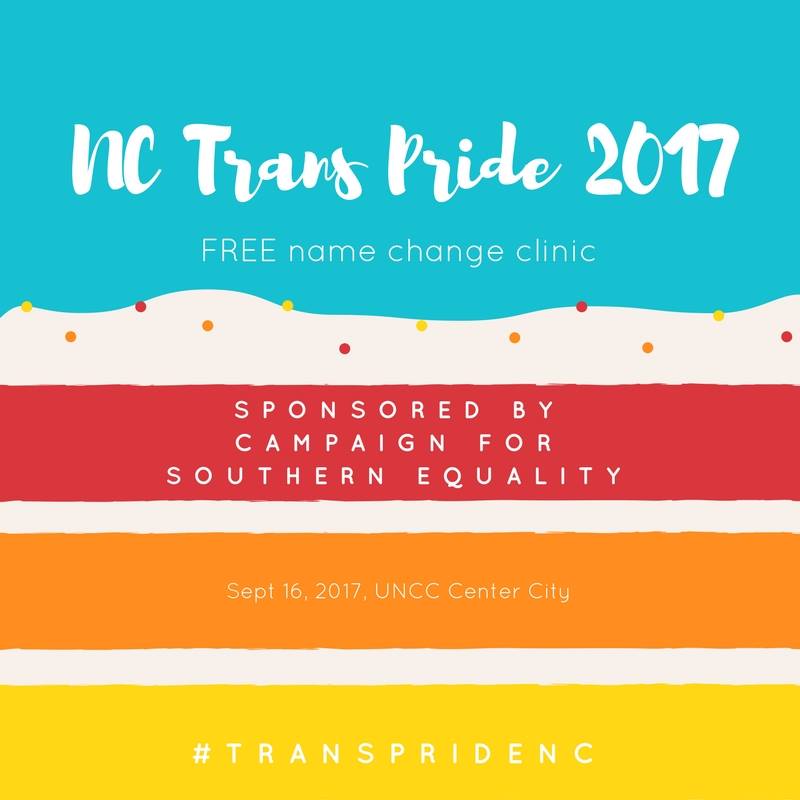 LGBTQ Health Initiative Launches in Asheville, Led by CSE and Western NC Community Health Services
The Campaign for Southern Equality (CSE) is providing a grant of $10,000 to Western NC Community Health Services (WNCCHS) to support its leadership and innovation in LGBTQ health, including its Transgender Health Program and HIV/AIDS services.
WNCCHS and CSE are joining together to form this new LGBTQ Health Initiative to improve access to primary health care and support services for LGBTQ people across the 18 counties of Western North Carolina.  Through this partnership, CSE will offer a series of free clinics at WNCCHS focused on legal and safety needs for the LGBTQ community.
Based in Asheville, North Carolina, the Campaign for Southern Equality is a non-profit organization that advocates for the full equality of LGBT individuals and families across the South.