What We Do Now
We registered voters. We campaigned on issues of equality and dignity. We voted. We made gains. And now – we've got to keep up the essential work of building a South where all people are equal.
It's up to us to build on this momentum: Can you pledge to stand with the Campaign for Southern Equality and keep up the fight from this huge week? Add your name here.
Take the Southern LGBTQ Health Survey!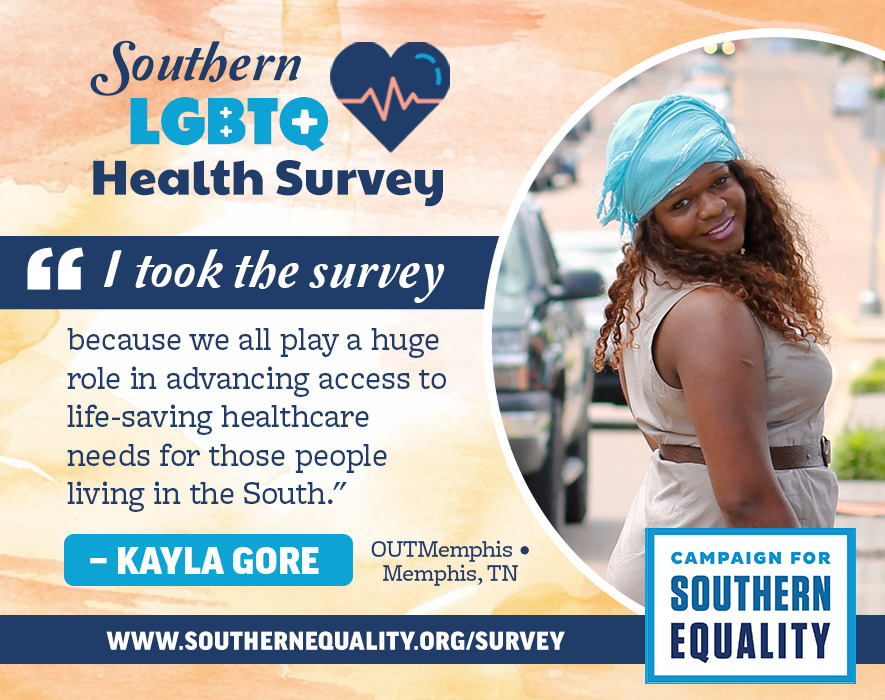 Share your experiences to help improve LGBTQ health care in the South! If you are an LGBTQ person who lives in the South and is 18 years or older, we hope you'll take part and also spread this to your networks!
English: www.surveymonkey.com/r/southernlgbtqhealthsurvey
Spanish: https://www.surveymonkey.comr/EncuestadeSaludLGBTQdelSur
Moving Money in the South: Meet our 2018 Resource Mobilization Team
In June 2018, the Campaign for Southern Equality (CSE) launched its second iteration of the Southern Equality Fund Advisory Council, now known as the Resource Mobilization Team (RMT). As part of our Southern Equality Fund, the RMT works to increase capacity of Southern LGBTQ grassroots leaders by connecting them with funding, by providing opportunities for training and support and by expanding their organizing and social networks.
The 2018 Resource Mobilization Team is comprised of four amazing organizers: Natt Offiah from Jackson, MS, Kayla Gore from Memphis, TN, Demi Hickman from Charleston, SC, and Yaz Nuñez from Durham, NC. We are excited to partner with these leaders on building a pipeline of funding and other resources to LGBTQ grassroots organizers across the South. Learn more about them here!
Let Your Pride Always Shine: Limited-edition Posters Now Available
We've loved getting to collaborate with two amazing local artists, Liz Williams and Macon York (pictured below), to create this limited-edition run of letterpress posters. Let Your Pride Always Shine, we say. To buy one, visit CSE's Etsy shop or, if you're in Asheville, NC, swing by Horse and Hero to find posters, t-shirts and buttons.