Let Your Pride Always Shine: Limited-edition Posters Now Available
We've loved getting to collaborate with two amazing local artists, Liz Williams and Macon York (pictured below), to create this limited-edition run of letterpress posters. Let Your Pride Always Shine, we say. To buy one, visit CSE's Etsy shop or, if you're in Asheville, NC, swing by Horse and Hero to find posters, t-shirts and buttons.
Southern LGBTQ Health Survey is Now Live!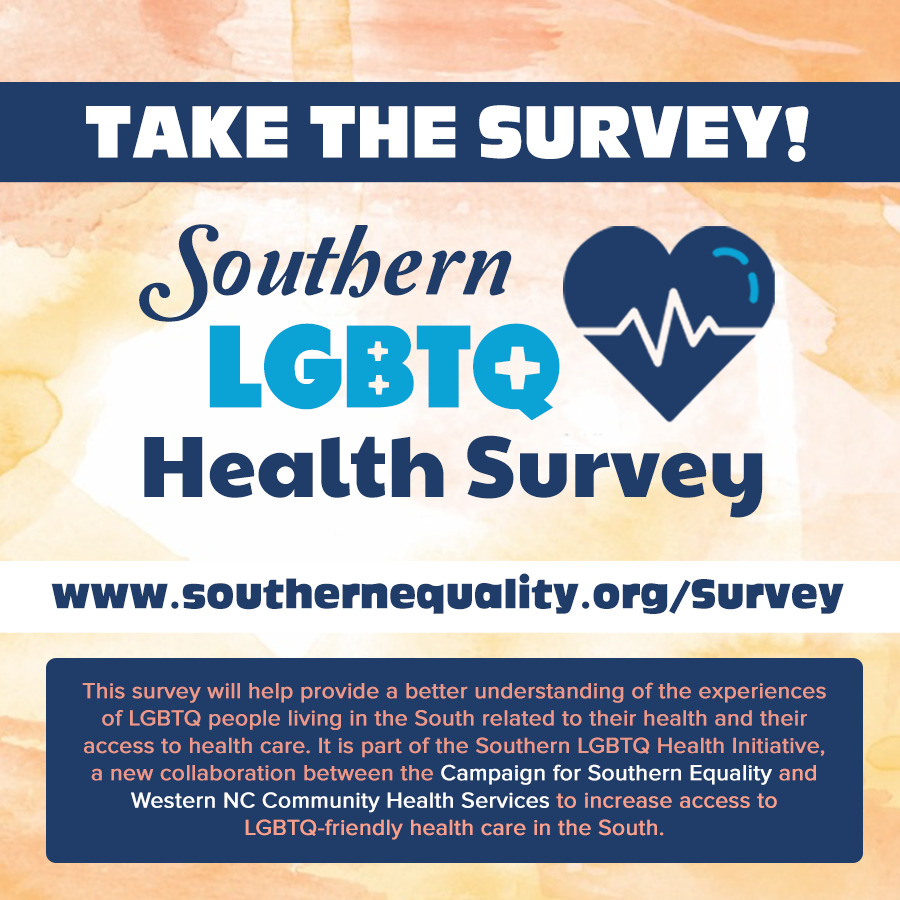 We're excited to announce that our Southern LGBTQ Health Survey is now live! It's available in English and Spanish and takes less than 15 minutes to complete. If you are an LGBTQ person who lives in the South and is 18 years or older, we hope you'll take part and also spread this to your networks!
English: www.surveymonkey.com/r/southernlgbtqhealthsurvey
Spanish: https://www.surveymonkey.comr/EncuestadeSaludLGBTQdelSur
¡Nos emociona anunciar que la Encuesta sobre la Salud LGBTQ Sureña ya está lista! Esta encuesta ayudará a comprender mejor las experiencias de la población LGBTQ que vive en el Sur en relación con su salud y acceso a atención médica. Está disponible en inglés y en español y llenarla toma menos de 15 minutos. Si eres una persona LGBTQ viviendo el Sur, y tienes 18 años o más, ¡esperamos que participes y que también la compartas en tus redes!
Free Name Change Clinic: October 17 in Asheville, NC
When: October 17  | 5:30 – 6:45 PM
Where: Western NC Community Health Services (WNCCHS), 257 Biltmore Avenue, Asheville, NC
What: Come join us for a free Legal Name Change Clinic! Led by local attorney and transgender advocate, Diane "Dizy" Walton of CSE's Legal Team, this clinic will offer assistance completing North Carolina name change paperwork, and information on resources that are available for medical transition. We'll also offer need-based stipends to assist with name change fees. Drinks and snacks provided as well. Please help us spread the word by inviting your friends! This free clinic is hosted by WNCCHS and CSE as part of our Southern LGBTQ Health Initiative.
Click here for more information.
Take Action: Oppose Anti-LGBTQ Adoption Amendment
Congressional Republicans have voted at the committee level to discriminate against LGBTQ couples who want to adopt.
From the Human Rights Campaign:
"If it remains in the final bill, the amendment would grant a "license to discriminate" in the provision of child welfare services, allowing child welfare placing agencies that receive federal government funding to turn away qualified prospective parents based on the agency's religious beliefs."
Take Action now by calling you member of Congress and telling them to oppose this anti-LGBTQ amendment.
Find your representative at -> www.house.gov/representatives/find
Mississippi's HB1523: Updates and Resources
HB1523, the nation's most sweeping anti-LGBTQ law, remains in effect across Mississippi.
People who experience discrimination can report it to CSE by calling or texting our hotline (828.242.1559), by email (info@southernequality.org), through this online form, or by posting at our Facebook page (www.facebook.com/southernequality). Our team of attorneys, clergy and organizers will respond with support and resources.  
The law authorizes Mississippi officials and service providers, such as doctors and store owners, to recuse themselves from serving LGBT individuals on the basis of three specific religious beliefs about gay marriage, transgender individuals, and sex before marriage.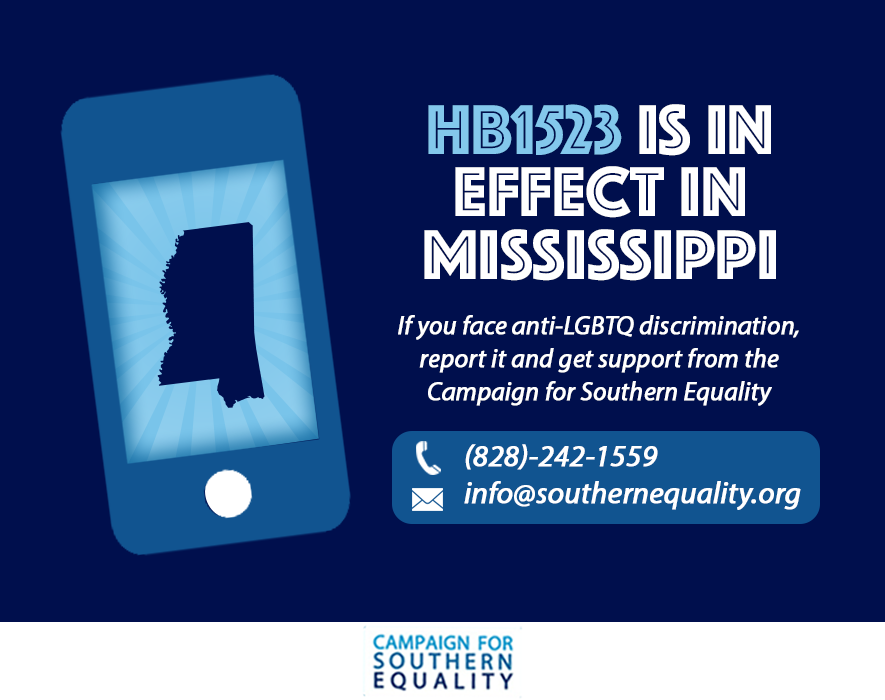 Trans in the South Guide: Annual Update Underway
Do you know of a trans-friendly provider in the South who should be included or do you have an update to share about an already-listed provider? Please fill out this form to share that information.
An amazing team of organizers, like Kayla Gore in Memphis, are doing research across the South to identify more providers for the 2018 guide.