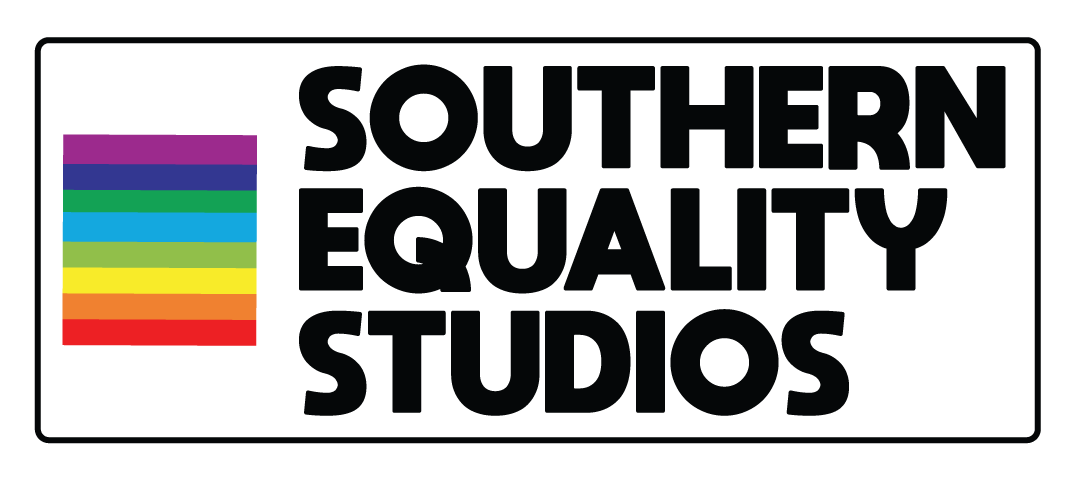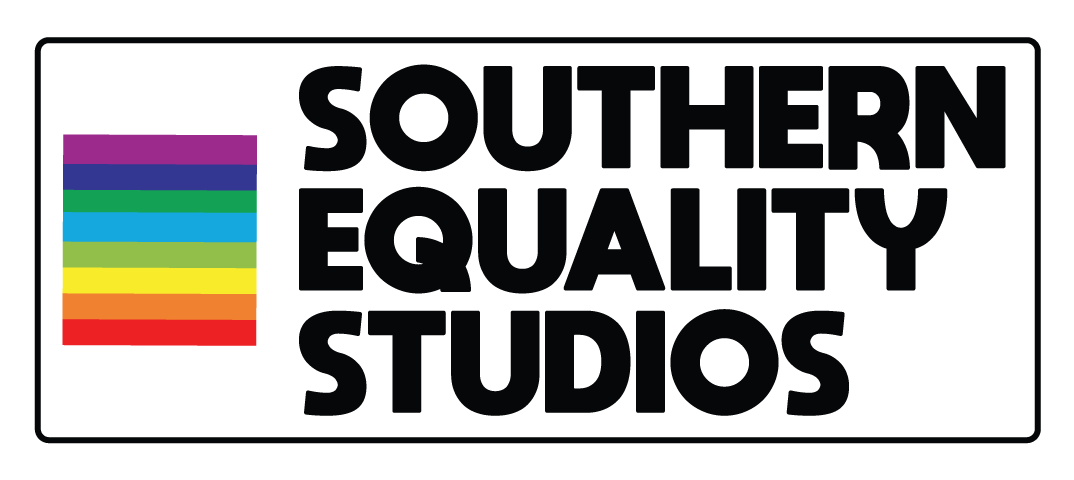 Navigate This Page:
➡️ Virtual Queer Artist Meet-Up
➡️ Recordings of Meet-Ups
➡️ 2021-2022 Residency
➡️ 2020-2021 Zine
➡️ Asheville Meet-Ups
➡️ 2019 Programming
➡️ 2019 Residents 
➡️ News
Southern Equality Studios is a program that explores how the arts can be a catalyst and force in achieving lived and legal LGBTQ equality across the South.
Since the launch of CSE in 2011, we've worked at the intersections of personal narrative and political organizing, working with LGBTQ people and families to share the stories of their lives, whether through the written word, film, or photography. We've seen the power that storytelling has had on changing hearts and minds here in the South and nationwide, and it's a vital tool as we continue our work to build a South where all are free and affirmed to live as their authentic selves. Art and storytelling have long played a powerful and central role in movements for social justice, and we're honored to be a part of that long legacy in our region.
Please follow along with us at @SouthernEqualityStudios on Instagram!
Join Us for a Monthly Virtual Queer Artist Meet-Ups !
The last Tuesday of the month via Zoom 8-9:30pm ET
(Join us for any or all of this time)


8:00 pm:

Pre-planned program with presenters and group discussions


9:00 pm:

Open space to socialize

If you're a queer artist or creative in the South, join us for monthly discussions and tutorials. Topics range from how social distancing affects your art to how to monetize your creative skills in this virtual landscape. Southern Equality Studios has worked throughout 2019 and 2022to create a space for queer Southern artists to gather and connect. This space will be facilitated by Liz Williams, CSE's Southern Equality Studios Director the last Tuesday of every month.
(Please RSVP by 6 pm if you are RSVP'ing the day of the meeting you'd like to attend. RSVP's will get a link for the meeting. Thanks!)
Upcoming Event: Expansive Group Art Show
This fall Southern Equality Studios is proud to present "Expansive," a group art exhibit that captures the rich tapestry of trans and nonbinary lives in the South. Guided by the vision to spotlight the diverse experiences and artistic expressions of gender nonconforming individuals, "Expansive" invites the public to engage with the compelling stories and artworks of some of Appalachia's visionary artists. Artists include: kass patterson, SamLevi Middleton-Sizemore, xocean alexandre dumas, Phoebe Yoder, Juliana Maurer, Holland Ninh, Vinny Verburg – as well as Brennan Page Henshaw, Artist-in-Residence at Southern Equality Studios (SES), and Liz Williams, Creative Director of Southern Equality Studios.
Details:
Exhibition Dates: October 6th, 2023, to October 28th, 2023
Opening Reception: Friday, October 6th, 2023 • 5:00-8:00pm
Location: Weizenblatt Gallery, 79 Cascade St, Mars Hill, NC 28754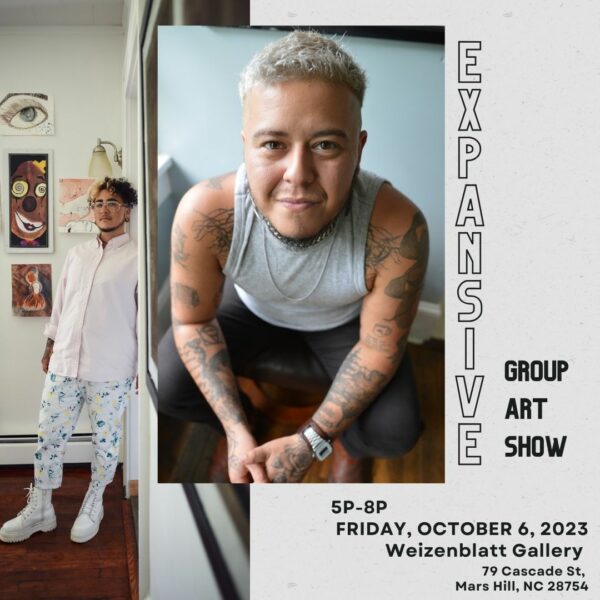 Introducing the 2023 Southern Equality Studios Artist in Residence!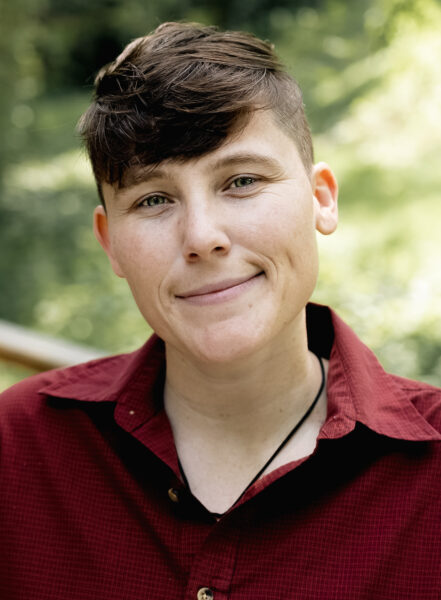 Campaign for Southern Equality (CSE) is thrilled to announce the appointment of Connie/Brennan Page Henshaw, a photographer, documentarian, and musician, as the organization's newest Artist in Residence. Henshaw's unique vision and passion for uplifting marginalized voices will be showcased through two groundbreaking projects: Expansive: A Trans + Non-binary Documentary Project and the Art and Music Showcase.
Expansive: A Trans + Non-binary Documentary Project will capture the fullness, resilience, and creativity of Trans and Non-binary individuals living in the South. Henshaw's vision encompasses intimate portrait-style photography alongside audio clips that authentically depict participants' experiences of joy, power, struggle, and more. The project will be presented in various formats, including gallery exhibitions, social media, and other accessible platforms.
In addition to the Trans + Non-binary Photo Documenting Project, Henshaw will spearhead an Art and Music Showcase, providing a vital platform for queer and BIPOC musicians, poets, comedians, and artists who face barriers in the local and regional arts scene. By creating sober-friendly listening room events, Henshaw intends to foster an inclusive environment where artists can share their work and receive fair compensation. The series will prioritize collaboration with community organizers and movements, promoting their work through the arts.
Furthermore, Henshaw will offer a range of workshops and educational offerings to empower individuals and promote self-expression. These include workshops on African and African-American history related to the banjo, clawhammer banjo basics, utilizing phone cameras and self-portraits for self-assuredness, hosting DIY music events, and the formation of the Queer Photo Group. Henshaw's commitment to sharing skills, facilitating growth, and fostering a sense of community within the artistic realm is integral to the success of these workshops.
Special thanks to the North Carolina Arts Council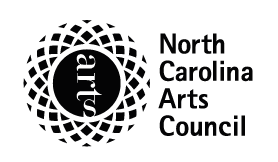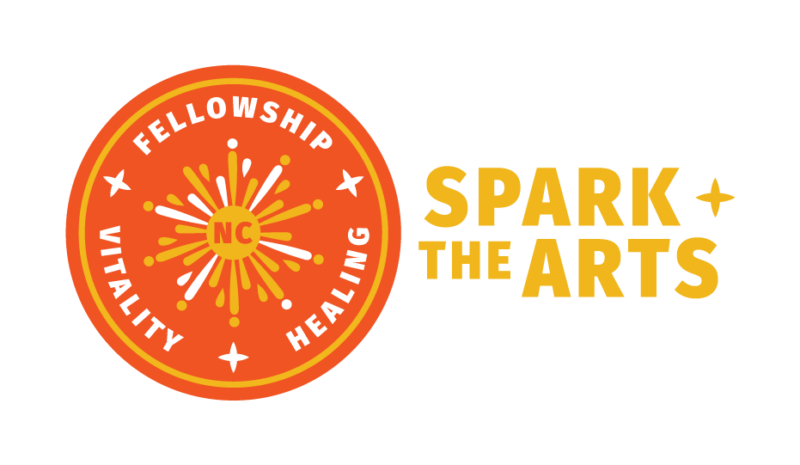 This project was supported by the N.C. Arts Council,
a division of the Department of Natural & Cultural Resources.
Learn more about Brennan here!
Recordings of Virtual Queer Artist Meet-Up Presentations & Workshops
Special Grant Round Winter 2022: Southern Equality Studios
In January and February 2022 Campaign for Southern Equality accepted nominations for a Special SEF Grant Round to support LGBTQ artists and creatives in the South. The application for the grants – 25 grants of $500 each – is now closed and we are excited to review applications.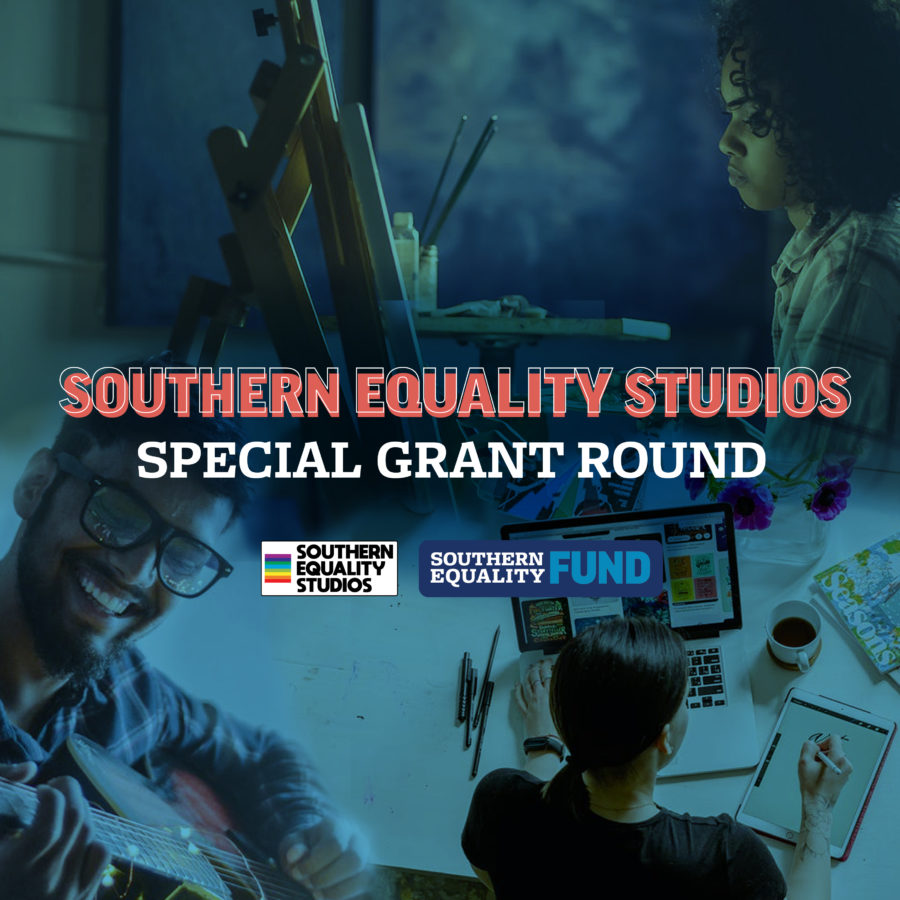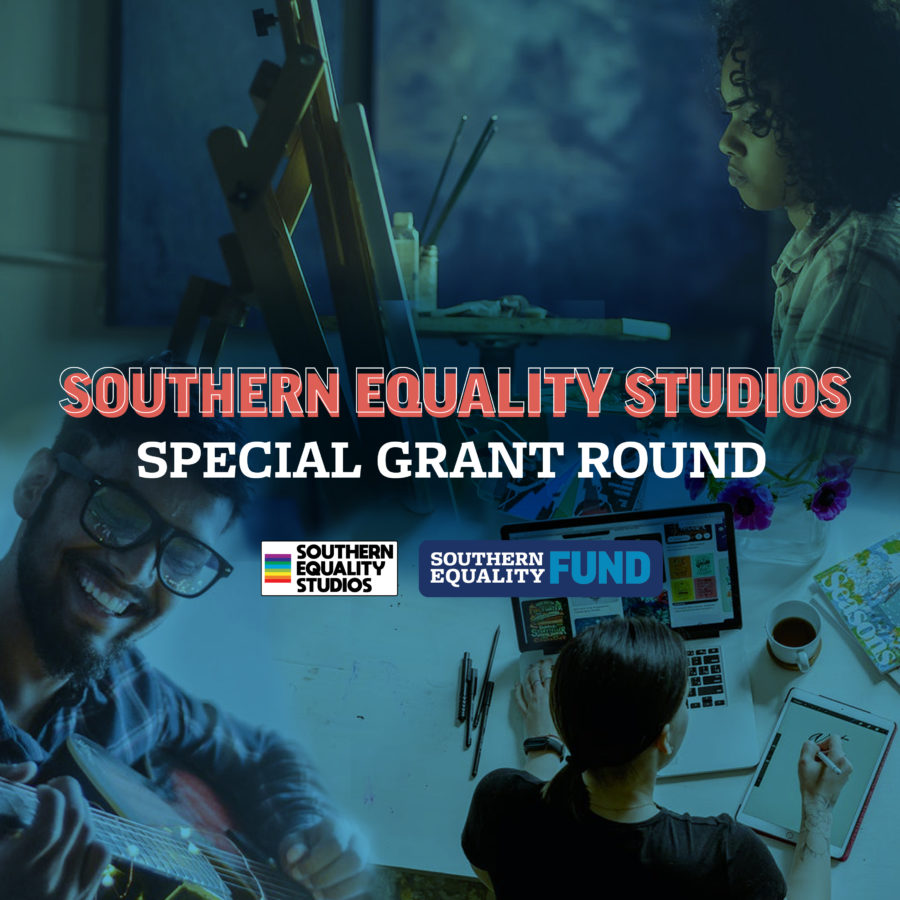 Introducing the 2021-2022 Southern Equality Studios Artist in Residence!
The new Artist in Residence, C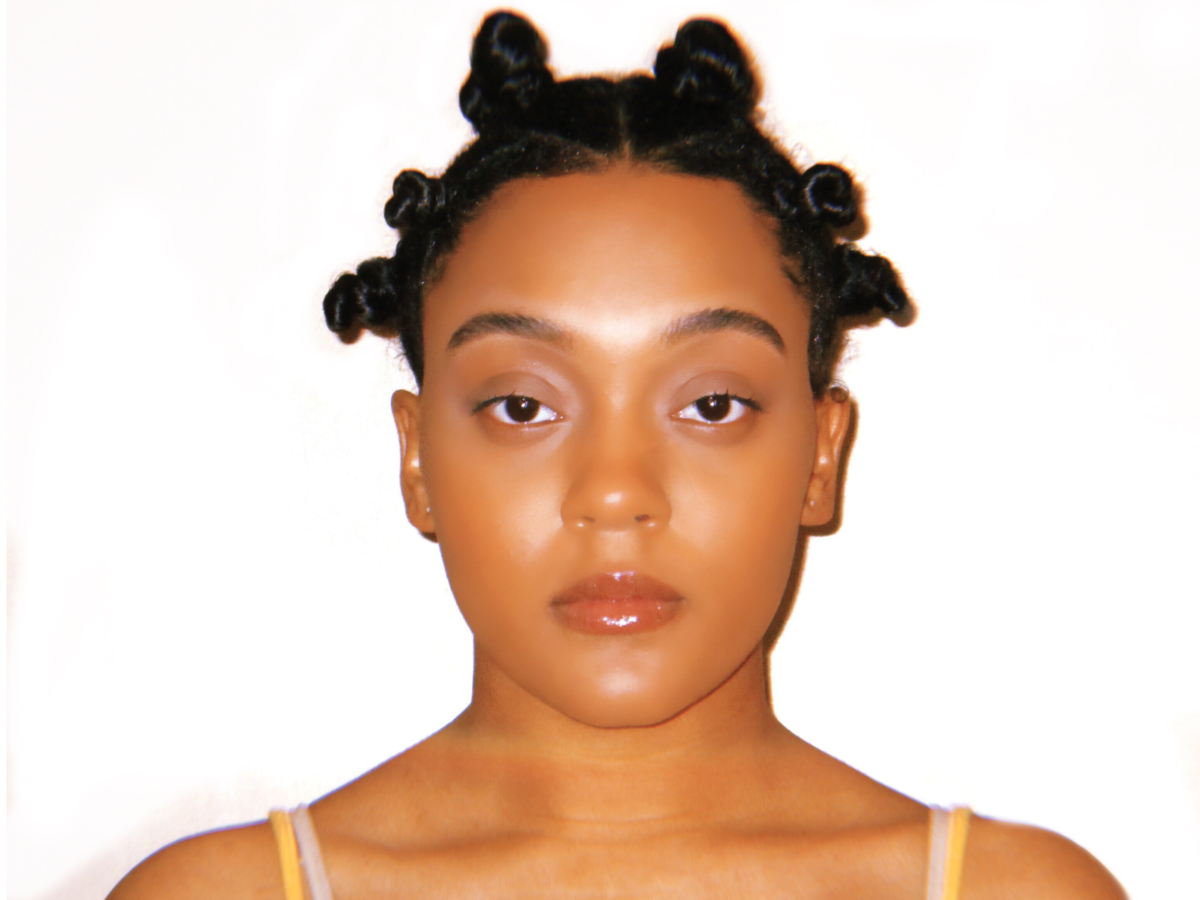 arolyn Rose-Grayson (she/they) is an emerging mixed-media artist based in Fayetteville, NC who is best known for digital creations. Carolyn's creative vision is often inspired by the intersections of identity and existence in an ever-changing landscape. Her work pays homage to the exploration of the self, all while embodying a playful and visionary style. Carolyn works to continually develop her craft by exploring unfamiliar avenues of creative expression, as well as by challenging her ability to adapt and transform.
During the residency, Carolyn plans to examine the legacy of QTBIPOC resistance through various forms of artistic media, while also forming new visions of radical healing through creative agency and expression. The culmination of her work is anticipated to be produced through a variety (exhibition, zine, documentary, etc.) of artistic means.
2020 -2021 QAM & SES Zine!
After a reflecting on a year of Virtual Queer Artist Meetups and Southern Equality Studios programming, we gathered some of the highlights of 2020 and 2021 and brought them into a zine archive. Check out the digital zine below and explore some of the work SES has done with our amazing local and long distance creative community that makes Southern Equality Studios possible!

Asheville Queer Artist Meet-Ups
After the Southern Equality Studios panel discussion and the August 2019 Up/Rooted show (see below), we decided we needed to continue our conversations and connections.
Prior to the pandemic in March 2020, Southern Equality Studios hosted regular Queer Artist Meet-Ups in Asheville. Through the meetups, we work to build upon new roots of community and growth. We have an open door to discuss needs and concerns for your passion as an artist and as a friend.  Collaborations and engagement are encouraged. Here are some photos from previous meet-ups.
Southern Equality Studios 2019
In the summer of 2019 we were thrilled to host two artist residencies through Southern Equality Studios. The program supported the work of Liz Williams and Al Murray, two queer artists based in the Asheville, NC region. The Southern Equality Studios work will provide a vehicle for these artists to collaborate outside of their usual spaces, be inspired, and be a part of a community of folks who explore art as a site of resistance, resilience, and community building.
The theme of the 2019 summer's residency for Al and Liz was called Up/Rooted. Here's how Liz and Al explained the foundations of the project:
"We all have roots – and some of us have grown from them thanks to them, and some of us in spite of them. Up/Rooted lifts up the dreams and aspirations of queer artists, acknowledging that our roots inform us, that we respond creatively to them. For anyone who might say 'I don't know any queer people or queer artists, this work is evidence of the fact that we are here. From our roots, we are growing, we are creating, and we're not stopping. We can grow and rise up from our roots and through the art of creation we can make something bigger than ourselves. To those who would prefer to erase our existence, Up/Rooted says: You cannot, and you will not."
Meet the 2019 Southern Equality Studios Residents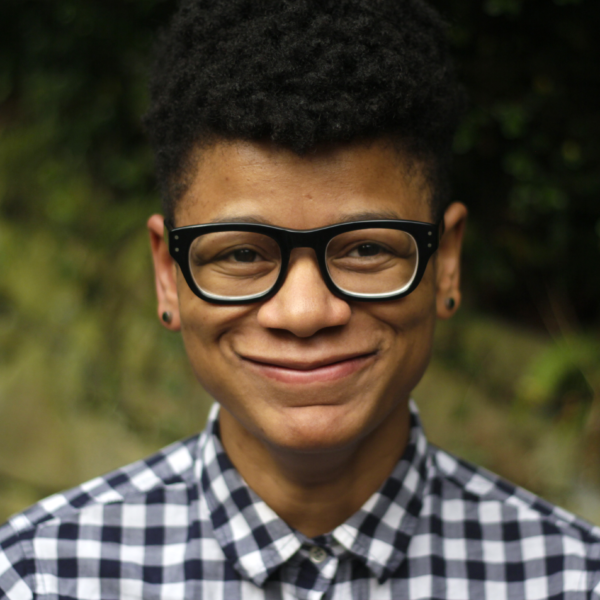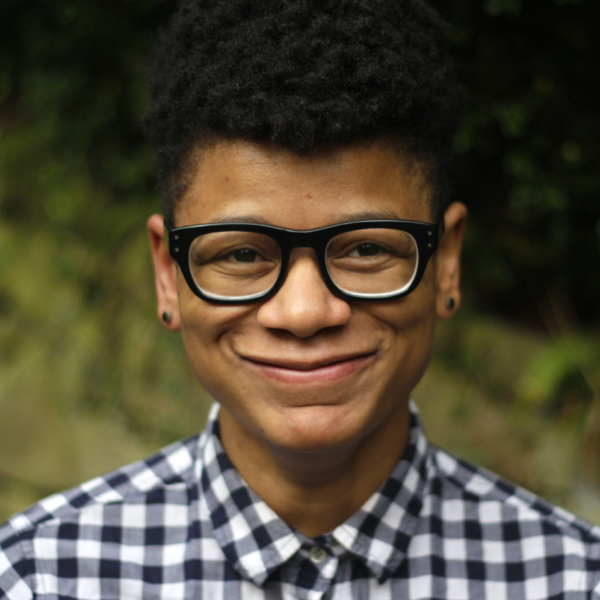 Liz Williams
Through means of photography, digital mixed media, and graphic design, Liz seeks to collaborate with her community and create uplifting artwork and conversation reflective of the LGBTQ identity and the nuances of it. In doing so, she hopes to create work that is a catalyst for empowerment and positive change. Liz has provided design work for several other projects through CSE and other queer run organizations and businesses including QORDS, Lightning Bolt Ink, Tranzmission, and Equality North Carolina.
Liz Williams will be sharing updates on her feed and story at @MakeMeSomeArt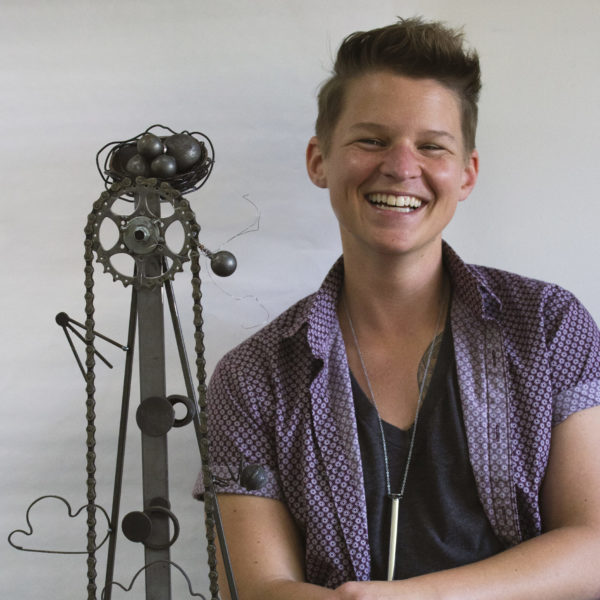 Al Murray
Al was born and raised in Western Kentucky. They've made Asheville home since moving from Connecticut in 2012. Al earned a BA from Transylvania University in Lexington, Ky and a MA in Art History from The University of Connecticut, focusing their research on queer activist art. Al has spent the last 15 years working in non-profits in the South. When not in the office, Al operates a metalworking studio, creating steel sculptures and decorative architectural metalwork.
Al will be sharing updates on their feed and story at @SteelToeSunshine.
Queer people in the South live creatively. We don costumes that render us visible and/or invisible. We move through spaces that oscillate unpredictably between safe and violent. We stand up and speak out and sit down and shut up…on repeat…ad nauseum. Southern Equality studios is a project of CSE that explores how the arts can be a catalyst and force in achieving LGBTQ equality – both legal and lived – in the South. We bring artists to the forefront to narrate the community's experiences as well as their own, by means of visual, spoken, or written storytelling." – Al Murray and Liz Williams on Southern Equality Studios
News and Updates from Southern Equality Studios