New data from the Williams Institute shows that more than 500,000 trans folks call the South home. Too often, they face a lack of resources and support. We often hear stories of people going without medical care or traveling hours to reach a doctor who will treat them with respect. That's got to change.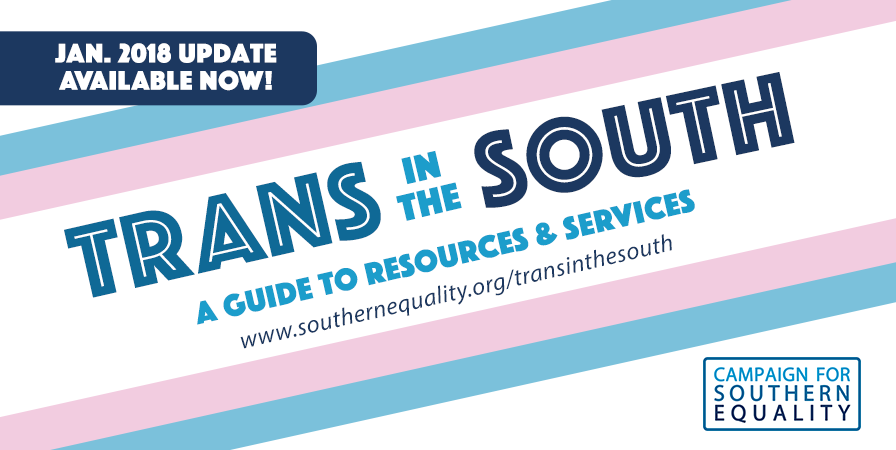 In the pages of this edition of Trans in the South, available in both English and Spanish, you'll find lists of trans-friendly service providers – from doctors to attorneys to counselors – across the South as well as resources to assist with funding medical transition, and helpful information about insurance coverage. We hope this resource guide helps people access the services they need to survive and to thrive.
You can download a PDF of Trans in the South: A Guide to Resources by clicking here. We also ask you to share this guide with your networks.
We're grateful to the many providers and agencies listed in this guide and to partner groups in the South and nationally that also put out resource guides. We've done our best to curate this updated guide to be as thorough and accurate as possible about trans-friendly services across the South.
Have a resource you'd like to see included in our next update? Please submit new resources here. Thanks for helping us expand Trans in the South!
ICD-10 Insurance Codes for Transgender Health Care
Healthcare is a vital issue for everyone, but it's a particularly important issue for trans folks. Time and again we hear from people who have been denied coverage of care related to their medical transition. Sometimes this is because they're working with a doctor who doesn't know how to code trans related care in a way to get it covered, and sometimes folks aren't aware that they can appeal an insurance denial.
With that in mind, the Campaign for Southern Equality has compiled this Insurance Coding fact sheet compiled to provide information about ICD-10 insurance codes and corresponding diagnoses and treatments the codes are related to. This information can help inform medical providers about insurance codes for trans healthcare that are commonly accepted and rejected.
This document is intended to assist trans people in advocating for themselves with their healthcare providers and insurance companies. We shouldn't have to provide trans education while we're in the stirrups, and this tool is designed to help trans people navigate medical transition from the initial coding from a doctor to the appeals process with an insurance provider.
Name & Gender Change Guidelines
The name & gender change process is one that is particularly important to members of the trans community.
NOTE: Laws dictate how these processes take shape in each jurisdiction; therefore, processes do not look the same across jurisdictions. They are also subject to change. On each "tool" page you will find a date that notes when the page was last updated. To ensure the process has not changed since that date, it is best to contact a local attorney