A week of wins and losses in the LGBTQ South
The LGBT South is a weekly email newsletter, compiling national, regional, and local news important to LGBT Southerners. Subscribe to get the latest edition to your inbox every Friday morning and keep up with what the Campaign for Southern Equality is up to!
QUOTE OF THE WEEK
"Many times, this kind of discrimination, harassment and violence is justified in the name of 'culture.' This offensive argument ignores the fundamental truth that LGBT rights are human rights. Prejudice is prejudice; inhumanity is inhumanity."
– Vice President Joe Biden, calling for the U.S. to advocate for the global LGBTQ community
Here's your breakdown of what's happening this week in the #LGBTsouth:
A WEEK OF WINS AND LOSSES
A West Virginia court ruled 3-2 last week that assaults or crimes committed on the basis of sexual orientation are not covered under the state's hate crime laws.The ruling is one of many in the argument around whether  existing laws prohibiting discrimination on the basis of sex also cover crimes on the basis of sexual orientation. While it is certainly a loss for LGBTQ West Virginians, more and more courts are agreeing that anti-LGBTQ crimes are, indeed, covered under sex discrimination laws.
In North Carolina, ongoing attempts to restrict voting rights have been stalled for the moment, after the Supreme Court decided not to hear a case appealing last year's ruling striking down strict voter ID laws that the Fourth Circuit Court of Appeals said aimed to "target African-Americans with an almost surgical precision." Republicans in the state legislature have already vowed to propose new voting limitations, but they will almost certainly face opposition from Democratic lawmakers and Gov. Cooper.
Both Nevada and Connecticut passed legislation banning conversion therapy for LGBTQ minors this week, bringing the total number of states with these bans to 10. Interestingly, half of these bans have been enacted by Republican governors, while the party's official platform condones conversion therapy. The bans may point to the growing distance between far-right and centrist members of the party and  an evolving outlook toward LGBTQ rights among more moderate Republicans.
Attorney General Jeff Sessions has been criticized for his decision to promote harsher sentencing for drug crimes, policy that has led to mass incarceration and targeted communities of color and other marginalized communities. While the Obama Administration rolled back sentences for low-level drug crimes, Sessions has instructed prosecutors to charge suspects with the  "most serious, readily provable" crimes and harshest sentences. Former Attorney General Eric Holder stated, The policy announced today is not tough on crime. It is dumb on crime."
And last, but certainly not least, for the first time in U.S. history, a man has been convicted on federal hate crimes legislation for the murder of a transgender woman. 17-year-old Mercedes Williamson was killed in 2015 in Mississippi, and this week Judge Louis Guirola, Jr. sentenced her killer to 49 years in prison. It is a landmark ruling that could set a precedent for future cases, and Judge Guirola stated, "The taking of a human life because a person has a particular gender identity is particularly heinous and cannot be tolerated in an enlightened society."
WHAT ELSE?
STAFF READ OF THE WEEK
By Crystal Richardson, Legal Director
Our friends at the Southern Poverty Law Center (SPLC) have created the Southeast Immigrant Freedom Initiative (SIFI) which offers legal support and representation to immigrants in federal detention in direct response to the travel bans created during the first 100 days of the Trump administration. Crystal Richardson, Legal Director of CSE's Rapid Response Initiative, recently participated in the first phase of the project. She spent a week at Stewart Detention Center, a federal detention and immigration court in Lumpkin, Georgia. This blog describes her experiences. In May, Crystal will return to Lumpkin for the second phase of the SIFI project.
In late April, I visited a tiny, little town called Lumpkin, Georgia. According to the 2013 Census, the population in Lumpkin is 30,918. It took me two planes and a 40-minute car ride to get to this peaceful town. But on a daily basis immigrants are being deported and families are being torn apart at Stewart Detention Center in Lumpkin. Stewart Detention Center houses both a detention facility and an immigration court. This facility is run by Nashville-based private prison corporation CoreCivic, formerly known as the Corrections Corporation of America.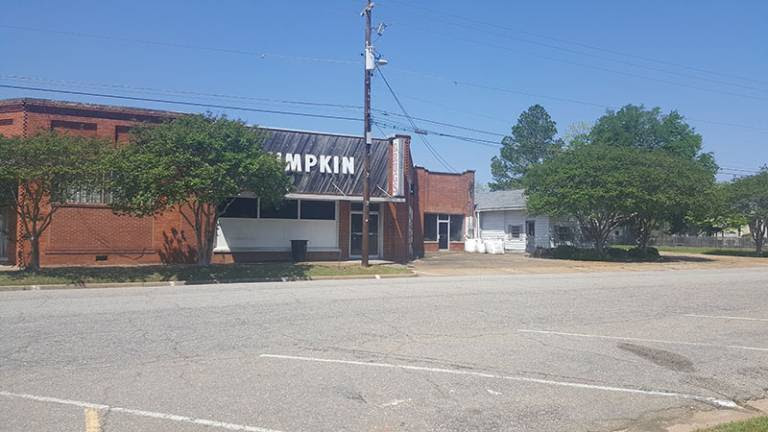 On average, I saw about 30 respondents (the individuals being detained) each day, while I spent my week in Lumpkin. Approximately 12 of 30 respondents per day had attorneys. During the bond hearings, all of the respondents were given either what was referred to as a "high bond" (usually around $25,000) or a flat out "denial" of bond; most of the people I observed were Latino men from Mexico or Guatemala; and majority of the individuals were deported in less than 5 minutes.
For the next few days, I travelled the 40 minutes to Stewart Detention Center to observe person-after-person get deported within minutes. My hope is that by learning more about immigration law and raising awareness surrounding the issues faced in immigration court I will help some of our LGBTQ immigrant community members, as well as keep families together and prevent people from being tortured or harmed in their home country just for being who they are.
Read Crystal's full piece and learn more about the Southeast Immigrant Freedom Initiative on our blog.
---
WHAT THE CAMPAIGN FOR SOUTHERN EQUALITY IS UP TO
Thank you for subscribing to The LGBT South newsletter! We have been bringing you the latest LGBTQ news from across the South and the country weekly for over a year, and we want to hear from you! What do you love? How can we improve? Take this survey to provide us some feedback, and we'll send you a free "Y'all means all" button!
---
We are excited to launch Safe Schools, Safe Communities, a new round of rapid response grants to promote safety in schools and communities across the South. 
We're open to all kinds of ideas. If it will make your community safer, we want to hear about it – whether you're organizing a rally to speak out against violence against trans women of color; hosting trainings to provide sanctuary for undocumented immigrants; educating legislators about the importance of access to affordable healthcare; or building a coalition of staff, faculty and parents to reduce bullying against LGBTQ, immigrant and Muslim students.
We need all of these efforts and more to protect and defend those who are most vulnerable in our communities across the South. Click here to apply for funding today.
We will accept and review applications for grants of up to $500 on an ongoing basis. Applicants will receive a response within one month of submission.
---
We are excited to host a series of FREE "Protect Yourself" Clinic that centers the trans experience.
Led by and for trans folks, these clinics will cover a range of safety issues including: trainings in self defense and pepper spray, writing a safety plan, and using safety apps on your phone. Free and confidential HIV testing and counseling will also be available.
Clinics are coming up in  Nashville, TN on May 24; Memphis, TN on May 25; and Charleston, SC on June 4. Thanks to The Change Project, OUT Memphis, and We Are Family for co-hosting!