In Georgia, SB140, a law that restricts initiating certain transgender-related healthcare in Georgia for people under the age of 18 is currently in effect. This means that youth under the age of 18 cannot initiate gender-affirming hormone therapy or surgery. This law does not restrict care that is already initiated; youth that have started hormone therapy before July 1, 2023 will be able to continue receiving treatment. 
The Campaign for Southern Equality is working with partners across Georgia, including Georgia Equality, to provide resources and information to impacted families. Please use this form below to request more information, and we will be in touch.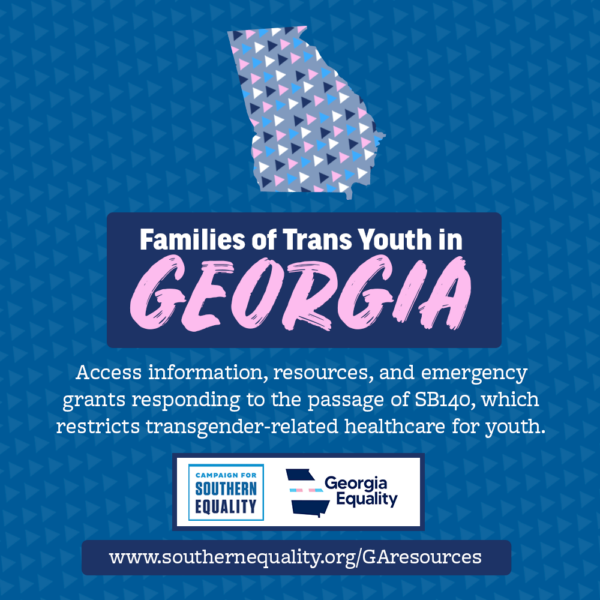 Resource Guide for SB140
We know this is a very challenging time filled with many questions. This resource guide is designed to provide up-to-date information and concrete resources to help transgender youth continue accessing healthcare. We will update this guide as more information and resources become available.
Emergency Grants for Impacted Families
The Campaign for Southern Equality, in partnership with Georgia Equality, is facilitating rapid response emergency grants of $500 to help those impacted by SB140 during this challenging time. Grants can be made to the parent/caregiver of an impacted youth. To learn more about these grants and to request one, fill out the form below.
Learn More About the Southern Trans Youth Emergency Fund
The Southern Trans Youth Emergency Project (STYEP) is a new regional effort from the Campaign for Southern Equality that provides rapid response support directly to the families of youth who are impacted by anti-transgender healthcare bans in the South. Through STYEP, and in close partnership with state and local organizations, we are providing grants, patient navigation support, and accurate information to impacted families to ensure that youth can access the care they need and deserve, even in the face of oppressive laws. We have developed a regional referral network of providers in access states and are helping as many families as we can through this time of crisis.