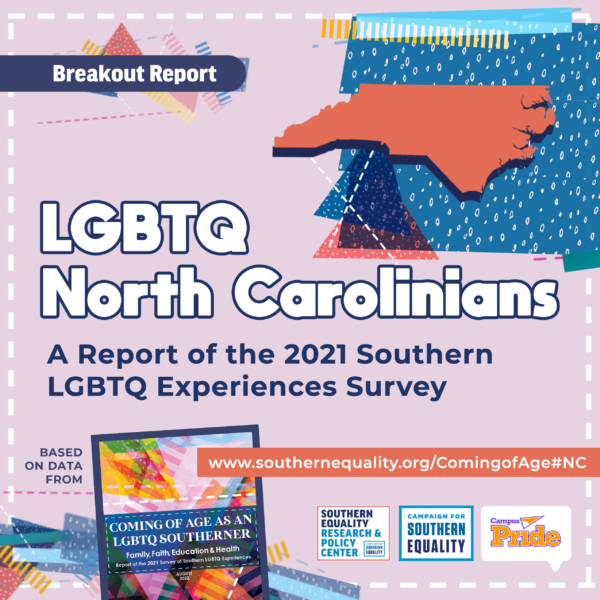 Today the Campaign for Southern Equality (CSE) and Campus Pride released a new report focused on the life, school, and health experiences of LGBTQ people in North Carolina. 
The report's release comes at a time when the North Carolina General Assembly is considering a slate of anti-LGBTQ+ bills that would impact the ability of LGBTQ+ youth to access medical care, be safe at school, and participate in school sports. These bills include:
HB808, a bill that inserts the government into private, best-practice medical decisions between trans youth, their parents and their doctors;
HB574 / SB631, which prohibit transgender students at every level of education from participating in school sports; and
SB49, which prohibits discussion of sexual orientation and gender identity topics in schools and requires all school staff to "out" students to their parents if they use a different pronoun or identify with a different gender at school. 
These bills infringe upon the rights of LGBTQ+ youth and are likely to further marginalize young LGBTQ+ North Carolinians, who, according to this breakout report, already face disparities in health, social support, and even experiences of physical and emotional violence.
The breakout is a supplement to Coming of Age as an LGBTQ Southerner: Family, Faith, Education & Health, and relies on data from the 2021 Survey of Southern LGBTQ Experiences, a survey of 4,186 LGBTQ people who live in the South – including 539 from North Carolina. The survey oversamples people in the 18-24 age range. 
Key findings of the report – which you can read here – include discussion of:
Anti-LGBTQ Violence:

21% of respondents from North Carolina reported experiencing physical violence and 76% reported experiencing emotional violence related to their LGBTQ+ identity. 

Social Support:

33% of respondents from North Carolina reported feeling at least somewhat socially isolated due to their LGBTQ identity, 10% reported that they do not have people they can talk to about LGBTQ issues.

Mental Health

:  72% of respondents from North Carolina rated their overall mental health as poor or fair. When asked about their mental health experiences during the year prior to taking the survey, 67% reported self-isolating from support networks, 57% reported experiencing suicidal ideation, and 14% reported a suicide attempt. 

Physical Health: 56

% of respondents from North Carolina rated their physical health as poor or fair, and 36% reported delaying or avoiding healthcare due to fear of discrimination or harassment.
The Campaign for Southern Equality and Campus Pride also released today an additional supplement focusing on the responses of LGBTQ+ people living in Western North Carolina. This supplement synthesizes responses from 165 people in 18 counties: Avery, Buncombe, Burke, Cherokee, Clay, Graham, Haywood, Henderson, Jackson, Macon, Madison, McDowell, Mitchell, Polk, Rutherford, Swain, Transylvania, and Yancey. The region also includes the Qualla Boundary, federally recognized land that is the territory of the Eastern Band of the Cherokee Indians. 
Dr. Austin H. Johnson (he/him pronouns), Director of the Southern Equality Research & Policy Center (SERPC) at the Campaign for Southern Equality and Associate Professor of Sociology at Kenyon College, said today:
"North Carolina lawmakers would be wise to take this data into account when considering legislation that will further marginalize LGBTQ+ youth in North Carolina. These young people need access to best-practice medical care in order to be mentally and physically healthy. They deserve to feel safe and welcome at school, and they should be able to play with their classmates on school sports teams. They should be able to come out to their loved ones in their own time, not forced by their government. The data in this report is a call to action – and it's critical that we invest in building better systems for transgender and queer youth rather than passing attacks on their dignity and humanity."
Access this state spotlight supplement of Coming of Age as an LGBTQ Southerner – as well as the full report – at www.southernequality.org/ComingofAgeSurvey#NC. And view the Western NC supplement by visiting www.southernequality.org/ComingofAgeSurvey#WNC.