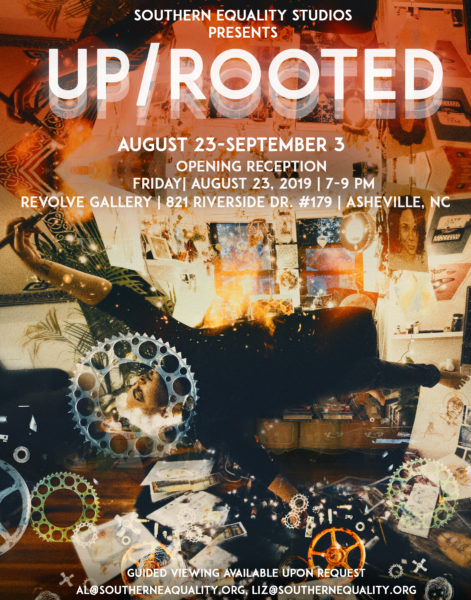 On August 23, local artists Liz Williams and Al Murray will host an opening reception for the exhibition of their collaborative multimedia project Up/Rooted. The exhibition will be on display at REVOLVE in Asheville from August 23 until September 3. 
Up/Rooted is the second annual iteration of Southern Equality Studios (SES), a special project of the Campaign for Southern Equality, an Asheville-based non-profit that promotes full LGBTQ equality across the South. The exhibition marks the end of a 4-month artists' residency for Murray and Williams and continues CSE's efforts to explore how the arts can be a catalyst and force in achieving LGBTQ equality and social change.
Up/Rooted highlights the experiences of local LGBTQ artists. This year Williams and Murray have interviewed nearly 20 artists and hosted a panel discussion with 6 of them earlier this summer, discussing identity, the role of politics in art and the role of creativity in healing trauma. Williams has created surreal floating portraits of the artists and Murray has used objects of significance from their pasts in nostalgic kinetic sculptures. These portraits and sculptures will be featured alongside samples of all of the featured artists' work in the 10-day exhibit at Revolve Gallery/RAMP studios.
Members of the media are invited to attend the opening reception and speak with Williams and Murray. Details below:
WHAT: Opening reception of Up/Rooted exhibition, a project of the Campaign for Southern Equality's Southern Equality Studios program. The program will include a short discussion of the project and light refreshments. 
WHEN: August 23, 2019, 7:00-9:00pm
WHERE: Revolve Gallery
ADDRESS: 821 Riverside Dr. #179, Asheville, NC 28801
RSVP: Media should contact Adam Polaski at adam@southernequality.org
Featured artists include: Chelsea Dobert-Kehn, Jékksyn Orilyn Ícaro, Hannah Felperin, Rena Vox, Cortina Jenelle Caldwell, Mars Luren, Joey Brandt, Twin Denim (Lea & Christina Panteliodis), Andi Lou, Ronika McClain, Ryn Arrants & Kay Petrucci, Mac McCusker, Maxx Feist, John Schweitzer, Amanda Trader, Lando Morgan.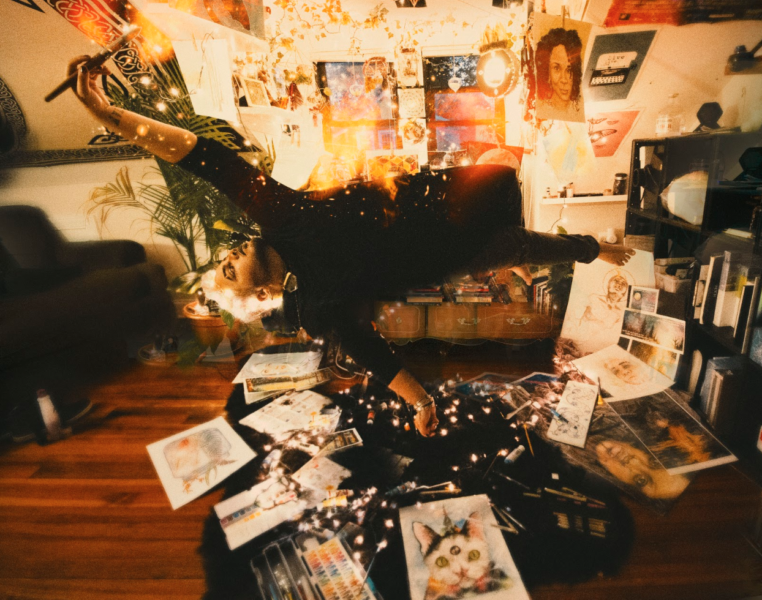 Liz Williams and Al Murray shared their excitement for the opening reception and exhibition. They said:
"Up/Rooted and this experience with Southern Equality Studios is all about exploring the many creative ways that LGBTQ people are thriving and building their lives in the South. As queer Southerners, we know that greater understanding and social change will only come when we speak out, get personal, and welcome our neighbors into our lives and our journeys. That often can come at great risk, and that's why we're grateful to all of the participating artists who generously shared their roots and aspirations with us. Through Up/Rooted, we aim to narrate a piece of the story of who LGBTQ Southerners are, where we came from, and where we're going."
Anna Helgeson, Exhibitions Director at REVOLVE, said:
"When Liz and Al approached MAP/REVOLVE to host Up/Rooted, the answer was an immediate yes! At the core of MAP/REVOLVE's mission is to amplify diverse underrepresented voices, and celebrate the cultural vitality of our region, making this exhibition a perfect fit. We are excited to engage with the work of these two artists and look forward to the conversations generated." 
Up/Rooted will be on display from August 23 until September 3, 2019 at REVOLVE. To follow the project, visit www.southernequality.org/southernequalitystudios or follow on Instagram at @SouthernEqualityStudios.