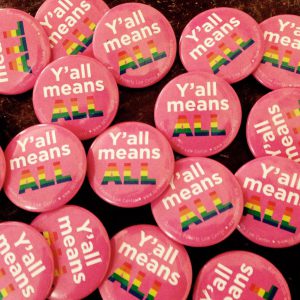 The Campaign for Southern Equality (CSE) has launched the Southern Equality Fund with grants to eight organizations and individuals working to achieve legal and lived equality for LGBT people in the South. The Fund is a grantmaking initiative designed to direct resources to grassroots LGBT groups and elevate LGBT leadership across the South, especially in small towns and rural areas.
More than 3 in 10 LGBT adults live in the South – a higher number of LGBT adults than any other region – but Southern LGBT organizations receive less than 4 percent of national funding. In the South, this translates to $1.71 of funding per LGBT adult annually, this compares with $10.10 per LGBT adult each year in the Northeast. The Southern Equality Fund combats this lack of resources by funding projects across the South.
"The South receives just a tiny sliver of funding in the national LGBT movement. The need for services and advocacy is immediate and profound. Getting resources to the South isn't just a strategic mandate, it's a moral one. There are incredible leaders across the South who are brave, creative and resourceful. But they need resources to execute their work. That's why we've launched the Southern Equality Fund. We sincerely hope that other LGBT organizations – particularly with larger budgets than ours – will join us in funding grassroots Southern work. There has been a tremendous amount of discussion about working in the South in the national LGBT movement; it's time for that to translate into directing resources to our region and the incredible work already happening here," said Rev. Jasmine Beach-Ferrara, executive director of the Campaign for Southern Equality.
Two cycles of funding have now been conducted – the first among participants at the 2015 LGBT* in the South conference, an annual event hosted by CSE; the second cycle was among groups working in Mississippi. Grants have ranged in size from $250 to $500.
The following grants were made to participants at the 2015 LGBT* in the South conference:
The Elite Project of AIDS Alabama, an HIV outreach and resource program in Birmingham, Ala., which will use their grant to promote their services;
Henderson Fuerza Activa, a Latino community organization in Henderson, NC, which will use their grant to get a billboard;
People Being Jesus, a service-oriented ministry in Hendersonville, NC, which will use their grant to cover operating costs;
Transgender Allies Group, an effort to connect transgender North Carolinians to trans-competent legal, health and mental health practitioners. The grant will be used for a video about suicide prevention.
"Recently, Birmingham was listed as 17th in the country for HIV rates," says Brandon King who was awarded a grant for the Elite Project. "For young people, particularly same-gender-loving young men of color that number is especially high." The Elite Project will use the grant to promote their services and to reconnect with lapsed clients. Central Alabama's high HIV infection rate spurred Brandon to apply.You can learn more about the first four grantees here: http://southernequality.org/cse-awards-first-recipients-of-southern-equality-fund-grants/.
The second set of grantees are all projects located in Mississippi:
The Spectrum Center, which will use the grant to organize the first ever Pride celebration in Hattiesburg, Mississippi: Hattiesburg Unified Southern Pride;
Unity Mississippi, which is organizing Mississippi Pride 2015 to coincide with a marriage equality ruling from the Supreme Court in late June;
The Inner Light Community Church, a group dedicated to creating safe spaces for diverse communities in Jackson and countering oppressive theology;
An LGBT art exhibition that will feature the works of LGBT artists in North Mississippi.
"The LGBT community in Mississippi experiences a great deal of discrimination and harassment," said Dr. Shameka Nicole Cathey, who leads the Inner Light Community Church. "The Southern Equality Fund will help the Inner Light Community of Jackson host 'Cafe Conversations,' a series of meetings to dialogue on building an inclusive spiritual community. These Conversations will provide a safe space where all individuals can be affirmed."
"The idea is to immediately get fuel in the tanks of organizers who are responding to immediate needs and opportunities," adds Beach-Ferrara. Organizations and individuals do not need to have 501c3 status to apply; the application process has been designed to be streamlined and accessible, with a short period between the deadline and disbursement of funding. With a goal of increasing grant size, CSE is actively raising funds for the next cycle of grants which will be announced in the fall of 2015.