This week, after seven years with the Campaign for Southern Equality, our Communications Director Aaron Sarver is stepping down to work on diversion programs with the Buncombe County Sheriff's Office and Sheriff Quentin Miller.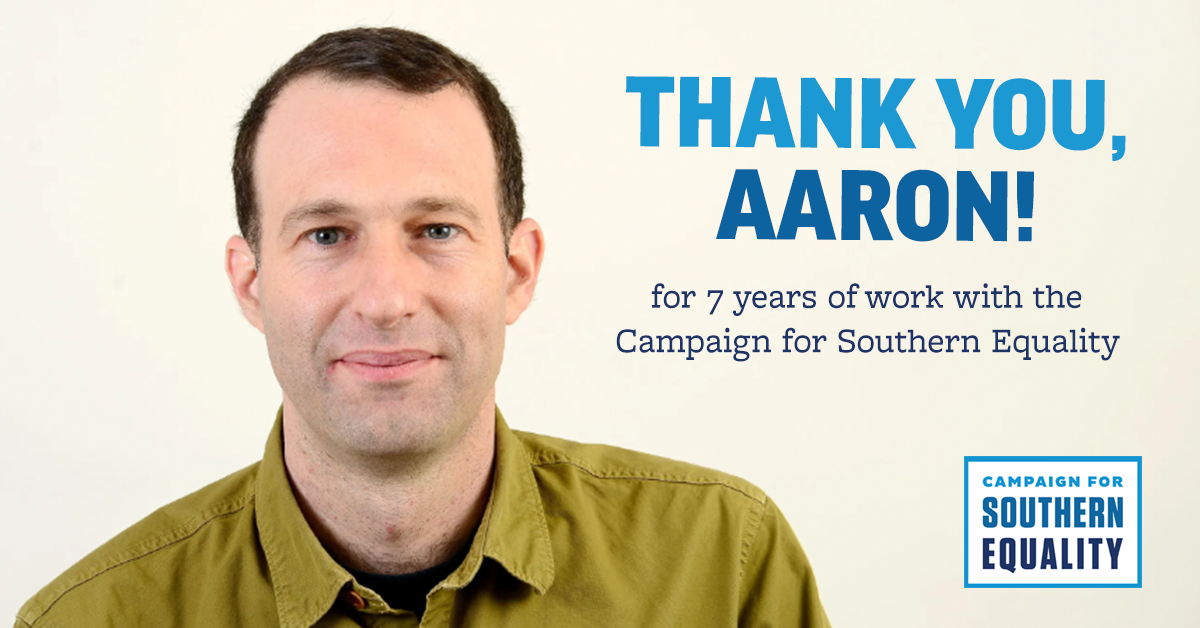 Jasmine Beach-Ferrara, Executive Director of the Campaign for Southern Equality, wished him well on behalf of the entire staff. She said:
Aaron has been an extraordinary leader at CSE, bringing an irreplaceable mix of vision, compassion, calm-even-during-chaos, and humor to our work. Our whole team is filled with gratitude for the experience of collaborating with him and traveling the back roads of the South together. We are also inspired by the work he'll be doing in his new role at the Buncombe County Sheriff's Office and wish him the very best in this next chapter.
Aaron shared these final thoughts this week with supporters of the Campaign for Southern Equality. We wish him well in this next exciting endeavor and thank him for the tremendous impact he has made in the fight for LGBTQ equality across the South.
Aaron's Message to Supporters of CSE:
All good things must end, as the saying goes. After an amazing run of nearly seven years at CSE, I've taken another position. I'll be staying in Asheville and moving over to the Buncombe County Sheriff's Office to work on diversion programs with our new Sheriff Quentin Miller.
Saying I have memories to last a lifetime from my years at CSE is cliché, but it's true.
I'm proud of all the wins over the years, striking down Amendment One in NC and striking down numerous bad laws in Mississippi.
But also tons of small moments stick in my mind. When a huge gasoline truck swerved across the highway as Ivy Gibson-Hill and I were driving to an event in Lexington, Kentucky stands out. Honestly, I don't know how we survived that unscratched.
Jasmine doing a live Skype interview with the BBC while wearing pajama bottoms and purple slippers in another – it was 1 am or some ungodly hour after we had run two WE DO actions that day. I still laugh at that memory every few months.
Mostly I'll remember all the people working to build a new South. Folks who were told their whole lives that they had no business building a social justice movement in rural Mississippi or East Tennessee.
No victory that takes years or decades happens without an army of folks. In another 2 or 5 or 10 years when some of these folks are elected mayor of their hometown or are profiled on MSNBC for an amazing organizing win, I'll be proud to say I knew that's where they were headed before the South as a whole was ready to recognize the power of what's coming next.
Forward Together,
Aaron
P.S. I just signed up to support CSE as a monthly donor. I ask you to do the same – even if it's $5 a month, it makes a difference.