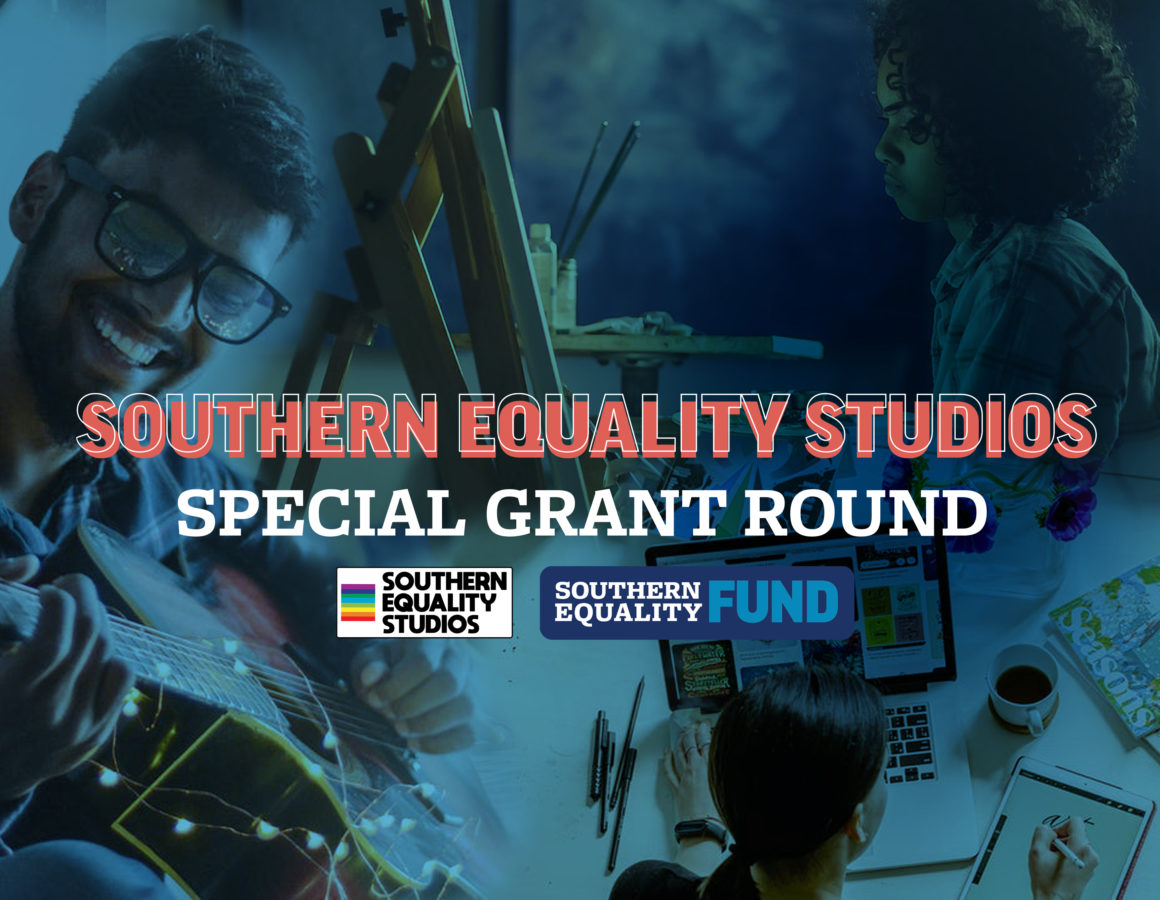 NOTE: This application closed on February 10, 2022. We are excited to review applications in the coming weeks.
The Campaign for Southern Equality is excited to announce the 2022 Southern Equality Studios special grant round of Southern Equality Fund. Support for this grant is guided by the understanding that the arts are a catalyst and force for advancing LGBTQ lived and legal equality in the South. 
The goals of these $500 grants include increasing the visibility of LGBTQ artists and makers (especially artists of color), creating and improving access to funding & exhibition opportunities for artists, and creating work that represents or otherwise amplifies the voices of LGBTQ people in the South. 
Twenty-five grants of $500 are available for nominees who best meet the criteria of this grant round (see below). For more information about Southern Equality Studios, please visit the Southern Equality Studios website.
Eligibility and Details for Southern Equality Studios Special Grant Round
The artist or leadership team must be LGBTQ people based in the South.

QTBIPOC-led initiatives are prioritized, but not required.

Not all grant nominees will receive a grant.
One application per person.
Funds can be used to support a wide rang of artistic endeavors.
Applicants are not eligible to receive this grant if they have received a previous Southern Equality Studios grant.

Anyone is welcome and encouraged to nominate LGBTQ art projects for this grant and organizers and artists may also nominate themselves.

Southern Equality Studios will have a grant committee reviewing grant applications that best meet the criteria of this grant round including:

How will the creative's work impact LGBTQ people in their community?

Previous experience with community engagement through the arts.

Project(s) the nominee would be interested in developing through this grant.

There are no grant reports, budgets or supplemental materials required in this process. However, if selected, applicants will have to fill out and return a W9 form to receive their funding.

You do not have to have 501c3 status to receive a grant; however, all activities that funding is used for do need to comply with 501c3 guidelines (projects may not, for example, explicitly support or call for the election of specific political candidates).