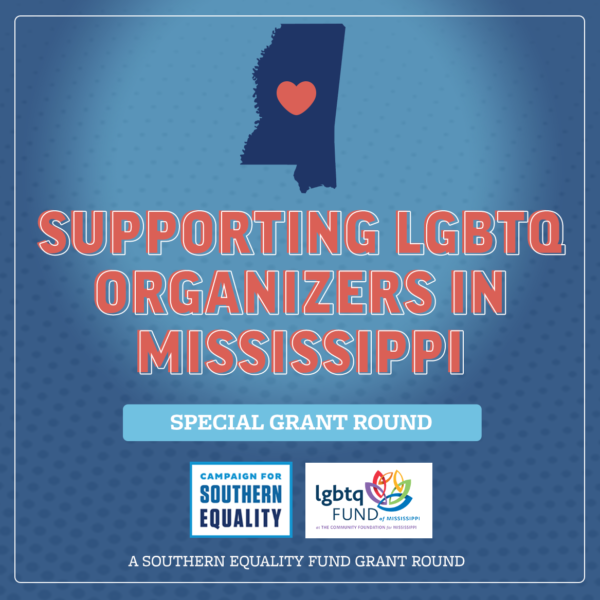 NOTE: This grant round closed in November 2022. Thank you for your interest in the Southern Equality Fund. 
This fall the Campaign for Southern Equality and the LGBTQ Fund of Mississippi are accepting applications for a special grant round dedicated to supporting organizers and advocates focused on LGBTQ people across Mississippi. This $20,000 Southern Equality Fund grant round will support activities, events, and projects developed to care for LGBTQ Mississippians. Grants of up to $2,500 will support LGBTQ organizers in Mississippi leading projects such as direct action, resilience and healing efforts, direct service, artistic endeavors, and more, across the South.
These new grant rounds are part of the Campaign for Southern Equality's Southern Equality Fund, which has been making grassroots grants across the LGBTQ South since 2015. Since its inception, the Southern Equality Fund has prioritized supporting work led by BIPOC, transgender, and rural organizers. Please note that these grants are for projects and organizations – not for emergency assistance grants supporting individuals. Individuals seeking emergency assistance should not apply.
Criteria for Mississippi Special Grant Round
We specifically seek applications for projects that are:
Based in Mississippi.

Supporting an LGBTQ-focused project or organization, not an individual applicant.
Groups are not required to be a 501(c)3 or have a fiscal sponsor in order to receive funding, but we do require that all grantees adhere to 501(c)(3) requirements for funded work.
We strongly encourage applications for projects led directly by transgender people, BIPOC individuals, and people in rural areas.
Ready to Apply?
Thank you for your interest in the Mississippi Southern Equality Fund Grant Round, a special grant round launched in partnership with the LGBTQ Fund of Mississippi. This grant round closed in November 2022. Thank you for your interest in the Southern Equality Fund. 
APPLICATION QUESTIONS (CLICK TO EXPAND)
Are You Representing An Organization Or An Individual?
Pronouns
Phone
Street Address*
City*
Zip Code*
Where Are You Based?
Your Role In Your Organization
If You Receive A Grant, How Should A Check Be Made Out (Name Of Group Or Individual) Or Would You Like To Receive The Funds With Paypal Or Venmo?
Tell Us About The Work/Project You Are Seeking Funding For
In 2-3 Sentences, Describe What You Will Do And How You Will Do It. (Ex: we will host three free virtual group therapy sessions for k-12 students in Tupelo, MS. We will fund the therapist and focus on creating this supportive space that specifically focuses on students. We will spread the word through social media and our group's members.)
In 2-3 Sentences, Tell Us Who Will Lead This Project And Who Will Be Served By This Project. If Available, Please Include Information, About The Age, Race, Gender, And Class Of Those Involved. (Ex: our group is led by Black and Brown LGBTQ people who live in the Tupelo, MS area. Our project focuses on serving LGBTQ youth in our community.)
When And Where Will This Project Happen? (Ex: This event will happen by December 1, 2022 in Hattiesburg, MS)
How Much Funding Are You Requesting, Up To $2,500?*
Tell Us How You Will Use This Funding, Listing Each Expense And The Estimated Amount It Will Cost.
Use This Space To Tell Us Anything Else You'd Like Us To Know About You, Your Group, The Needs And Dreams Of Your Community, Or The Work You Are Doing.
Special Thanks to the LGBTQ Fund of Mississippi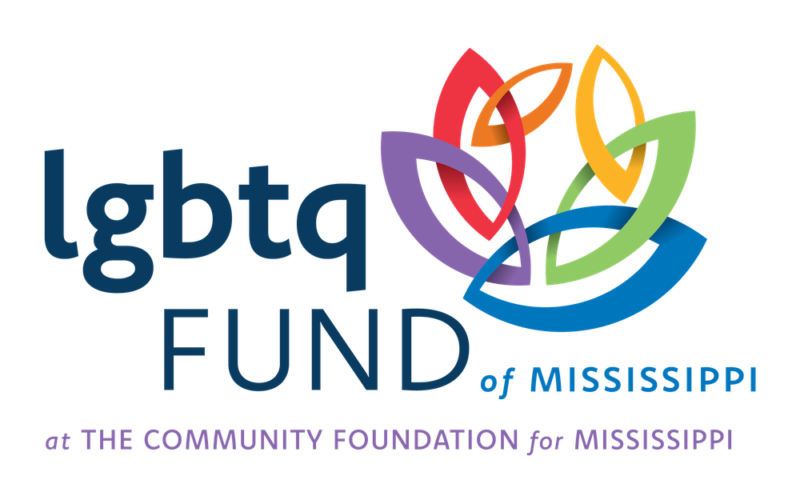 The Campaign for Southern Equality is proud to team up with the LGBTQ Fund of Mississippi to support this special grant round.
The LGBTQ Fund of Mississippi develops and invests resources supporting a state where all LGBTQ Mississippians live safely, openly and without isolation, prejudice, and discrimination. Learn more about the LGBTQ Fund of Mississippi at their website.