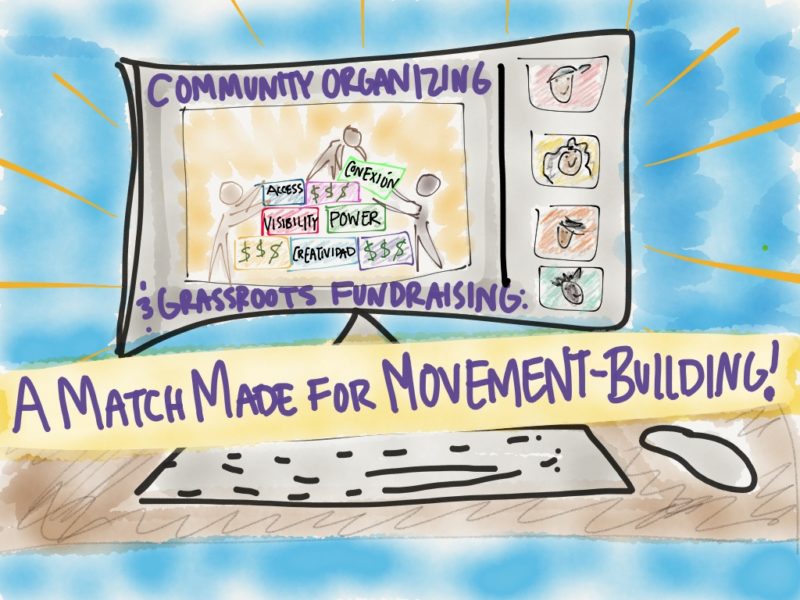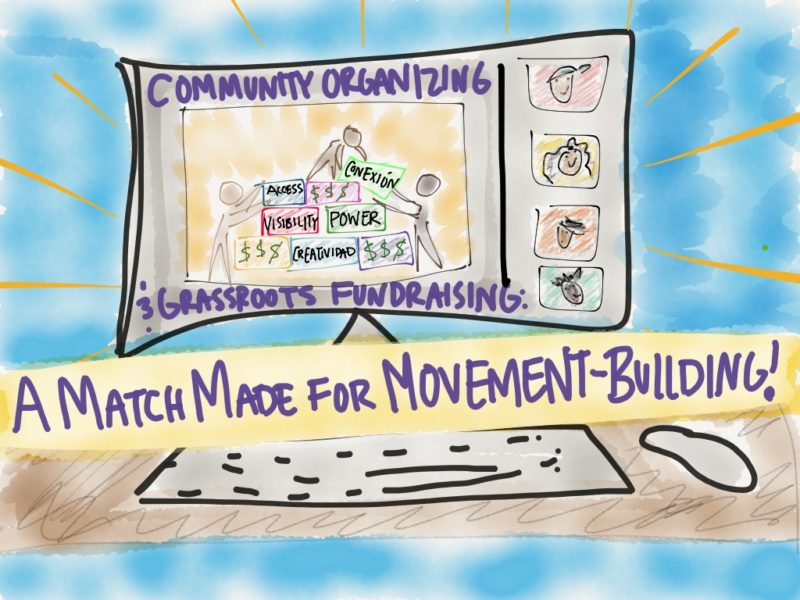 The webinar took place March 29, 2018. Missed it? Scroll down to watch the full recording  and download resources shared during the webinar.
If we've learned one thing in our years of organizing across the LGBTQ South, it's that there is a wealth of creative and inspiring grassroots leaders across the region – in rural areas, small towns, and big cities – working tirelessly to make lasting change in their hometowns. These same groups often fund their work out of their own pockets and face multiple barriers to accessing adequate funding for their work.
That's why we partnered with the Grassroots Institute for Fundraising Training (GIFT), to host the webinar "Community Organizing & Grassroots Fundraising: A Match Made for Movement-Building," the first installation of a pair of webinars about grassroots fundraising: the first webinar in English only and the second webinar in Spanish only. To learn more about the webinar in Spanish, click here. 
This interactive and resource-packed free webinar explored how fundraising is inherently tied to the work of movement-building, how fundraising can be a form of radical self-empowerment, and provided a comprehensive introduction to grassroots fundraising – including crafting an annual fundraising plan and exploring different fundraising strategies.
Webinar recording:
Videos to watch along with the webinar:
The Biggest Myth About Vulnerability
How Leaders Harness the Power of Uncertainty
Weaving the Q'eswachaka Bridge
Resources:
Facilitators:
Veronica Garcia
Program Director, Grassroots Institute for Fundraising Training (GIFT)
Veronica was born in Los Angeles and raised on the U.S./Mexico border in El Paso, Texas where she is based today. She has over 20 years of experience working with social justice nonprofit organizations and community groups on issues including access to health care, food and housing, quality education, anti-violence initiatives, LGBTQ equity, economic justice, anti-racism, and immigrant rights.
Veronica is deeply committed to using the power of fundraising as a movement building strategy. She learned and internalized this powerful value as a graduate of GIFT's Staff-in-Training Internship Program over 10 years ago. In the years since graduating from GIFT's training program, Veronica has supported numerous community groups and organizations in building their grassroots fundraising capacity. Veronica also more recently helped launch two local community projects: the Detained Migrant Solidarity Committee and the Paso del Norte OUT Fund, a grantmaking initiative of El Paso's LGBTQA community (lesbian, gay, bisexual, transgender, and queer people, and our allies).
Britney Nesbit
Southern Equality Fund Coordinator, CSE
Britney hails from Charleston, South Carolina and is a proud University of South Carolina alum. Since 2013, she has worked as an LGBTQ rights advocate and racial justice activist. Britney leads racial equity trainings and LGBTQ sensititvity workshops as part of her community organizing work for the Black Freedom Movement. She serves as Program Coordinator of the Southern Equality Fund, CSE's grantmaking initiative.
Maya Avery Washington
Tzedek Social Justice Fellow for Engagement and Operations, CSE
Maya Avery Washington is a black, queer, woman from Atlanta, Georgia. Before moving to Asheville she was apart of the planning committee of the National Conference of Black Mayors Convention in Cali, Colombia, a Black Studies student at Georgia State University and a supportive ally to various grassroots organizations in the South. She believes in collective, intersectional liberation with a focus on reproductive justice. She values the power of intergenerational and ancestral work, creativity, and working towards an environmentally minded world.  Maya's passions lie in building bridges with accomplices of all ages, abilities, races, sexualities, socioeconomic backgrounds and genders by creating warm, safe spaces where folks can convene, create and build emotional support systems.
Maya currently works as the Tzedek Social Justice Fellow for Engagement and Operations for the Campaign for Southern Equality. Her duties include assisting with event planning and administrative support around fundraising. After Tzedek, she has professional dreams of assisting nonprofits in adopting cutting edge fundraising and mindful accessibility techniques. Her personal future lies in planning for the future of autonomous healing, living and growing space for black and brown queer folks.
---

About G.I.F.T.
Founded in 1996, the Grassroots Institute for Fundraising Training (GIFT) isa multiracial organization that promotes the connection between fundraising, social justice and movement-building.  GIFT builds the capacity of nonprofit organizations to raise money and develop healthy, diverse, and sustainable fundraising programs. We believe that how groups are funded is as important to achieving their goals as how the money is spent, and that building community support is central to long-term social change.
GIFT trains 300+ organizations each year, and specializes in training organizations with budgets below $1 million, especially those working for social justice and those based in communities of color.  GIFT's training, capacity building, and consulting services seek to develop and strengthen the fundraising knowledge and skills of grassroots fundraisers, increase the capacity of organizations to integrate fundraising with programmatic work, and develop effective grassroots fundraising plans.