EDITORS' NOTE: This post is a collaboration between Abby Bowen and Adam Polaski from the Campaign for Southern Equality.
The Texas legislature has been in special session for just a few days now, but already, anti-LGBTQ lawmakers have pushed a forceful wave of discriminatory bills into action, following up on an already-awful session where bills targeting transgender youth. Some of the worst anti-trans bills in the nation were considered in Texas, including one that classified parents who supported their trans children as child abusers.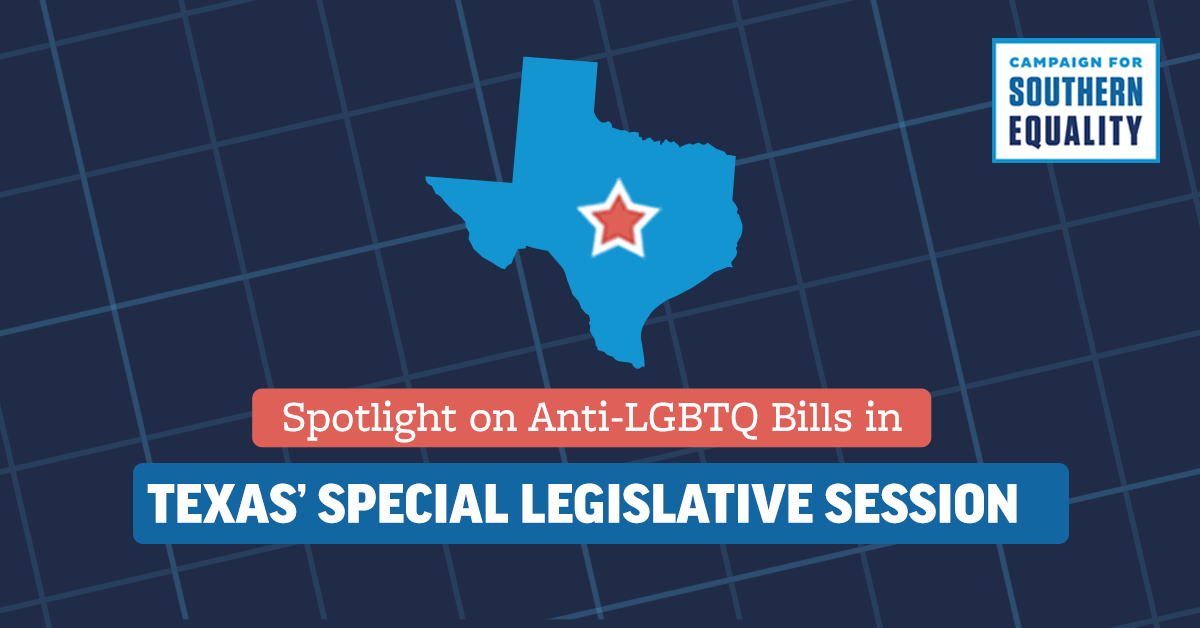 Now, discriminatory bills are surging through the Texas Capitol, and we wanted to provide a round-up of the bills that we are tracking. To get involved and push back, please join our partners at Equality Texas and a powerful coalition fighting to support trans youth and defeat anti-LGBTQ bills.
Here's a look at the bills that have been introduced and that are moving:
Bills Interfering with Access to Medical Care
Perhaps most alarmingly, anti-LGBTQ lawmakers are focusing heavily on dangerous legislation concerning LGBTQ residents' access to affirming medical care. Just as a new wave of legislation was proposed all across the country in 2021, similar bills have been proposed for this special session in Texas:
Bills Granting Medical Providers a Broad "License to Discriminate"
Bills Restricting Gender-Affirming Medical Care
Bills Excluding Transgender Students from Participating in School Athletics
Texas lawmakers are following in the footsteps of anti-transgender forces nationwide by working aggressively to ban transgender kids from participating in school sports this session. Earlier this year this never-before-seen anti-transgender blitz made headlines and threw trans youth into a harsh spotlight. Many of the bills sailed through committees and full chambers across the South (passing and becoming law in 9 states total), despite passionate and committed organizing from so many LGBTQ advocates nationwide.
Bills approved by a full chamber of the legislature:
Other proposed bills:
Other Proposed LGBTQ-Related Bills
Bill to prohibit gender-marker change on birth certificate