LGBTQ Charlotteans and supporters of the ordinance will gather for community event and media availability before City Council meeting.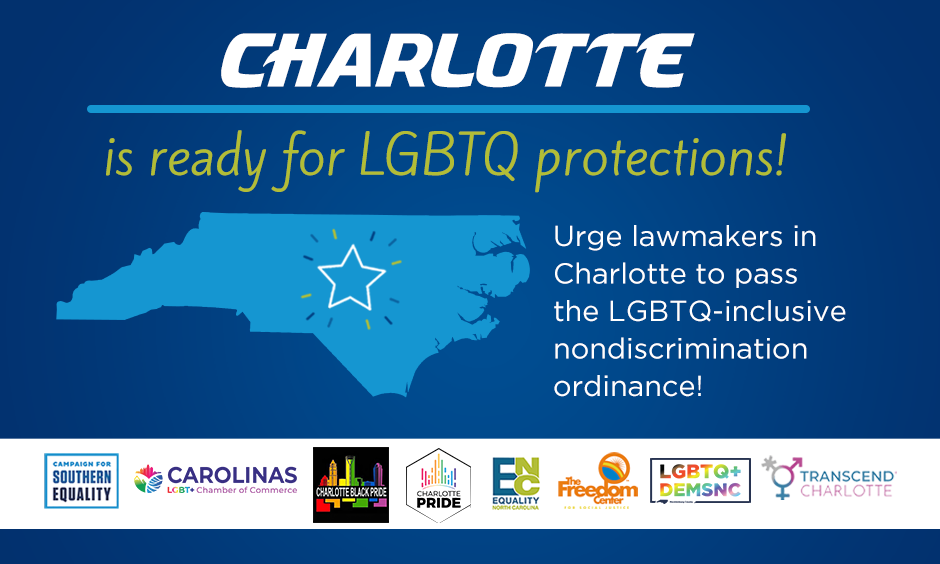 On Monday, August 2, the Charlotte City Council will begin discussions about a local ordinance that would establish clear protections from discrimination based on sexual orientation, gender identity, natural hairstyle, and more in key areas of life, including public spaces and private employment.
The policy move comes just over five years after the unprecedented passage of HB2, which state lawmakers in North Carolina forced through to preempt Charlotte's previous LGBTQ-inclusive nondiscrimination ordinance, forbid other local ordinances, and restrict public bathroom access for transgender people.
Monday's meeting will include a presentation of the ordinance. Public comment will be heard on the ordinance on Monday, August 9. In the meantime, hundreds of supporters of LGBTQ equality are urging the City Council to vote yes on the ordinance. If adopted, it would be the tenth LGBTQ-inclusive nondiscrimination ordinance to pass in North Carolina in 2021.
Ahead of the August 2 meeting, supporters will convene for a community gathering, which will include brief remarks from local leaders. Media are invited to this community gathering, and supporters of the ordinance will be available to speak with press.
WHAT: NC is Ready Community gathering supporting nondiscrimination protections in Charlotte
WHO: Supporters of a local nondiscrimination ordinance in Charlotte
WHEN: Monday, August 2, 4:00pm ET
WHERE: Charlotte-Mecklenburg Government Center • 600 E. 4th St., Charlotte, NC 28202
RSVP: Press should contact Adam Polaski at 610-306-7956 or adam@southernequality.org to confirm attendance.
Bethany Corrigan (they/them), Executive Director of Transcend Charlotte, said:
"We are calling on City Council to finally include all Charlotteans in our city's nondiscrimination protections. We know that Charlotte has become the second deadliest city in the U.S. for transgender and gender diverse people, especially trans women of color. It is time for Charlotte City Council to change this narrative and rebuild the reputation NC has created for itself from consistent legislative attacks on the trans community over the past five years. Trans folks have the right to live and thrive in Charlotte, free from discrimination, and City Council must pass an updated ordinance confirming those rights."
Quin Williams, Community Outreach Director for Charlotte Black Pride, added:
"As a lifelong Charlottean, I know that this nondiscrimination ordinance is long overdue. For LGBTQ people – and for people like me who have faced discrimination and mistreatment because of our natural hair – the ordinance will help foster a more fair and free city. Its passage will tell transgender and nonbinary people that they are safe, affirm that people of every sexual orientation are welcome, and signal to Black and brown people that their natural hair is beautiful. It's time that our city uphold dignity and equality for everyone."
Local organizing in Charlotte has been led by Carolinas LGBT+ Chamber of Commerce, Charlotte Black Pride, Charlotte Pride, The Freedom Center for Social Justice, LGBTQ+ Dems NC of Mecklenburg County, and Transcend Charlotte.
Through the NC is Ready for LGBTQ Protections campaign, led by Equality North Carolina and the Campaign for Southern Equality, a diverse array of voices has spoken out for LGBTQ protections at the local, state, and federal levels.  Learn more at www.ncisready.org.