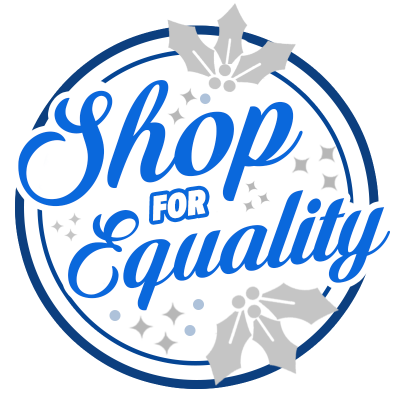 Mark Your Calendars for Shop for Equality!
CSE will host our third annual Shop for Equality on Tuesday, December 10, 2019. Participating Asheville-area businesses are donating at least 5% of proceeds to CSE and all funds will go towards our work for full LGBTQ equality across the South. Watch this page for the full list of Shop for Equality participants!
Businesses – Sign Up to Participate in Shop for Equality!
Make your holiday shopping and dining go further when you Shop For Equality on December 10, 2019!
Businesses across Asheville will come together to support the Campaign for Southern Equality's work for LGBTQ lived and legal equality across the South.
Grab a cup of coffee, enjoy a meal or a drink, or do your holiday shopping any time on Tuesday, December 10 at one of these amazing participating businesses and 5% of proceeds will be donated to CSE.
Check back often – we are always adding more businesses!
RESTAURANTS: Zambra; Buxton Hall; Mayfel's (Monday December 9); Farm Burger (10% 5-9 pm); Chestnut; Corner Kitchen; Curaté; Cafe Yuzu; Blue Dream Curry; Button Bagel Company
COFFEE SHOPS, BAKERIES & SWEETS: Trade and Lore; The Hop (West Asheville and Merrimon); Izzy's Coffee (West Asheville and Downtown); Dynamite Roasting
BARS: The Whale; UpCountry Brewing (Brevard 10% and Asheville 10%); The Crow and Quill; Banks Ave Bar
SHOPS & OTHER: Ashes & Steel Studio; ZaPow; VaVaVoom; Spicer Greene Jewelers; Simply Extract; Rustic Grape; Roanline; Riptide Publishing (online); Patton Ave Pet Co. (all locations); Hip Replacements; Garden Party; Grail Moviehouse; Harvest Records; Hazel Twenty; Embellish; C&Co; Raven & Crone; Akira Satake Ceramics
SPONSORS: The Big Crafty; Horse and Hero; Wicked Weed; Thirsty Monk; East Fork Pottery; JuneBug Retro Resort; Urban Orchard;
If you own a business and want to participate, we'd love to have you. Please email Al Murray @ Al@southernequality.org for more information.
After you shop, join the CSE team for our Sip for Equality After Party from 7-9 PM at Urban Orchard (South Slope) in downtown Asheville!
Thanks and Happy Holidays!
2019's Participating Shop for Equality Businesses (In Formation)
Several local businesses have already confirmed their participation in Shop for Equality. Check them out here – and check back before December 10 as more businesses are added!
Map of LGBTQ-Friendly Businesses in Asheville
This map displays participating Shop for Equality businesses in the Asheville area.  We are continually updating this information.