NOTE: This blog post was a collaboration between Abby Bowen and Adam Polaski of the Campaign for Southern Equality. 
This week community members rallied at the statehouse in South Carolina to once again oppose legislation targeting youth in athletics. Additionally, several pieces of legislation landed on the governor of Tennessee's desk as their legislative session comes to a close, while Louisiana's is gearing up.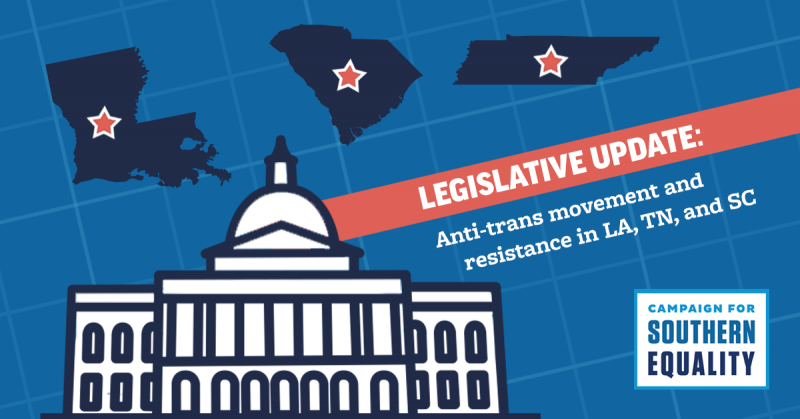 Here are other developments in state legislatures in the South this week:
South Carolina
Legislators in South Carolina keep pushing to exclude children from school sports with SB531. Meanwhile, the community keeps pushing back. On May 6th community members and activists rallied at the statehouse to testify about the harm this legislation poses. Their efforts delayed the subcommittee vote.
Tennessee
Several bills made it out of Tennessee's legislature before the session ended last week. SB1229 and HB529, Senate and House versions of a bill that requires schools to notify parents and guardians when curriculum relating to sexual orientation or gender identity is going to be taught and allows for parents and guardians to remove children from class to avoid those lessons, was signed by the governor on May 3rd. Two additional bills made it to the governor's desk this week, both of which concern public restrooms. A discriminatory bill (HB1233 and SB1367) restricting access to multiple occupancy bathrooms was sent to the governor on May 4th. On May 5th, the governor received a bill (HB1182 and SB1224) that would require businesses that allow people to use restrooms according to their gender identity to make that policy clear at the entrance of the building and bathrooms.
Louisiana
Louisiana's exclusionary sports bill, SB156, passed out of the Senate on May 5th with a majority Republican vote and some Democratic support. The bill will now go to the House.