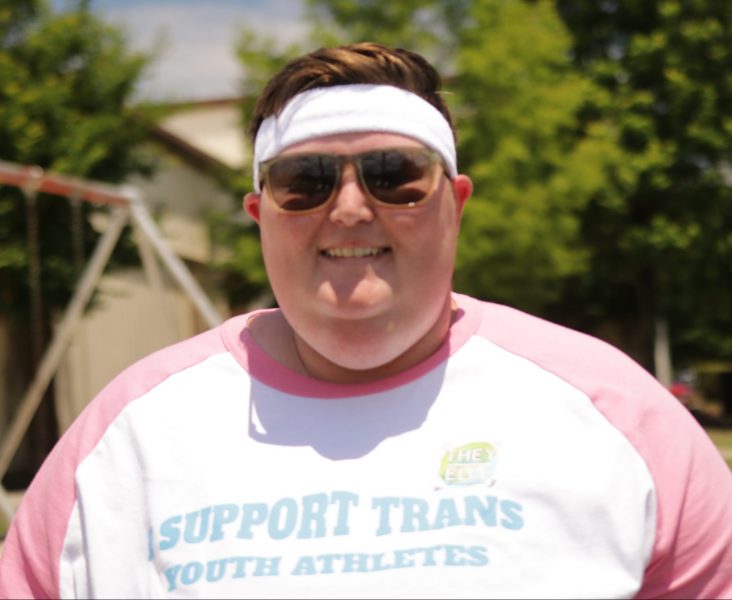 On Sunday, May 16 the SC United for Justice & Equality coalition came together for Trans and Queer Field Day – and the day was a rousing success: Trans and queer South Carolinians spoke out against anti-trans attacks, celebrated trans joy and the coalition's triumph against regressive bills, played games, and had access to critical healthcare services, including COVID-19 vaccines and HIV testing.
The movement for LGBTQ dignity and equality is growing in SC. Huge thanks to the 250+ advocates and allies who came out to support our trans youth in South Carolina.
Here's the latest from Campaign for Southern Equality's Community Health Program Director Ivy Hill during Sunday's press conference:
Ivy Hill's Remarks on Trans & Queer Field Day:
Welcome, everyone! Welcome to Trans and Queer Field Day, a celebration of South Carolina's vibrant and beautiful and amazing trans and queer community, including all of our young people who are changing the world each and every day. 
My name is Ivy Hill, I use they/them pronouns, and I am the Executive Director of Gender Benders and the Community Health Program Director of the Campaign for Southern Equality. I live in Piedmont and have been a South Carolinian my entire life. 
This year has been so incredibly hard for so many reasons – but I'll tell you what: There are parts of 2021 when I have never been prouder to be a South Carolinian. About a year ago, LGBTQ advocates came together – dozens of us – to form SC United for Justice & Equality, a coalition dedicated to pushing for dignity and equality for all LGBTQ people in our state. We linked up in person just before the pandemic hit, then switched over to Zoom planning like the rest of the world, and in 2021, we kicked it into high gear. 
Anti-transgender lawmakers here in SC came for our community in the cruelest way possible – by attacking our trans and queer youth with egregious legislation. They filed bills trying to take away trans kids' health care. They tried to cut off safe spaces at school by attempting to pass a bill requiring that teachers OUT trans kids to their parents. And of course, they picked on kids like a bully in a literal schoolyard and tried to single trans kids out and shove them aside from playing sports with their friends. 
The coalition rallied hard, and this is why I'm so proud today: We showed up more consistently and fiercely than ever, and we pushed back. We defeated the anti-transgender student athletics bill not once, not twice, not three times. But SIX times. The Bill never advanced to the floor of a chamber. And the other bills didn't advance either.
Hundreds of trans and queer South Carolinians are gathering today for Field Day, and this event is a direct rebuttal to the anti-trans attacks. They tried to exclude trans kids from sports, so we're going to play kickball and games all day. They tried to ban trans-affirming care – so we've got legal and medical professionals at the park who are ready to vaccinate folks, assist with name and gender marker changes, and get folks tested. They tried to take away safe and supportive spaces, so we are creating our own.
That's what we're here to celebrate today: The beauty and resilience of trans people in South Carolina. We have been told all session that we are less than. That we are powerless. That we are worthy of rejection. But that's just not true. Because we are strong, and we will never back down in the face of injustice.
Trans people deserve joy just like anyone else. We deserve freedom and love and dignity and an equal chance to thrive.
And we won't stop until we get it, y'all.
Thank you. 
You can watch the full video here.