We're excited for another full slate of The Front Porch programming this week! See the full schedule below, and be sure to RSVP to receive dial-in information for the webinars, which will be hosted through Zoom. Please spread the word to anyone who may be interested in these events, and use this form to let us know other programming that you may be interested in from the CSE team.
Information about each webinar from The Front Porch series – including dial-in registration information, is available at www.southernequality.org/events. All events are free and open to the public.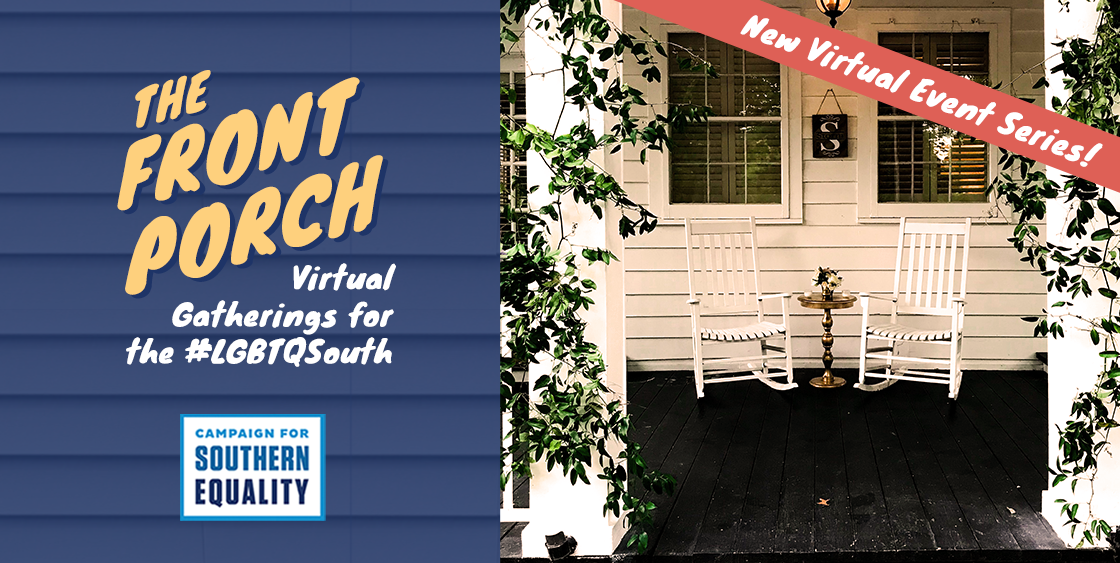 Below is information about the fifth week of The Front Porch:
MONDAY – #LGBTQSouth Community Support Group

April 20 • 12:00-1:00pm ET
Gather with other LGBTQ Southerners for virtual time together without a formal agenda. As we all responsibly practice social distancing, it's more important than ever to seek out new ways to get connected, get to know each other, share how we're feeling during this challenging time, and build community together. Kick off your week with this lunchtime gathering, hosted by CSE's Community Health Program Director Ivy Hill.
RSVP (Required) Facebook Event
TUESDAY – Southern Equality Studios' Queer Artist Meet-Up Goes Virtual 
April 28 • 6:00-7:00pm ET
If you're a queer artist or creative in the South, join us for weekly discussions and tutorials. This week, guest host Ariana Sellers will teach a home craft – visible mending and functional embroidery using the Sashiko technique. This space will be facilitated by Al Murray, CSE's Director of Engagement and Organizational Development, and Liz Williams, CSE's Artist in Residence.
RSVP (Required) Facebook Event
WEDNESDAY – LGBTQ Organizing in Upstate South Carolina: Tips, Coaching & Guidance
April 29 • 4:00-5:00pm ET
All year a powerful coalition of groups serving LGBTQ South Carolinians has been working to protect LGBTQ people – and this week, the coalition is providing a training and tutorial for activists who want to prepare for legislative and direct organizing fights ahead. Phil Ford will moderate a conversation, skill share, and brainstorm session, with content focused on Upstate South Carolina. If you're not in the Upstate, you're still welcome to join – but just keep in mind that that will be the focus of the training.
RSVP (Required) Facebook Event
THURSDAY– Queer Parents' Meet-Up

April 30 • 12:00-1:00pm ET
An hour to brag/vent/mock/gush…or maybe we won't even talk about our kids at all (yeah right). Led by Al Murray and probably co-facilitated by their 4-month-old twins, Al will facilitate open discussion in a judgement-free space for you to meet other queer parents in the South. Kids welcomed, dropping in and out permitted.
RSVP (Required) Facebook Event
Stay up to date on all of the Campaign for Southern Equality's events, including virtual events that are a part of The Front Porch, at www.southernequality.org/frontporch.