This past weekend the leaders participating in the Trans Leadership Initiative (TLI) came together in person for the first time in Toccoa, GA, at Camp GenderBenders, an intergenerational annual summer camp led by and for trans and GNC people, coordinated by GenderBenders SC.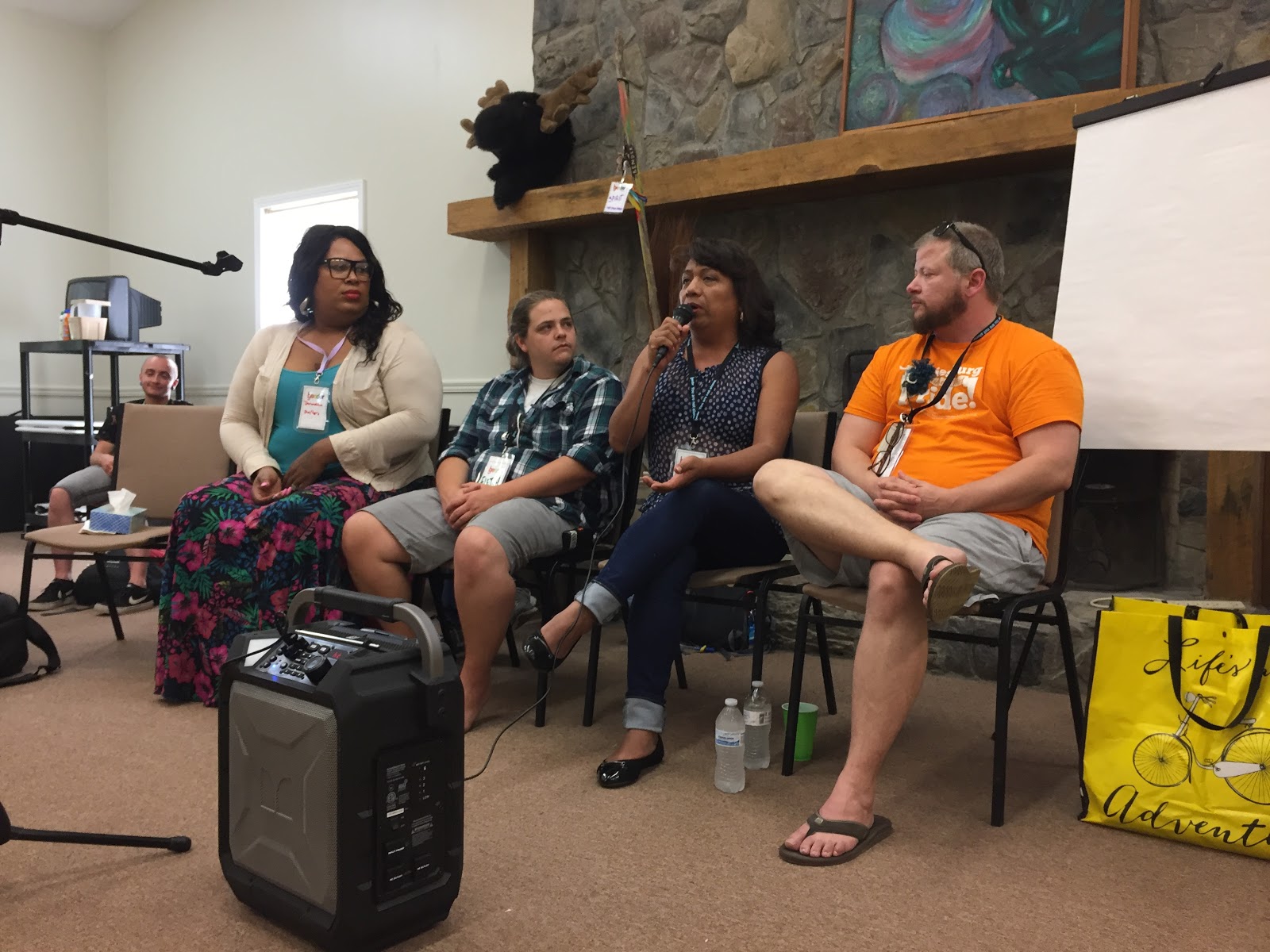 TLI leaders participated in a panel to share about their work and leadership in other areas of the South and led small groups to support others who are interested in organizing in their communities.
A mini-retreat on Saturday provided a space for TLI leaders and other Southern trans leaders to reflect on their personal leadership, share their accomplishments and dreams with each other, and find community and rejuvenation with each other through movement songs.
An award ceremony was held for the leaders of the Trans Leadership Initiative, where they were each awarded a sash naming the unique beauty and strengths they bring to their work. Pictured above left to right, LB Bell was named "King Fierce Humility", Daroneshia Duncan "Queen Unapologetic," Suzy Geronimo, "Reina Madre Corazón" (Queen Mother Heart), and Fletcher Page "King Deep Love."
Below, each leader has shared a reflection about their experience and the impact it had on them.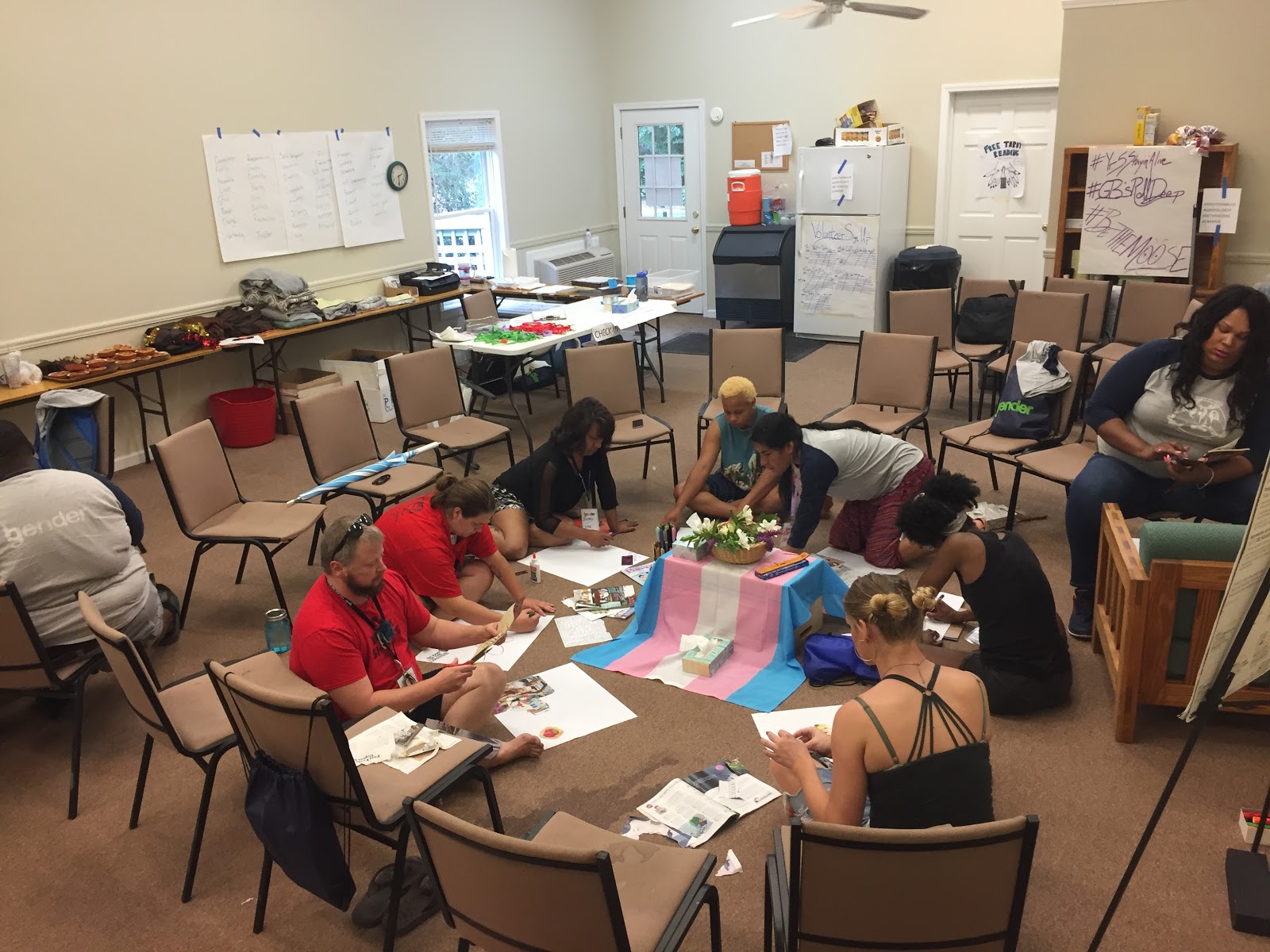 Daroneshia Duncan, TAKE (Trans Advocates Knowledgeable Empowering), Birmingham, AL

"Being at Camp GenderBenders was very interesting, as far as being in a space where other trans women were struggling and trying to get resources to their area, too. I was really touched and inspired by one trans woman's story, and learning about what she was experiencing in Charlotte, trying to keep a trans woman safe, it meant a lot to me. It related to my experience of putting the safety of others front and center. I know how it feels to be in an area, be struggling, and not have resources and feel like it's going to ever happen. That was the most empowering turning point for me. I think Camp GenderBenders provides very helpful knowledge to those people that are in search of coming to grips with who they are and overcoming trauma. Also, it was wonderful to be there with all of us that are part of the Trans Leadership Initiative, to actually be there and see each other in person, get to hear about other people's work, understanding the challenges others are facing to include more marginalized people in their work, especially people of color, and to be able to have those conversations. Those conversations are so important. We, black trans women, have been pushed to the back burner for so many years. Just let us shine."
Fletcher Page, GenderBenders SC, Greenville, SC

"It was really powerful to be around all those other leaders. It was amazing to see all of our different leadership strategies, and how those strategies look in different communities, and how we can work together. Just knowing that there is this support group across the South that I'm connected to, that have relationships with now, I'm really grateful for that. I always come out of camp feeling more confident in the work I've been doing. This year, it was like confidence 10-fold, knowing all these things we did right, and all the opportunities to keep improving. At camp we get to share skills, stories and love with each other. You just don't get that in an online group, or a day-long event. It's just magic. I am really grateful to CSE for trusting the leadership of the brilliant leaders across the South, who are doing the work incredibly under resourced, and for putting tangible resources directly in our hands is something I'll always be grateful for."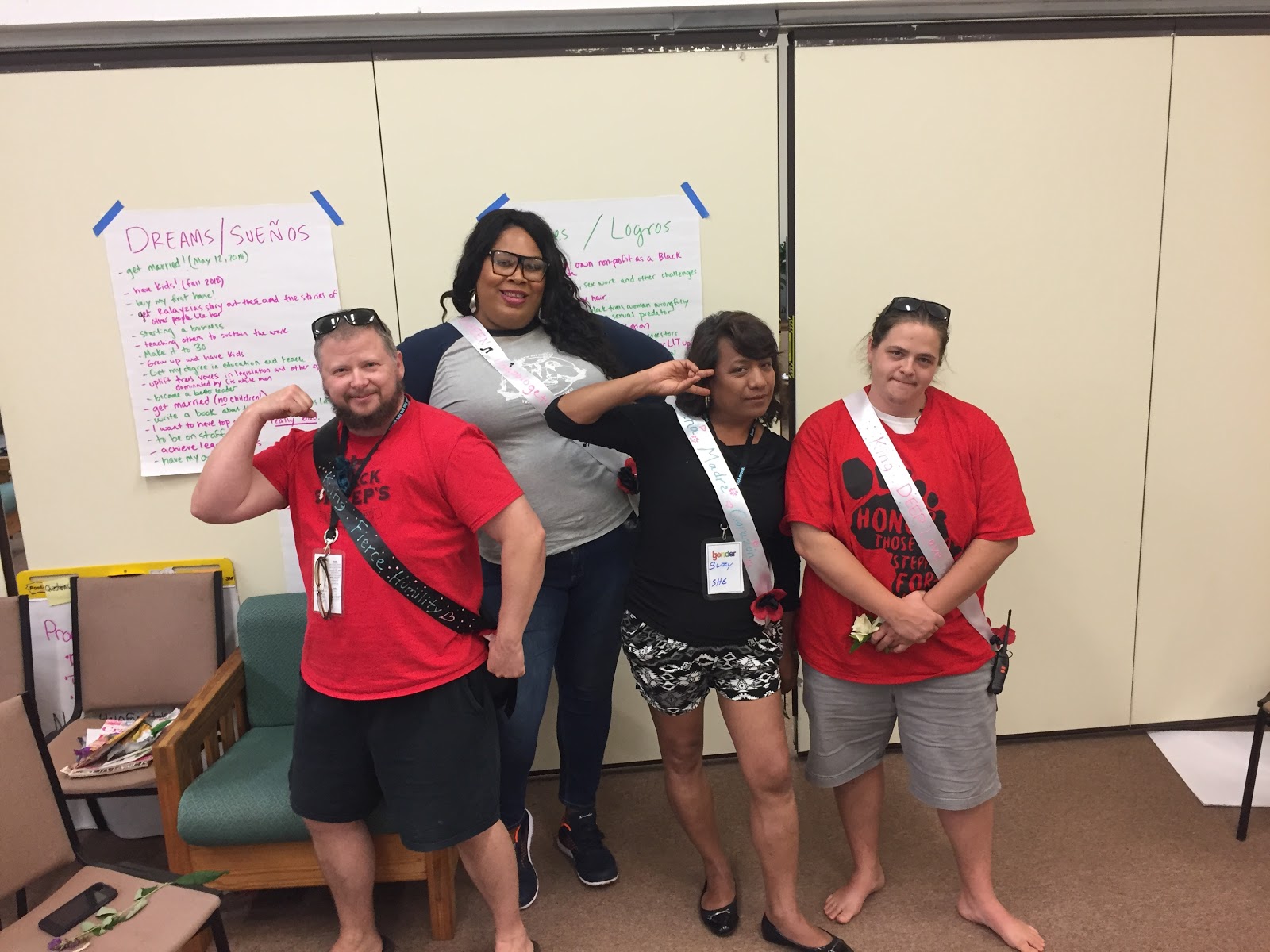 LB Bell, The Spectrum Center, Hattiesburg, MS
"I'm just glad I reached the goal that I had for camp, which was to rest. Because you're always having to explain, or make – not necessarily concessions – but you know life is about compromise, so you go through your day to day with a different set of expectations that the general public has for you. And with camp, I just find it to be very liberating to just be yourself without having to explain to somebody every single nuance of what it's like to be trans, or live in a constant state of, defense almost. There was so much positivity and there was no constant oppression by, just, everything — job, environment, whatever the case may be. Meeting with the other TLI members, they really seemed to have so much passion, energy and drive for the work they do. I was so impressed by all they're doing it almost made me feel like I'm not doing enough, but I'm just doing what I can right now. I don't like to talk in public either, so that was an energy drainer. After I left, I still had a little bit of a camp high on the ride home, but once I got back to the grind on Monday morning, it was a bit depressing. I wish camp could last longer, could be every day."
Suzy Geronimo, FUM (Fuerza y Unión Múltiple), Henderson, NC
"Del campamento fue mi primera vez y me gustó bastante. Encontré muchos compañeros, nuevos amistades, diversión y aprendizaje, que para mi fue muy emotivo, que cada vez que estoy en un evento como esto aprendo bastante. Aparte de divertirme, lo que me impactó mucho fue que conocí muchas personas que tanto adultos como jóvenes, que no tienen mucha orientación amplia de cómo lidiar su persona cuando unos no están definidos, y creo que nuestro trabajo, es acercarnos a estas personas para que se sientan que valen más que ellos creen, para que tengan más seguridad en quien son como personas. De estar con el grupo de TLI, ¿como lo puedo describir? Fue increíble. No nos conocíamos mucho antes, y ahora mucho más por la convivencia. Gracias a ese tipo de evento, nos estamos haciendo más fuerte y nos estamos haciendo más conexiones. Casi puedo jurar que el siguiente año que ellos que fueron este año van a volver."
"It was my first time at the camp, and I loved it. I got to meet so many new people, and made many new friends. It was fun and I learned a lot, which for me was very moving. Everytime I'm at an event like this, I learn so much. Aside from all the fun I had, what impacted me the most was meeting people, both adults and youth, who are struggling to cope with who they are, when some aren't defined. I think our work is to be there for those individuals so that they can feel more secure in who they are. As far as being with the rest of the TLI group, how can I describe it? It was incredible. We didn't know each other so well before, but now much moreso after living alongside each other for several days. Thanks to this type of event, we're becoming stronger, and we're making more connections. I can almost swear that next year, those that attended this year will be back."