At least 40 anti-LGBT bills have been defeated, while only two passed in Southern states this year.
By Jarod Keith
As state legislatures across the South adjourn, LGBT advocates can be mostly satisfied with the defeat of 40 anti-LGBT bills. Almost every anti-LGBT proposal was defeated or stalled, with the notable exceptions of Senate Bill 202 in Arkansas and Senate Bill 2 in North Carolina. These discriminatory proposals covered many aspects of LGBT life – allowing officials to refuse to marry same-sex couples, letting adoption agencies discriminate against LGBT families, fining transgender people for using the right restroom and limiting the ability of city governments to protect LGBT residents.
Much of the anti-LGBT legislation was introduced in response to advances in marriage equality – in 2014 several Southern states were added to the growing list of states where same-sex marriage is legal, and lawmakers across the South have been preparing for the possibility that the U.S. Supreme Court will rule on the issue nationwide this month. Nationally – and across the South – support for legal recognition of same-sex couples is at a record high, and polls in several Southern states show majority support for marriage equality.
In Texas alone, more than 20 anti-LGBT bills on Equality Texas's agenda never made it to the governor's desk. The legislation ranged from ridiculous to outright mean. The Texas Freedom Network, the ACLU of Texas, Equality Texas and the Human Rights Campaign formed a strong coalition against the bills, which included proposals to defund the issuance of marriage licenses for same-sex couples and criminalize the use of restrooms by transgender people. By organizing faith groups, the business community and grassroots activists, LGBT advocates were able to defeat every anti-LGBT measure proposed.
A recurring theme was the use of "religious freedom" as a means to sanction discrimination. Some of these religious exemption bills were tailored to specific areas of the law, like allowing adoption agencies with religious objections to discriminate against gay couples or giving county employees an exemption from issuing marriage licenses based on their private religious beliefs. Others were more broad. Legislators in six states introduced versions of the Religious Freedom Restoration Act (RFRA) – all of which failed after a national outcry against state RFRAs by major corporations and religious denominations.
In every case, advocates for LGBT equality made calls, wrote emails, organized protests, circulated petitions, donated to equality organizations, wrote to their newspapers and spoke out to friends and family across the South – this grassroots mobilization is what led to the defeat of all of these anti-LGBT bills.
Here's a look back at some of the anti-LGBT proposals from this year alone:
Religious Freedom Restoration Acts
Versions of RFRA were introduced – and defeated – in Arkansas, Georgia, North Carolina, South Carolina, Texas and Virginia. RFRAs, originally designed to protect religious minorities from generally applicable laws that violate their conscience, have been pushed by anti-LGBT groups in recent years. Specifically, they want religious-based exemptions from laws and ordinances protecting LGBT people from discrimination. RFRAs are widely thought to provide anti-LGBT business owners and employers with a legal defense to denying service or employment to LGBT people. Read this article from Center for American Progress about the impact of RFRAs.
In Georgia, an epic showdown took place when their RFRA bill was amended to exempt non-discrimination ordinances from the laws that could be circumvented under the bill. Anti-LGBT legislators in Georgia (a state that lacks broad civil rights laws altogether) refused to support the amended version, despite their claims that RFRA wouldn't be used to discriminate. The bill subsequently died.
'Conscience' Exemptions for Marriage
In Alabama, Louisiana, North Carolina, South Carolina, Texas, Virginia and West Virginia, laws that open the door to discrimination explicitly against same-sex couples were introduced. All of these measures stalled except North Carolina's Senate Bill 2, which will now become law after the General Assembly overrode Gov. Pat McCrory's veto. SB2 allows local government officials to opt-out of performing civil marriages or even handling marriage licenses for same-sex couples.
Louisiana's "Marriage and Conscience Act" (HB 707) would have rendered non-discrimination protections unenforceable, allowing businesses and employers to refuse to recognize marriages that violate their religious beliefs. This bill went so far as to allow businesses to deny the same insurance plans to both gay and straight couples. After the business community spoke out and dozens of clergy rallied against the bill, a House committee voted against the measure 10 to 2. On the same day of the committee vote – May 19 – Gov. Bobby Jindal issued an executive order including much of the same language as HB 707. It's unclear to what extent the executive order is enforceable.
Alabama's House Bill 56 was probably the most creative anti-marriage equality bill. It would have done away with the system of state-issued marriage licenses altogether, in favor of private "marriage contracts." The bill failed in a House committee after members raised concerns that these contracts wouldn't guarantee the same state and federal benefits that come with marriage licenses.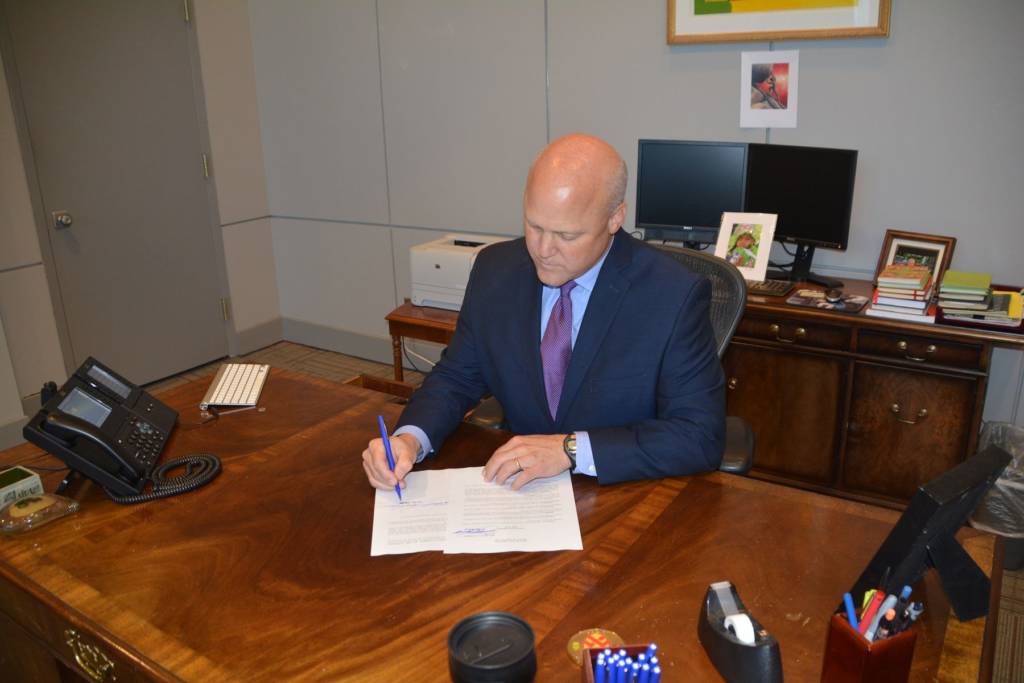 Bills criminalizing the use of restrooms by transgender people
In three Southern states – Florida, Kentucky and Texas – lawmakers considered punishing transgender people for using the restroom where they felt most comfortable. The "Kentucky Student Privacy Act" was filed in response to a high school in Louisville that adopted a trans-affirming restroom policy after a student came out as transgender. The bill required a $2,500 fine for anyone who used a restroom that doesn't match their "biological sex."
In Florida, Rep. Frank Artiles filed a bill in response to an ordinance in Miami-Dade County that bans discrimination in public accommodations on the basis of gender identity and expression. Proponents of the "bathroom bill" conjured scenarios in which men would disguise themselves in order to sexually assault women in restrooms, a fear tactic that was used to defeat a proposed non-discrimination ordinance in Charlotte, North Carolina. The Florida bill died after a national outcry by LGBT groups.
In Texas, four separate proposals to criminalize restroom use by transgender people were proposed, with punishments ranging from fines to criminal charges. All four proposals failed to receive committee hearings.
Proposal for a constitutional convention to define marriage
As support for marriage equality grows across demographics and courts across the country have ruled that bans on same-sex marriage violate the Constitution, anti-equality advocates are running out of options. The only way to reverse a potential U.S. Supreme Court ruling on the constitutionality of marriage bans is to amend the Constitution.
Since taking effect in 1789, the U.S. Constitution has never been amended through a constitutional convention – a process that people across the political spectrum see as dangerous. Constitutional conventions call for delegates to gather and rewrite the Constitution, with no limit to the changes that could be made or the amendments that could be considered.
Nevertheless, legislators in South Carolina have sought to begin that process, and have introduced resolutions backing a constitutional convention that would enshrine marriage discrimination into our government's founding document. The resolution – a version of which passed Alabama's House last year – failed to receive committee approval in South Carolina.
Bills preventing cities from passing non-discrimination ordinances
In three Southern states, anti-LGBT lawmakers responded to the growing patchwork of protections for LGBT people by proposing bills that prohibit local governments from adopting non-discrimination ordinances. These bills are modeled after a 2011 Tennessee law that states that cities and counties cannot expand the protected classes beyond state and federal law to include LGBT people.
In Arkansas, the legislature passed SB 202 and it became law after Gov. Asa Hutchinson neither signed nor vetoed it – making this bill one of the two anti-LGBT bills across the South that will become law.
In Texas and West Virginia, similar measures died.
Anti-gay adoption bills
SB 261 in Alabama and HB 714 in Mississippi were introduced to target same-sex couples raising children. The Alabama bill would have allowed adoption agencies to discriminate against couples based on a religious objection, and the Mississippi bill would have reinstated homosexuality as a cause for negative consideration by agencies. Both measures stalled in their committees.
Meanwhile, Florida's legislature repealed their state's Anita Bryant-era anti-gay adoption law, which had already been declared unconstitutional. Upon signing the repeal, however, Gov. Rick Scott hinted at forthcoming "religious liberty" legislation.
Other anti-LGBT bills worth noting
HB 1409 in Virginia – which died in committee – outlawed certain types of discrimination by state contractors, but specifically left out sexual orientation or gender identity. The bill was a rebuff to Gov. Terry McAuliffe's first executive order, which barred discrimination against LGBT state workers. HB 1409 would prevent the governor from also banning discrimination by state contractors.
Tennessee's SB 397 would have banned colleges from disciplining counseling, social work or psychology students who discriminated against LGBT people if their discrimination was based on a religious belief. The measure died in both chambers.
In Texas, legislators introduced four anti-marriage equality bills in anticipation of a ruling on the issue from the US Supreme Court. HB 623 would punish state employees who complied with a pro-marriage equality ruling, SB 673 would replace locally-issued marriage licenses with licenses issued by the Secretary of State, HB 2555 would exempt the state of Texas from following orders from federal courts and HB 4105 would cut off funding for county offices that issue marriage licenses to same-sex couples. All of these bills died.
In South Carolina – a state that has marriage equality – HB 3022 would have prohibited officials from spending taxpayer money to issue marriage licenses and prohibited the state from recognizing same-sex marriage in defiance of federal court rulings.