Right now, West Virginians are grappling with the passage of HB2007, legislation that restricts transgender-related healthcare in West Virginia for people under the age of 18; this means that soon, care such as gender-affirming hormone therapy and puberty blockers will be inaccessible in West Virginia for some trans people until they turn 18. 
HB 2007 is set to take effect on January 1, 2024. According to the law, patients who receive a diagnosis of "severe gender dysphoria" from two medical providers (including at least one mental health provider) may be able to continue accessing care. Families should speak with their provider about their options in the months ahead.  
The Campaign for Southern Equality is working with partners across West Virginia, including Fairness West Virginia, to provide resources and information to impacted families. Please use this form below to request more information and we will be in touch.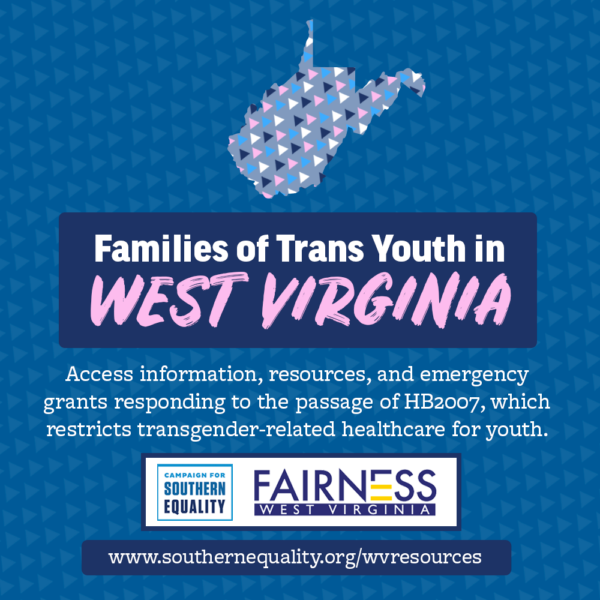 Resource Guide to Prepare for HB2007
We know this is a very challenging time filled with many questions. This resource guide is designed to provide up-to-date information and concrete resources to help transgender youth continue accessing healthcare. We will update this guide as more information and resources become available.
Emergency Grants for Impacted Families
The Campaign for Southern Equality, in partnership with Fairness West Virginia, is facilitating rapid response emergency grants of $500 to help those impacted by HB2007 during this challenging time. Grants can be made to the parent/caregiver of an impacted youth. To learn more about these grants and to request one, fill out the form below.