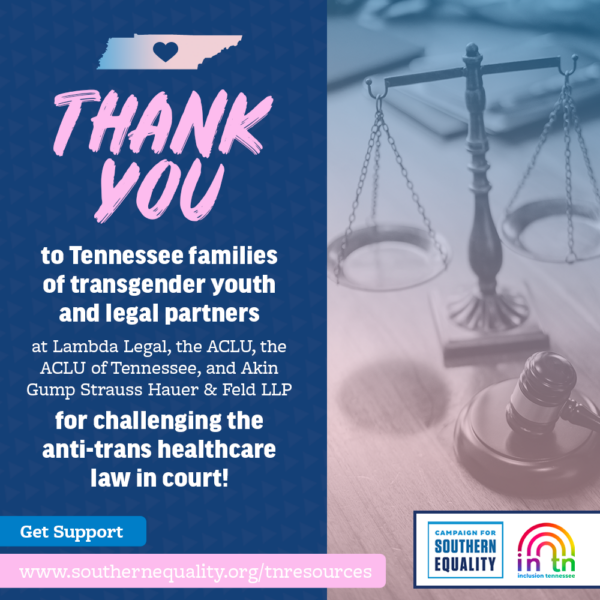 Today families of transgender youth in Tennessee and legal organizations filed a federal lawsuit against the state of Tennessee, seeking declaratory and injunctive relief of SB1, which bans access to gender-affirming care for transgender people under the age of 18. The case, L.W. v. Skrmetti, was filed by Lambda Legal, the American Civil Liberties Union, the ACLU of Tennessee, and Akin Gump Strauss Hauer & Feld LLP on behalf of several trans youth, their parents, and a medical provider. 
The law which this case seeks to block is set to take effect on July 1. Read the complaint here.
Phil Cobucci (he/they pronouns), Founder and Executive Director of inclusion tennessee, applauded the filing of this complaint. He said: 
"Since the start of this legislative session, we've heard from families all across Tennessee who were worried about the passage of this anti-transgender healthcare ban. Since then, we've been working tirelessly to prepare and ensure their transgender adolescents and their families can continue to access care in their home state. The filing of this lawsuit gives us great hope, and we appreciate the legal organizations and plaintiffs for their leadership in court. As we await a decision in this ground-breaking legal case, we will continue to support trans youth and their families every way that we can." 
Rev. Jasmine Beach-Ferrara (she/her pronouns), Executive Director of the Campaign for Southern Equality, said:
"We're grateful to see SB1 challenged in federal court and send our love and solidarity to these courageous families and their legal teams. This law is flatly unconstitutional, and we believe it must be struck down. We hope that the court will grant relief so that trans youth in Tennessee can continue accessing the health care that they need and deserve, without leaving their home state."
Since the ban passed in March, the Campaign for Southern Equality, inclusion tennessee, and OUTMemphis have been working directly with families of transgender youth to help them identify out-of-state providers of gender-affirming care and support them with emergency grants of $500. Families can learn more about these resources at www.southernequality.org/TNResources.
This programming is a part of the Campaign for Southern Equality's Southern Trans Youth Emergency Project, a new regional effort which provides rapid response support directly to the families of youth who are impacted by anti-transgender healthcare bans in the South.
A Community Town Hall focused on SB1 will be held virtually for Tennessee families on May 1 at 5pm CT. Families of trans youth looking for more information about the ban, how they can take steps to prepare, and what to do in the face of today's litigation should attend. The Community Town Hall is being presented by inclusion tennessee, Campaign for Southern Equality, Just Us at the Oasis Center, and Knox Pride, and Tri-Cities Pride.