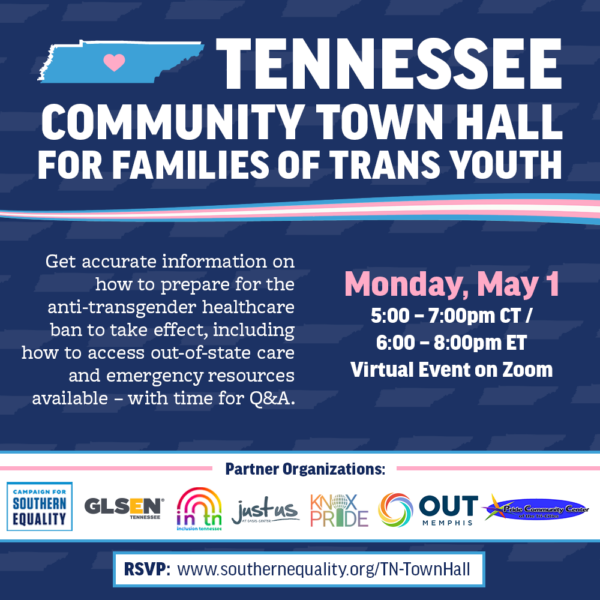 NOTE: We are hosting a follow-up Emergency Town Hall on Wednesday, July 19, 2023 at 7pm CT. Click here to RSVP. 
Tennessee's SB1, which bans access to gender-affirming care for transgender people under the age of 18, is set to take effect on July 1 – and we know that this is a challenging time for transgender youth and their families. As we hold out hope that a new lawsuit from the ACLU of TN, ACLU, Lambda Legal, and private counsel will block SB1 from taking effect, we also know that it's critical for families to take steps to prepare.
That's why community and advocacy organizations came together for a Tennessee Community Town Hall, a virtual event focused on helping families navigate access to the gender-affirming care they need while feeling supported and uplifted by their communities. This event, held Monday, May 1st from 5:00-7:00pm CT / 6:00-8:00pm ET, was hosted by inclusion tennessee, Campaign for Southern Equality, Just Us at The Oasis Center, GLSEN Tennessee, Knox Pride, OUTMemphis, and Tri Cities Pride Community Center.
At the event, we discussed resources available, including patient navigation support, referrals to out-of-state gender-affirming care, and emergency grants for families of transgender youth. Additionally, community partners shared bout the resources available through their organizations. And there was plenty of time for questions.  Watch a recording of the event below.
Need immediate support? If you need help finding out-of-state providers of gender-affirming care or funding for travel, mental health expenses, or whatever you need, please get in touch here.