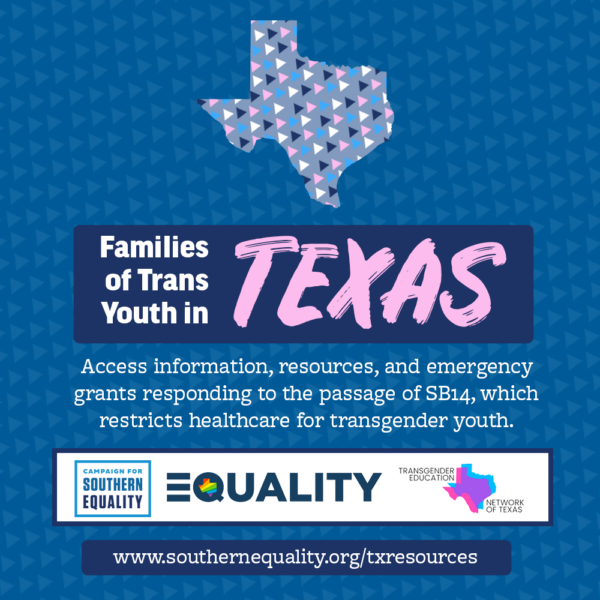 TEXAS – Families of transgender youth in Texas are grappling with the looming deadline of September 1, when the needlessly cruel anti-transgender law SB14 is set to take effect. SB14 would prohibit Texas healthcare professionals from providing medically necessary healthcare for trans adolescents for the treatment of gender dysphoria and threatens doctors' licenses if they do. This means that care such as gender-affirming hormone therapy and puberty blockers will soon be inaccessible in Texas for any trans person until they turn 18, while the same treatments will be allowed to be provided to any other young person for any other reason. 
In response, advocates have come together to launch resources to support families navigating this challenging period. Families of transgender youth in Texas are now eligible to apply for support from the Southern Trans Youth Emergency Project (STYEP), a regional project of the Campaign for Southern Equality, led in partnership in Texas with Equality Texas and the Transgender Education Network of Texas (TENT). The project helps transgender youth whose access to gender-affirming care has been disrupted by government policies. Through STYEP, families can receive accurate information about SB14; patient navigation to identify out-of-state gender-affirming care providers; and emergency grants of $500 for immediate needs, including travel, medication, and other logistics. Families can request support at www.southernequality.org/TXResources. 
Yesterday, July 13, the ACLU of Texas, ACLU National, Lambda Legal, and Transgender Law Center, along with Scott Douglass & McConnico LLP, and Arnold & Porter Kaye Scholer LLP filed a lawsuit challenging SB14. Every district court judge that has ruled in a case challenging a ban on gender-affirming care has blocked the laws from taking effect; the only outlier in this unbroken string of victories was last weekend when the U.S. Court of Appeals for the 6th Circuit allowed a ban in Tennessee to take effect. 
Ricardo Martinez (he/him pronouns), Executive Director of Equality Texas, said: 
"The LGBTQ+ community fought our hardest this legislative session against SB14, and we're continuing the fight in the courts, where we believe SB14 should be blocked and found unconstitutional. We must pursue every pathway to justice and safety for transgender youth and their families. That's why we are honored to partner on this project to give Texas families options to continue their child's care. No one should be forced to leave Texas to access fundamental healthcare. We know that if we support each other, we can overcome oppressive laws and support young people who are being bullied by the state."
Emmett Schelling (he/him pronouns), Executive Director of Transgender Education Network of Texas (TENT), said today:
"To the youth of Texas and the parents who support them, we want you to know that no matter what happens with SB14 or any other law, you are worthy of dignity, equality, joy, and respect. This project will help families envision a future where they can continue to get the healthcare that their child needs and deserves, even in the face of state-sponsored cruelty. We will never stop working to support transgender Texans, and we are sending love, support, and strength far and wide."
Allison Scott (she/her pronouns), Director of Impact & Innovation at the Campaign for Southern Equality, said:
"We hope to see SB14 blocked from ever taking effect – but we also must be clear-eyed about the political reality we are facing, and families of trans youth across Texas have already faced so many wrenching decisions. We're honored to be working with Equality Texas and Transgender Education Network of Texas to connect families with funding and provider information to preserve continuity of care for as many people as we can. No law can stop the transgender community from charting our paths to thriving and living authentically – our community will make sure of that."
Those interested in requesting support from the Southern Trans Youth Emergency Project can visit https://southernequality.org/TXresources.