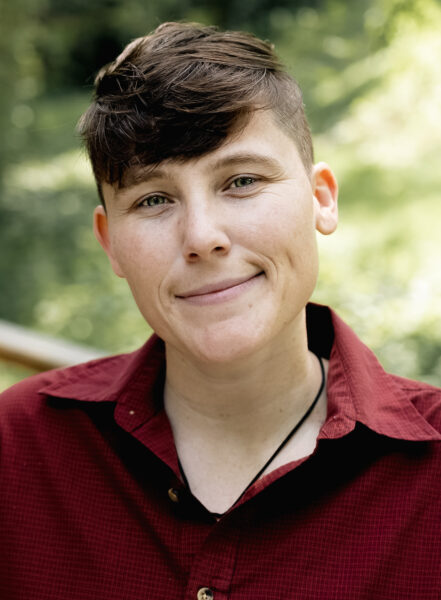 This summer the Campaign for Southern Equality has welcomed the 2023 Artist in Residence for Southern Equality Studios, a project that explores how the arts can be a catalyst and force in achieving lived and legal LGBTQ equality across the South. Campaign for Southern Equality (CSE) is thrilled to announce the appointment of Connie Page Henshaw, a photographer, documentarian, and musician, as the organization's newest Artist in Residence. Henshaw's unique vision and passion for uplifting marginalized voices will be showcased through two groundbreaking projects: The Trans + Non-binary Photo Documenting Project and the Art and Music Showcase.
The Trans + Non-binary Photo Documenting Project will capture the fullness, resilience, and creativity of Trans and Non-binary individuals living in the South. Henshaw's vision encompasses intimate portrait-style photography alongside audio clips that authentically depict participants' experiences of joy, power, struggle, and more. The project will be presented in various formats, including gallery exhibitions, social media, and other accessible platforms.
In addition to the Trans + Non-binary Photo Documenting Project, Henshaw will spearhead an Art and Music Showcase, providing a vital platform for queer and BIPOC musicians, poets, comedians, and artists who face barriers in the local and regional arts scene. By creating sober-friendly listening room events, Henshaw intends to foster an inclusive environment where artists can share their work and receive fair compensation. The series will prioritize collaboration with community organizers and movements, promoting their work through the arts.
Furthermore, Henshaw will offer a range of workshops and educational offerings to empower individuals and promote self-expression. These include workshops on African and African-American history related to the banjo, clawhammer banjo basics, utilizing phone cameras and self-portraits for self-assuredness, hosting DIY music events, and the formation of the Queer Photo Group. Henshaw's commitment to sharing skills, facilitating growth, and fostering a sense of community within the artistic realm is integral to the success of these workshops.
Connie Page Henshaw is dedicated to these projects, recognizing their ongoing evolution and their potential to uplift marginalized voices. Their unique set of skills and expertise will undoubtedly contribute to the important work of Southern Equality Studios. Campaign for Southern Equality invites interested individuals and organizations to support these projects by providing feedback, assistance, or resources that can help bring Henshaw's vision to life.

Connie Page Henshaw (he/they pronouns), the 2023 Artist in Residence for Southern Equality Studios, said today:
"I'm honored to be working alongside the Campaign for Southern Equality team as this year's Artist in Residence. It has always been my passion to tell stories and elevate truth through art, photography, and music, and I'm grateful for the opportunity to share my work with the CSE community. It always inspires me to see folks coming together to express themselves, organize, and be enriched – and through this residency I look forward to creating spaces where we can all share and learn from each other."
Liz Williams (she/they), Southern Equality Studios Director for the Campaign for Southern Equality, said today:
"We're thrilled to embark on a new chapter for Southern Equality Studios, and welcoming an incredibly talented artist like Connie Page Henshaw to our community is a pivotal part of that journey. Connie's residency promises to be a captivating experience, and we eagerly anticipate witnessing and supporting their aligned vision in creating a space that amplifies the voices of the LGBTQ+ community. Through their remarkable work, Connie will engage in practices that prioritize creative agency and empower the community. We're truly inspired by Connie Henshaw's artistic prowess and can't wait to see the transformative impact they will make during this residency.""Connie Page Henshaw's unwavering dedication to these projects, alongside their constant artistic and community-driven evolution, holds immense potential to uplift marginalized voices – a mission that aligns perfectly with Southern Equality Studios and Campaign for Southern Equality's important work. We are grateful for Connie's commitment and excited to witness the remarkable contributions they will bring to our organization."
This project was supported by the N.C. Arts Council, a division of the Department of Natural & Cultural Resources.