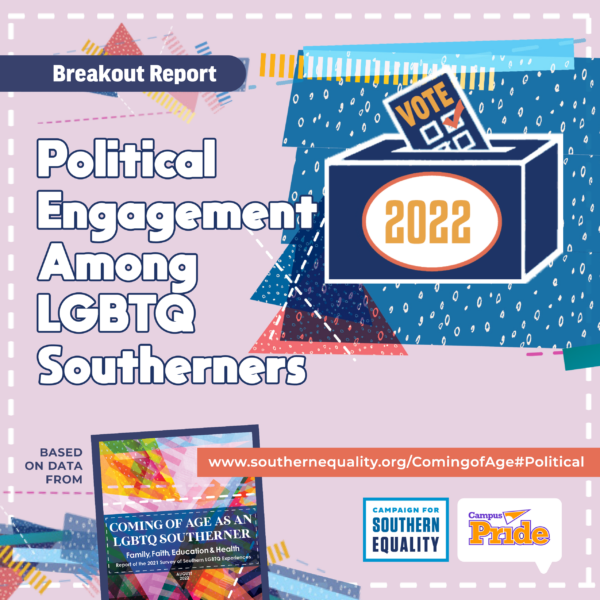 Today the Campaign for Southern Equality (CSE) and Campus Pride released a new report focused on LGBTQ Southerners' voting behaviors and beliefs related to political engagement. The report is being released just a few days ahead of the 2022 Midterm Election, which could shape policy outcomes of the 2023 legislative session and the prospects for LGBTQ-inclusive legislation at the federal level. 
The report highlights why political participation from LGBTQ Southerners is essential in increasing representation at all levels of government and building the political voice and will to achieve full legal equality. This breakout is a supplement to Coming of Age as an LGBTQ Southerner: Family, Faith, Education & Health, and relies on data from the 2021 Survey of Southern LGBTQ Experiences, a survey of 4,186 LGBTQ people who live in the South. The survey oversamples people in the 18-24 age range. 
Key findings of the supplement – which you can read here – include:
LGBTQ Southerners and the general Southern electorate are registered at approximately the same rate, yet LGBTQ people appear to vote more than their heterosexual, cisgender peers in the region. 86% of Survey participants indicated that they were registered to vote, on par with the 87% of Southerners overall. However, 75% of Survey participants said that they voted in the 2020 election, compared to 64% of the Southerners overall turning out to vote in 2020. 

Approximately 80% of survey respondents described their state's political climate as hostile toward the LGBTQ community, with 35% describing their state as extremely hostile and 45% describing their state as somewhat hostile. 

Survey participants indicated a high awareness of state-level legislative attacks. Approximately 72% of the people who participated in the survey indicated that they were aware of legislation or other policies proposed at the state and local level that would impact the LGBTQ+ community. Transgender participants were more likely than cisgender participants to indicate an awareness of these policies (Trans 78%; Cis 69%). This is likely related to the content of the bills, as the bills disproportionately target trans youth and young adults. 

For 72% of participants, the proposal of policies and other legislation impacting the LGBTQ+ community makes them more likely to vote in state and local elections (56% said anti-LGBTQ+ policies made them "somewhat" more likely to vote, while 16% said "extremely" more likely).

LGBTQ Southerners report low feelings of political efficacy – or the feeling that you are able to influence politics. Only 19% of participants agreed with the statement, "Do you agree that public officials care what you think?," while 43% of respondents agreed with the statement, "Do you agree that people like you affect what the government does?"

LGBTQ Southerners are politically active well beyond the ballot box. Among respondents, 25% said they had joined or renewed membership in a political organization, 36% said they had contributed money to a candidate or political cause, and 15% said they volunteered for a political campaign. 42% of respondents said they have considered running for office themselves.
Dr. Austin H. Johnson (he/him pronouns), Director of the Southern Equality Research & Policy Center (SERPC) at the Campaign for Southern Equality and Assistant Professor of Sociology at Kenyon College, said today:
"The South is home to roughly 3.6 million LGBTQ adults – more than in any other region. And along with our friends, family members, and neighbors, we have the power to elect our leaders who will advance our community's policy priorities. These data are demonstrating two important truths: First, that LGBTQ Southerners are politically active, engaged, and aware – and second, that they feel their engagement does not have an impact on public officials. The truth is that elected officials all across the South must start listening to their LGBTQ constituents – because we are here, we are participating in the political system, and we are growing more powerful each year. Lawmakers need to stop pushing discriminatory measures and start protecting and respecting everyone they serve."
New data from the Human Rights Campaign in 2022 found that LGBTQ+ voters currently account for approximately 11% of the voting eligible population in the United States. The authors predict that LGBTQ+ voters will represent nearly 15% of all voters by the year 2030, growing to nearly 20% by the year 2040. 
Access this issue spotlight supplement of Coming of Age as an LGBTQ Southerner – as well as the full report – at www.southernequality.org/ComingofAgeSurvey#Political