It's Election Day – and I know that you've probably been reminded dozens of times in the last week to cast your ballot and encourage everyone you know to vote, too. That's because this election is just too important: Elections are a key pillar of our democracy, and our vote is our voice.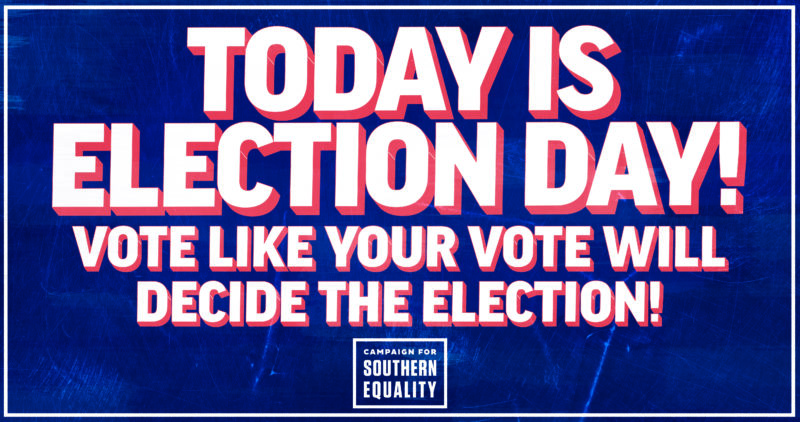 So we'll keep this short:
VOTING INFORMATION:

If you need any help with anything at all to do with voting, please visit

www.Vote411.org

or

www.vote.org

. They'll help you locate your polling place, find a dropbox for your absentee ballot, and show you who's on your ballot.

VOTER PROTECTION:

If you're facing any problems with voting, please contact a nonpartisan voter protection hotline.

Here's a national resource

, and if you're in North Carolina, contact

Democracy NC

at 888-OUR-VOTE.

LGBTQ SOUTHERN VOTERS:

This weekend the Campaign for Southern Equality released a new report about LGBTQ Southerners' voting behaviors and beliefs. The report highlights why political participation from LGBTQ Southerners is essential in increasing representation at all levels of government and building the political voice and will to achieve full legal equality.

Read the report. 
Remember: We may not know all of the results of this election tonight or even tomorrow. That's no cause for panic. States have different policies and timelines for counting ballots that are cast absentee or early, and that may mean that results aren't finalized for a few days. The important thing is that every vote must be counted – that's what a free and fair election is all about. 
In the coming days, as ballots are counted, we encourage y'all to stay calm and stay grounded: We'll eventually get to a final outcome, and the country will move forward, together. 
And whatever the outcome, the Campaign for Southern Equality will be there with you, steadfast in our commitment to working toward a South where all LGBTQ people can thrive.