Dear trans youth across the South:
This month many states kicked off their legislative sessions, the time period during which elected officials consider legislation and proposals for statewide policies. Across social media and in the news, you've probably seen rumblings about one especially cruel type of legislation that's been introduced in several states, including South Carolina and Florida, with discussion of a bill being filed in Georgia, Kentucky, and others. The legislation would require medical providers to discriminate against you, prohibiting medical providers from offering life-saving gender-affirming care to transgender people under the age of 18. It's the latest coordinated attack against trans people, and I know that it can be traumatizing to see this type of legislation threatened to pass – or even introduced in the first place. 
I know for a lot of us that discriminatory legislation is a really scary reality to face, but there are a few things I want to make sure you know: I want you to know you don't have to face this proposed legislation, or any other discrimination and attempts to target you, alone. I also want you to know that no bill that anyone proposes can take away your inherent worth and dignity. You didn't have to do anything to earn this worth – and you can't do anything to lose it. You inherently have value, and no one has the power to take that away from you.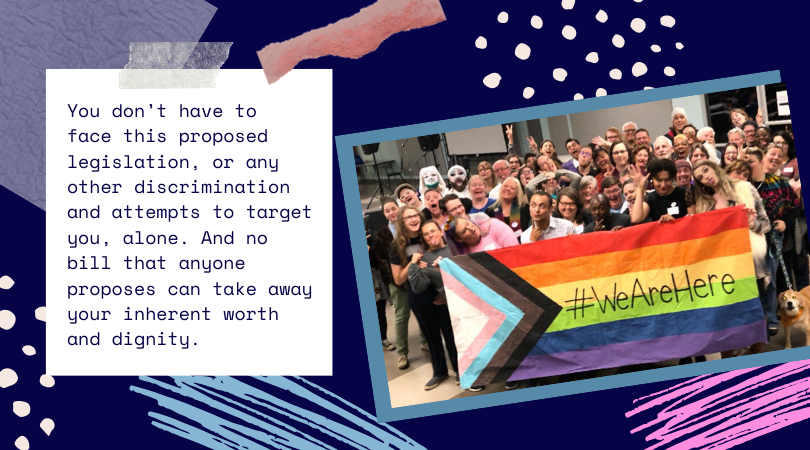 To start, I want to acknowledge that for many of us, proposed legislation is the very least of our tangible day-to-day worries. Some of us face fear every time we walk out the door – and so many elements compound those struggles exponentially: How dark your skin is, how much access you have to resources, the visibility of your gender variance, the language you speak, or any other intersecting identity you hold that you've been told isn't good enough. For many folks in our communities, especially those who encounter additional intersectional hurdles, proposed legislation can feel so far removed from the everyday struggle to survive that this type of legislation may not even be on your radar. Those experiences are real and valid, too. 

I know firsthand how lonely it can feel to grow up trans in the South – especially rural Southern communities like where I grew up, Piedmont, SC. I know what it's like to be ostracized from your church, when that's one of the only social support systems you have. I know what it's like to be a homeless trans youth in SC without support from your family. I know what it's like to have to drop out of school to work more to try to eat a little something, to sleep in cars and the cheapest motels you can find when you've got the money. And I know these experiences that I had as a trans youth in SC don't even hold a candle to what so many of our youth are facing today – because even in those moments, I had so much privilege that kept me safe.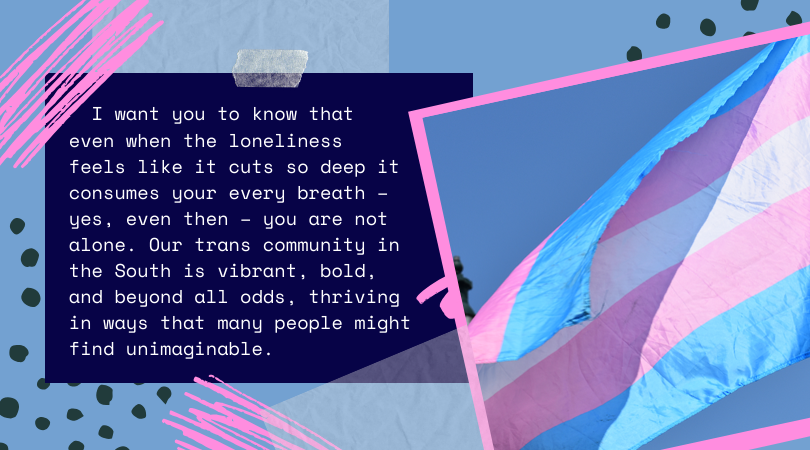 I want you to know that even when the loneliness feels like it cuts so deep it consumes your every breath – yes, even then – you are not alone. These realities we face every day create a strength in each of us – and it's something that feels unique to this region of the country. Our trans community in the South is vibrant, bold, and beyond all odds, thriving in ways that many people might find unimaginable.

Our people are creating some of the dopest art in the country. We're building community-based interventions that are not only creative – but also transformative solutions to our problems. We are fighting back against the systems that were designed to oppress us, and we're building new systems. From mobile community centers to resource guides to trans summer camps, we are the solution we need – and YOU are the future of that.

Every day, you exhibit courage in the face of potential struggle: When you walk out the door and dare to rock your facial hair and eyeliner. When you turn heads with your shaved head and six-inch heels. When you suit up in the armor of your favorite hoodie that makes you feel safe. Your mere existence is a radical act of resistance in the South, where the tea is often sweeter than the people and oppression hangs in the air thicker than the humidity on a summer day in Charleston.
I want you to know how much you inspire me. I learn so much from you! When you call me to grow with love, I am driven to learn more, work harder, heal deeper, and share all that I have learned from the many times I've fallen.
You will fall, too. You will make mistakes. You will feel confused as you grow into the person you were born to be. The important part isn't how hard you fall, or how bad you mess up – it's that you get up again at all. Even in those moments, you are equally as valuable as you are in the moments when you feel the most seen. I know that can be so hard when you feel so alone. But you're not alone, love. You have have a vibrant family from all walks of life all across the South just wanting to welcome you in with the loving arms you always deserved to be held by.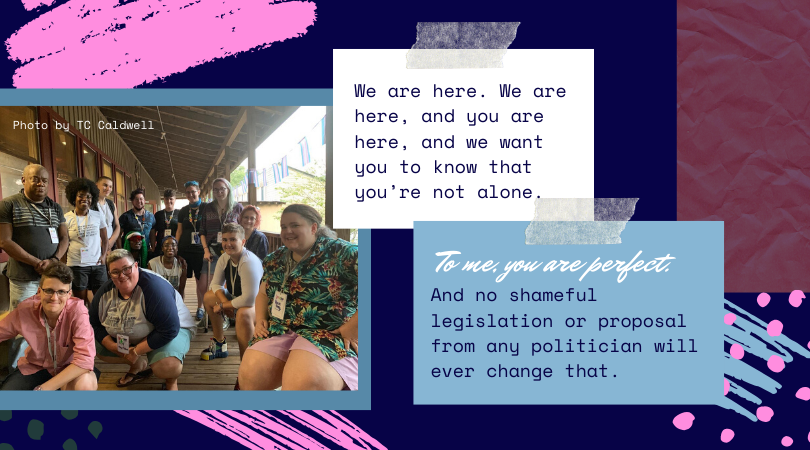 I guess that this is all to say that there is HOPE. There is so much hope. Trans people like us don't often get the support we deserve from places that give support to other people without batting an eye: Family, friends, school, sports teams, church, scouting, and the list goes on and on.
Well, love, you may not find your people in the same places that other people find theirs. And that's OK – because we're out here. You just have to look a little harder. You'll find us at pot lucks, at pride festivals, at community organizations, at support groups, and at the bars and coffee shops that have become trans and queer havens. 
We are here. We are here, and you are here, and we want you to know that you're not alone. The next time you start to feel like you're not enough, I hope you remember just a few of these words. 
To me – you are perfect. And no shameful legislation or proposal from any politician will ever change that. 
In solidarity,
Ivy

P.S. You legit own a really special place in my heart even though we may not have met. I love you, fam. 
Ivy Hill is a co-founder and the Executive Director of Gender Benders in Upstate, SC and the Community Health Program Director for the Campaign for Southern Equality. They live in Piedmont, SC and work with binary and nonbinary trans people from across the South.
Live in South Carolina?
Get involved directly in efforts to protect trans youth from discrimination in South Carolina.
Are You a Trans-Affirming Medical Provider in the South?
Join our sign-on letter of doctors, nurses, physician assistants, and psychiatrists and speak out against anti-transgender legislation like the bills filed in South Carolina, Florida, and more states.
Want to Help?
Transgender youth in Southern states – and across the country – are under attack in state legislatures in 2020. Take a minute below to send a message of love and support to trans youth in Southern states, and we'll publish your responses in the weeks to come on social media.