This week, as South Carolina legislators return to Columbia for the start of the 2020 legislative session, advocates for transgender and queer South Carolinians came together to announce a new coalition to advocate for laws that promote LGBTQ equality and to oppose bills that target our community. This coalition includes a historic level of leadership from organizations led by and serving transgender South Carolinians.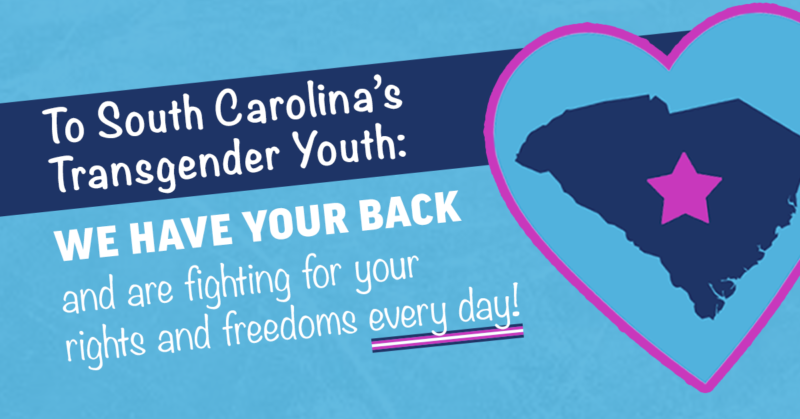 These organizations issued a joint statement today: 
"2020 is a critical time for our community politically, and we are mobilizing to ensure that the voices of LGBTQ South Carolinians are heard at the Statehouse. The truth is that a strong majority (58%) of people in South Carolina support protecting LGBTQ people from discrimination, mirroring the strong support shown across the nation.
We are working together to create a South Carolina where LGBTQ people are equal under the law and to forcefully reject the politics of fear and prejudice that have, for too long, made our community a legislative target. It's time for South Carolina to move beyond discrimination and injustice – elements at the very core of bills like this year's H4716, which would target doctors who provide life-saving care to transgender youth – and focus on a shared vision where all South Carolinians can thrive.
For our community, this organizing is fueled by knowing all that is at stake. This month, we lost another nonbinary youth to suicide. In the last year Dime Doe and Denali Stuckey were among the multiple trans women of color lost to transphobic violence in our state. We believe it is more important now than ever to send a unified message to binary and nonbinary transgender youth in our state: We have your back and are fighting for your rights every day, led by a network of trans organizations across the state.
From an upcoming Lobby Day to ongoing contact with our elected officials to being a public voice for equality in South Carolina, our new coalition centers trans leadership and engages people from the Low Country to the Upstate, from youth to elders, from LGBTQ people to allies."
The following organizations signed this statement:
ACLU of South Carolina
Alliance for Full Acceptance
Campaign for Southern Equality
Center for Social Equity
Charleston Area Transgender Support
GLAAD
Greenville Sisters
Harriet Hancock Center
Human Rights Campaign
More Light Presbyterians
Pride Link
PFLAG Greenville
PFLAG Spartanburg
PFLAG National
Rainbow Support Group SC
Transgender Awareness Alliance
Tri-County Gender Benders
Uplift Outreach Center
Upstate Gender Benders
Upstate Pride SC
We Are Family
Women's Rights & Empowerment Network