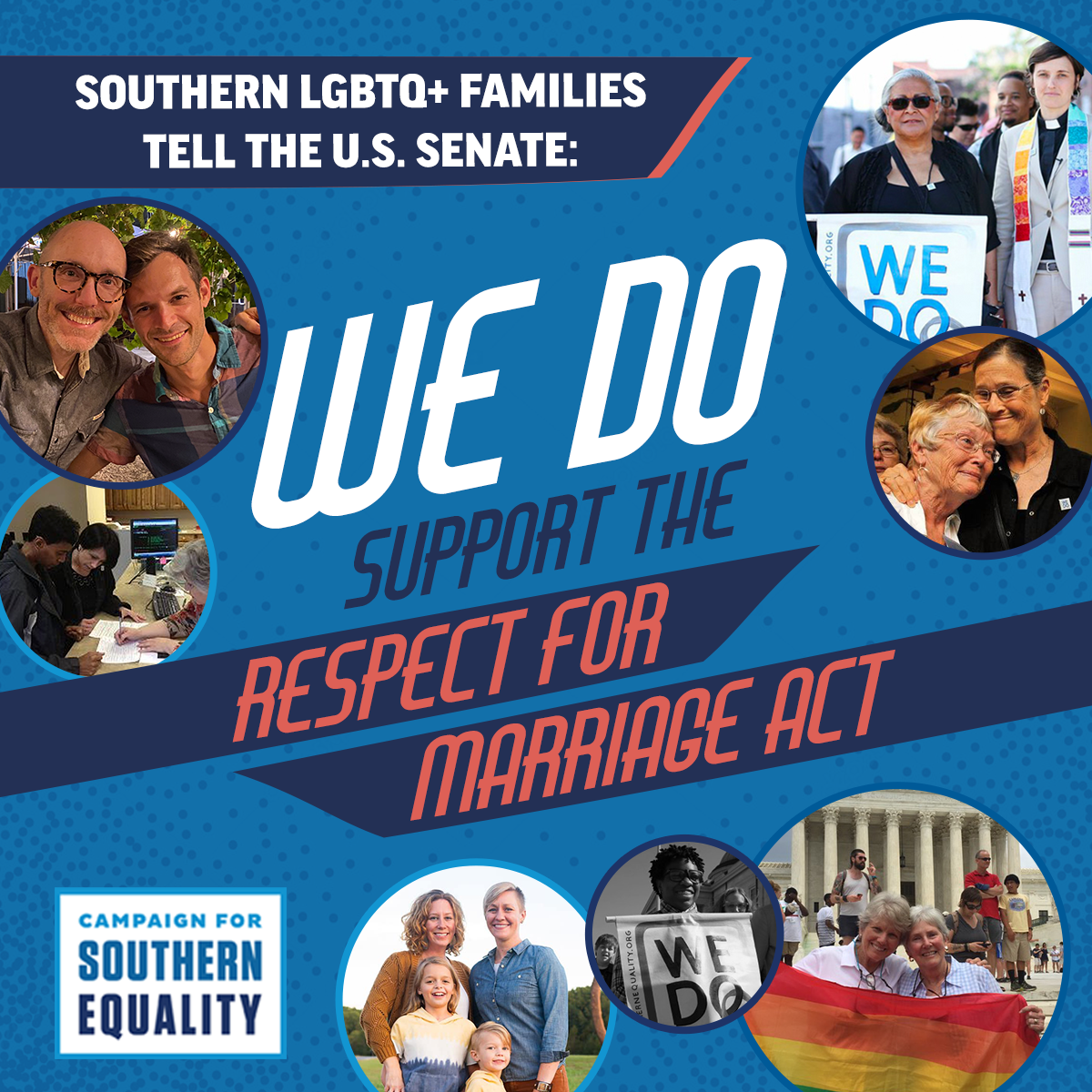 Today the Campaign for Southern Equality (CSE) published an open letter calling for passage of the Respect for Marriage Act, signed by many of the LGBTQ people who helped lead a Southern campaign calling for the freedom to marry a decade ago. The couples participated in CSE's "We Do" campaign, in which couples requested marriage licenses in Southern states, provoking denials and shining a light on the urgent need for federal action on the freedom to marry. The effort, from 2011-2015, was the largest sustained campaign around marriage equality in the South, taking place at a time when many predicted it would be decades before the freedom to marry would be achieved in the region.
The open letter will be submitted to U.S. Senators, who in the coming days will consider the Respect for Marriage Act, federal legislation that will protect the freedom to marry for same-sex couples and interracial couples. 
The letter (full text of which is available here) reads, in part:
"So much in our communities has changed since we approached the counter at our county clerk's office – including the public support that we have felt for our families. Every year, public support for the freedom to marry has increased, and right now a supermajority of Americans, including a majority in every Southern state, support marriage for same-sex couples. They understand that no one is harmed by our love and commitment, and that our families are strengthened by the freedom to marry."
"Same-sex couples in the South cannot afford to return to the legal limbo that we grappled with for far too long. The Respect for Marriage Act would provide critical safeguards for all LGBTQ people and ensure that our zip codes do not determine whether we can marry the person we love. LGBTQ Southerners require federal action from the United States Congress when it comes to the freedom to marry. We require passage of the Respect for Marriage Act, and we urge you to vote yes." 
Barbara Goldstein, who participated in the We Do campaign with her wife Ann in Durham, NC in 2014, is one of the letter's signers. Barb and Ann have been together for 40 years. She said today:
"The Respect for Marriage Act would offer extensive protections to LGBTQ people and thwart continued future attempts at discrimination. Ten years ago my wife Ann and I approached our local Register of Deeds in an attempt to acquire a marriage license which would enable us to validate our then-30 years of commitment to one another. Our request was denied – and to have decades of love and loyalty to one another diminished and disrespected was devastating. The ongoing acknowledgment and respect for our relationship was very significant to us. It took a long struggle, but we were finally granted that dignity."
"The South has been our home for over 30 years. We are both retired now and have enjoyed ongoing support from our 5 grown children. We are concerned about continued assaults on LBGTQ rights and want our 13 grandchildren and 5 great-grandchildren to enjoy the protections that would be enshrined in the Respect for Marriage Act. They should never have to struggle in a world where any of them or their families are not recognized as being free to love the person to whom they are committed."
Rev. Jasmine Beach-Ferrara, the Executive Director of the Campaign for Southern Equality and one of the architects of the We Do campaign, said:
"It's powerful to see LGBTQ couples who were at the forefront of the marriage movement in the South a decade ago teaming up again to call for equality. In the years since the We Do campaign, couples have raised children, built homes together, and moved to other states; some participants have divorced, and others have passed away. But whatever their life circumstances, all of these people were guaranteed the protections and responsibilities of marriage, which help navigate so many life paths. Now, with the freedom to marry newly under threat by a Supreme Court Justice and far-right extremist conservative forces, our nation's lawmakers need to ensure that LGBTQ people retain the freedom to marry the person they love. The Senate must pass the Respect for Marriage Act."
One-third of LGBTQ Americans live in the South. Public support for the freedom to marry is at an all-time high, with support from 71% of all Americans and a majority of people in every state, including Southern states. The Respect for Marriage Act passed the House of Representatives with broad bipartisan support, including from 47 Republicans and every Democrat, and 40% of Congressmembers from Southern states.