Today we mark the start of Pride Month, which is more important than ever this year as attacks on the LGBTQ community escalate all around the country.
We're honored by the ways that many business partners that call the South home are stepping up to support the Campaign for Southern Equality this Pride Month. We wanted to be sure you had a preview of partnerships that will launch in the coming weeks, including some special events in Asheville and beyond. Thank you to these businesses for doing their part to support dignity and equality for all LGBTQ Southerners.
Cover Club with Nugget
In June the Campaign for Southern Equality is grateful to partner with Nugget,the original play couch company that makes furniture for growing imaginations. The Nugget community is raising funds for us through its Cover Club, which supports non-profits like CSE. The fundraiser runs June 22nd-28th; tickets to enter are $10, all proceeds benefit CSE, and Nugget will match up to $25,000. Follow along at @nuggetcomfort for all the details. We'll keep you posted on social and via email, too, as June 22 gets closer.

Asheville City Soccer Club
We're proud to partner again this year with Asheville City Soccer Club for Pride Night on Saturday, June 11. We'll be at Green Man Brewery's Dirty Jack's location from 1pm-4pm, then we'll "Walk the Walk" with players and supporters over to Memorial Stadium, where we'll watch back-to-back games (women's game at 5pm, men's game at 7:30pm) and table to raise money for a coalition of local LGBTQ organizations, including CSE, Youth OUTright, PFLAG Asheville, and Blue Ridge Pride. Learn more here.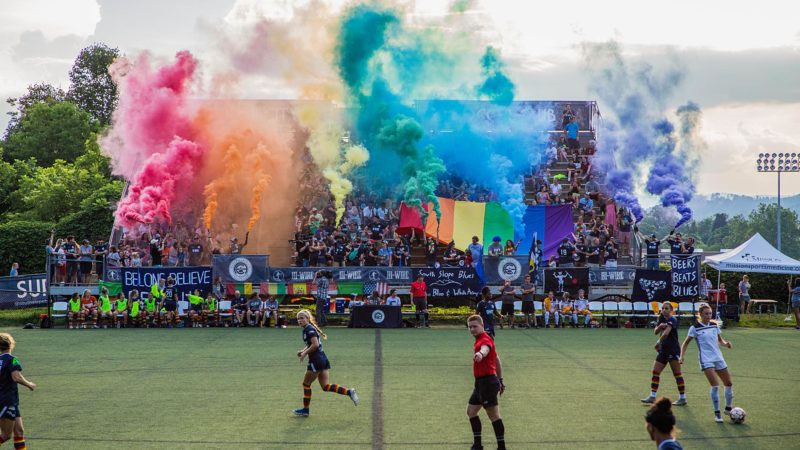 Strength Ratio's Strength Bonanza
On Saturday, June 11, Asheville-based Strength Ratio Gym at 829 Riverside Drive will host its Pride Month Celebration, raising money for CSE! Strength Bonanza is an inclusive, challenge-by-choice fitness celebration meant to uplift and support queer community members at Strength Ratio and across the South. It's not a competition, and there won't be any gender, age, or experience-level categories. Strength Bonanza is about people having fun, expressing their strength, and taking PRIDE in their accomplishments. Click here to learn more and get registered.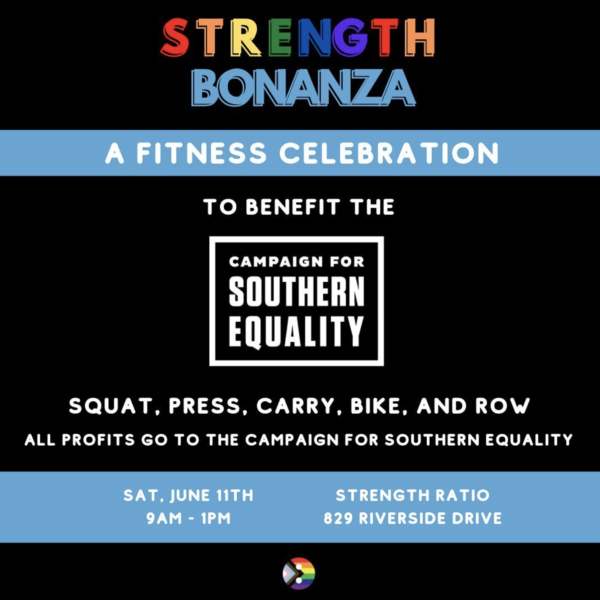 Poppy Handcrafted Popcorn
The team at Poppy Handcrafted Popcorn is teaming up with CSE again this year for its Poppy Pride Day on Tuesday, June 7. They'll be donating a portion of all website sales that day to our Southern Equality Studios program, which fosters innovation and creativity among queer artists across the South. Follow @PoppyHandcraftedPopcorn for more details.
A Huge Thank You to Our Friends Streaming on Twitch
We've also been astounded and heartened by a surge of support for the Campaign for Southern Equality and our work to support trans youth on Twitch in the past few months. Twitch streamers have independently launched fundraisers using a platform called Tiltify and have taken on fun, impressive challenges, like 24-hour charity streams, to support CSE. All in all, these streams have raised nearly $300,000 for our work supporting trans youth. A huge thanks to these Twitch streamers in particular for their leadership: