At a time when it matters more than ever, the Campaign for Southern Equality is showing up all across the South for LGBTQ equality in every part of life. We're working to care for LGBTQ Southerners as full people – that's why our theme for Pride 2022 is "Mind. Body. Spirit."
To mark the start of Pride Month, can you celebrate with us by making a donation? A generous donor has already pledged to match up to $10,000 during Pride  – and your support of $50, $20, or whatever you're able helps us reach that goal. Join us by making a donation here.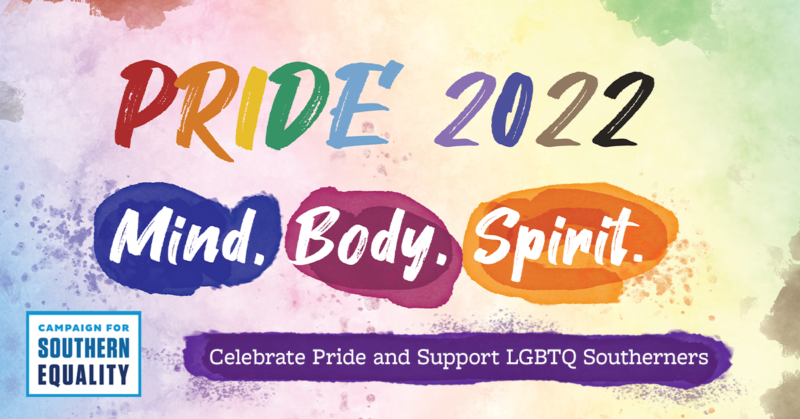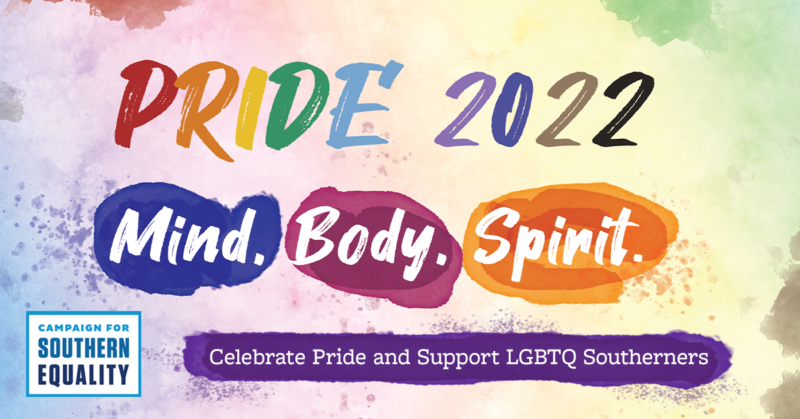 This month, we'll be sharing stories from the frontlines of our work, whether we're pushing forward or holding the line. That can mean devising legislative strategy in states like South Carolina, training healthcare providers to provide affirming care to trans folks, or fueling the spirits of people facing oppressive policies through emergency grantmaking.
It's been a hard year for the LGBTQ community, especially here in the South, where more than a dozen discriminatory bills have become law. Even today, in North Carolina, the Senate is considering an extreme anti-LGBTQ bill forcing school staffers to "out" LGBTQ students. Organizing for LGBTQ equality in the South has always required us to work on many different fronts – and throughout it all, to center hope, community, and the joy of living openly and authentically as LGBTQ people.
We can rise above the attacks we are facing in 2022 – and you can help. Make a donation today to kick off Pride Month and help the Campaign for Southern Equality meet our $10,000 matching gift challenge from a generous donor.