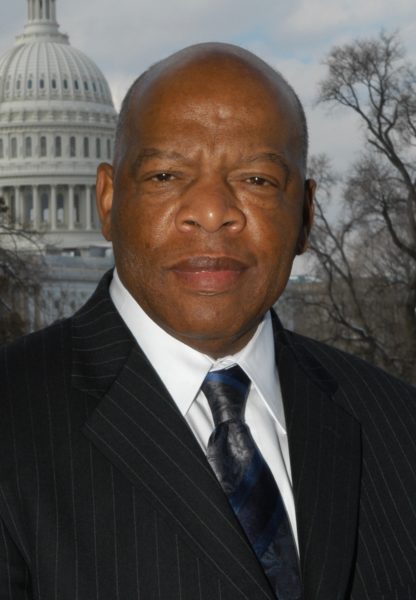 More than five decades after being brutally beaten by white state troopers while leading a march on behalf of Rev. Martin Luther King, Jr. across the Edmund Pettus Bridge in Selma, Alabama, the late Rep. John Lewis made one last trek on Sunday, July 26. After announcing he had been diagnosed with advanced pancreatic cancer in late December, Lewis passed away in mid-July after dedicating his life's work to fighting against inequality and injustice.
I'd be lying if I said the passing of Rep. Lewis was not a devastating blow to all who stand for democracy and work to challenge a system that perpetuates false ideals of equality. But as a young Black man, the death of Rep. Lewis is something that I cannot shake. With his death coming at the height of a global pandemic and racial unrest across the country, his passing serves as a somber reminder for how much loss we have endured in just this year alone.
When thinking of Rep. John Lewis, it's hard not to commemorate a man who dedicated his life to championing the rights of others. It's hard not to imagine the stories that this man carried as he navigated this physical realm for 67 years. From having lived during a time when incivility and hate ran rampant, to speaking at the historic March on Washington with over 250,000 attendees, to surviving what has become known as "Bloody Sunday" on the Edmund Pettus Bridge, to serving as one of the prolific Freedom Riders that worked to challenge racial laws in the South,  Rep. Lewis clearly lived a remarkable life.
And while he no longer is here, the legacy of Rep. Lewis lives on as we continue to see sparks of resilience and calls to action surfacing across the country. We see the country show up in ways that mirror Rep. Lewis' example by the way protestors line the streets calling for local and state accountability when it comes to transgressions regarding law enforcement. We see it again when activists and organizers call for the end of violence against the transgender community, as yet another Black trans woman is killed, bringing the total of known deaths of transgender people (most transgender women of color) to 25 this year alone.
But in our fight for social change and the dismantling of systemic barriers to lived equality, we must remember to honor Rep. Lewis' life by never ceasing to do good. In the fight for equality, justice is not always swift, and assurance is often met with adversity. Though we may grow weary, that is not the way that we will honor his legacy. We honor his legacy by advocating, voting and fighting for policy change that positively impacts communities that are disproportionately affected.
Though Lewis is most prominently known for speaking out against racial inequality, he was also a strong proponent and champion for LGBTQ individuals and people living with HIV. During his time as a member of the U.S. House of Representatives from Georgia's 5th Congressional District, he worked to advocate on behalf of his constituents that were disproportionately affected by HIV, whether it was through policy implementation and/or spreading awareness. Furthermore, dating as far back to the early 2000s, Lewis had been a strong supporter of the freedom to marry for same-sex couples. Even before many of his Democratic colleagues, Lewis was supportive of the efforts towards allowing same-sex couples to marry, almost a decade before the U.S. Supreme Court ruling establishing the freedom nationwide.
"I have fought too hard and too long against discrimination based on race and color not to stand up against discrimination based on sexual orientation," he said.
Over the course of his six decades of service and a multitude of achievements, Lewis is most remembered for his commitment to inspiring younger generations to advocate against injustice and speaking out against hate and intolerance. His call to action for young leaders and activists is a salient reminder for us all that we can never stop doing what is right and never let up in the fight for justice.
While he may not physically be with us anymore, the best way we can honor his life and pay homage to his efforts is by getting out and voting in not just this upcoming election, but all elections. Just as Congressman Lewis believed that national politics play a vital role in the way we see systemic change, we need to devote similar energy to local elections and working alongside leaders within our own communities. By getting out and voting and standing up against injustice wherever we see it, we can ensure that future generations are brought up in a country that exhibits all of the truths behind liberty and justice for all. The mistakes that we have made today do not have to be the same mistakes future generations will have to deal with tomorrow. So in the words of the late Rep. John Lewis, "Never, ever be afraid to make some noise and get in good trouble, necessary trouble."