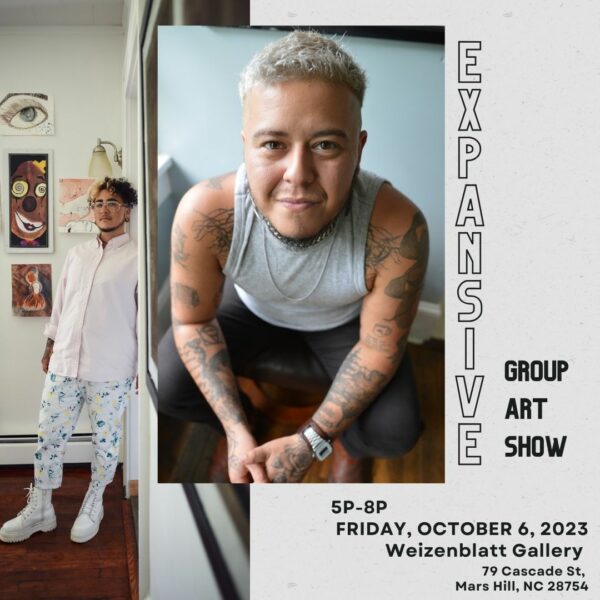 This fall Southern Equality Studios is proud to present "Expansive," a group art exhibit that captures the rich tapestry of trans and nonbinary lives in the South. Guided by the vision to spotlight the diverse experiences and artistic expressions of gender nonconforming individuals, "Expansive" invites the public to engage with the compelling stories and artworks of some of Appalachia's visionary artists. 
The exhibition, curated by Brennan Page Henshaw, Artist-in-Residence of Southern Equality Studios (SES), showcases the works of eight trans and gender nonconforming artists across various mediums. These artists delve into themes of community, resilience, identity, and empowerment, inviting viewers to explore the multifaceted aspects of the trans and nonbinary experience in the South. SES, the art program of Campaign for Southern Equality, is dedicated to advancing LGBTQ+ art, culture, and advocacy in the Southern United States. Through various creative initiatives, the organization fosters inclusion, celebrates diversity, and supports LGBTQ+ artists in the region as a means of being a catalyst for change.
Artists include: kass patterson, SamLevi Middleton-Sizemore, xocean alexandre dumas, Phoebe Yoder, Juliana Maurer, Holland Ninh, Vinny Verburg – as well as Brennan Page Henshaw, Artist-in-Residence at Southern Equality Studios (SES), and Liz Williams, Creative Director of Southern Equality Studios.
The public, including members of the media, are invited to view the exhibit throughout October. A special opening reception will be held on October 6 at 5:00pm. Media should RSVP to adam@southernequality.org
Details:
Exhibition Dates: October 6th, 2023, to October 28th, 2023
Opening Reception: Friday, October 6th, 2023 • 5:00-8:00pm
Location: Weizenblatt Gallery, 79 Cascade St, Mars Hill, NC 28754
*Note to Editors: High-resolution images and additional press materials are available upon request.*
Brennan Page Henshaw, Artist-in-Residence at Southern Equality Studios and curator of the show, said today: 
"We are excited to unveil 'Expansive,' a testament to the power of art in reflecting and celebrating the stories of our trans and nonbinary community. This exhibit serves as a window into the vibrant lives and creative expressions of gender nonconforming individuals who call Appalachia home. We extend a warm invitation to all members of the community to join us in celebrating the narratives and artistic talents of our trans and nonbinary family and neighbors. Your presence at 'Expansive' would be a great honor."
To fully immerse yourself in this remarkable experience, attendees are encouraged to bring their headphones for an enhanced audio-visual journey. And join the conversation with our official event hashtags: #TransAndNonbinaryArt #SouthernEqualityStudios #LGBTQArtist #MarsHillUniversity
For their portrait series, Brennan interviewed various trans and gender expansive members of the community about their reflections on identity, resiliency, community and the state of being during this time.
 Check out the audio interviews of here. 
The project is made possible through the generous support of the North Carolina Arts Council, a division of the Department of Natural and Cultural Resources, with funding from the National Endowment for the Arts.