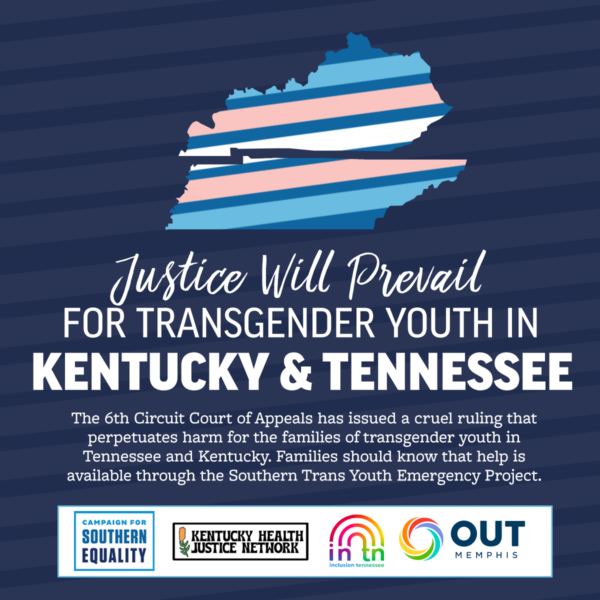 Families of transgender youth in Tennessee and Kentucky should contact the Southern Trans Youth Emergency Project for support in navigating this period of legal turmoil.
On September 28 the U.S. Court of Appeals for the Sixth Circuit issued a ruling upholding laws in Tennessee and Kentucky that prohibit healthcare professionals from providing medically necessary healthcare for trans adolescents for the treatment of gender dysphoria. This makes care such as gender-affirming hormone therapy and puberty blockers inaccessible in Tennessee and Kentucky for any trans person until they turn 18, while the same treatments may be provided to any other young person for any other reason. The ruling refused to place an injunction on the laws – SB1 in Tennessee and SB150 in Kentucky.
The decision is a departure from the overwhelming legal consensus nationwide; Seven district court judges have found that these bans on gender-affirming care are likely unconstitutional (in Alabama, Arkansas, Florida, Georgia, Indiana, Kentucky, Tennessee), and state judges in Texas and Montana have ruled against the bans, too. A June ruling from Arkansas that followed a full trial found definitively that a similar ban is unconstitutional.
We are grateful for the leadership in these cases: L.W. et al v. Skrmetti et al, which was filed by the ACLU of Tennessee, the American Civil Liberties Union, Lambda Legal, and Akin Gump Strauss Hauer & Feld LLP, and Doe v. Thornbury, filed by the ACLU of Kentucky, the National Center for Lesbian Rights (NCLR), and law firm Morgan, Lewis & Bockius, LLP. The Campaign for Southern Equality was honored to sign an amicus brief led by GLBTQ Advocates & Defenders and National Women's Law Center in these cases urging the 6th Circuit to reinstate the block on the bans from taking effect.
The Southern Trans Youth Emergency Project – led by the Campaign for Southern Equality in partnership with inclusion tennessee and OUTMemphis in Tennessee and the Kentucky Health Justice Network in Kentucky – provides rapid response support to Southern families grappling with gender-affirming care bans. The project provides families in Tennessee, Kentucky (and 10 other Southern states) with patient navigation services to access out-of-state providers and emergency grants of $500. Tennessee families can access support at www.southernequality.org/TNResources and Kentucky families can access support at www.southernequality.org/KYResources.
Rev. Jasmine Beach-Ferrara (she/her pronouns), Executive Director of the Campaign for Southern Equality, said today:
"Families in Tennessee and Kentucky deserve better than the chaos they have endured this year, a result of politicians recklessly inserting the government into private medical decisions that should be left to families and their medical providers. While this litigation continues to unfold, we want families to know that help is available: Please reach out, and we are honored to provide information, one-on-one navigation support to out-of-state health care options, and emergency funding to help your family through this crisis."
Oliver Hall (they/them pronouns), Trans Health Director at the Kentucky Health Justice Network, said:
"This ruling perpetuates the damage that Kentucky families of trans youth are already shouldering – but let me be clear: No law, and no court ruling, can stop transgender people from existing. Trans youth need to know that they are loved, supported, and affirmed, and that's what we remain committed to during this devastating period for the trans community in Kentucky."
Phil Cobucci (he/they pronouns), Founder of Inclusion Tennessee, said:
"All transgender people, no matter their age, should be able access the healthcare they deserve without leaving their home state – but in the face of this horrible ruling, we will help families do what's necessary to support their children. The truth is that this law is not stopping Tennessee families from caring for their children – instead, it is making that care painfully more expensive, time-consuming, and burdensome."
Molly Rose Quinn, (she/her pronouns), Executive Director of OUTMemphis, said today:
"Trans youth are facing a crisis right now in Tennessee and throughout the South, and our heart goes out to every family feeling the consequences of this state-sanctioned cruelty. To every trans young person and the people who love them, please know that we support you, we care about you, and we won't stop fighting alongside you to make Tennessee a safer, more affirming place to live."