During the first week of May, four members of the Campaign for Southern Equality Team hit the road. They traveled across the South to coordinate focus groups on transgender health as part of our Southern LGBTQ Health Initiative.
They each wrote about their experiences during  the trip.
By Ivy Gibson-Hill, LGBTQ Rights Toolkit Coordinator
Last week some of my favorite co-workers and I returned home from six days on the road. We were on a trip to run a series of focus groups centered around access to trans healthcare in the South, and to connect with Southern Equality Fund grantees.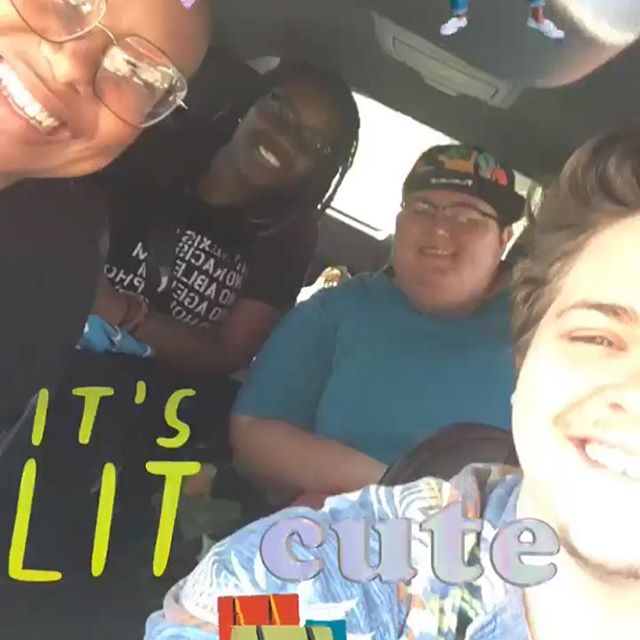 (Our team hits the road for a 6 day adventure through the South!)
We're traveling the South talking to trans folks about healthcare, because we know trans folks face grave disparities in nearly every sphere of life, but in healthcare especially. To read more background on the project, and hear my thoughts about why this project is so important check out this piece in Scalawag Magazine.
From Tuskegee to Selma to Memphis, there were so many amazing things we were able to witness, and such rich history to surround ourselves with – but what I found to be most powerful on the trip were the people we met along the way.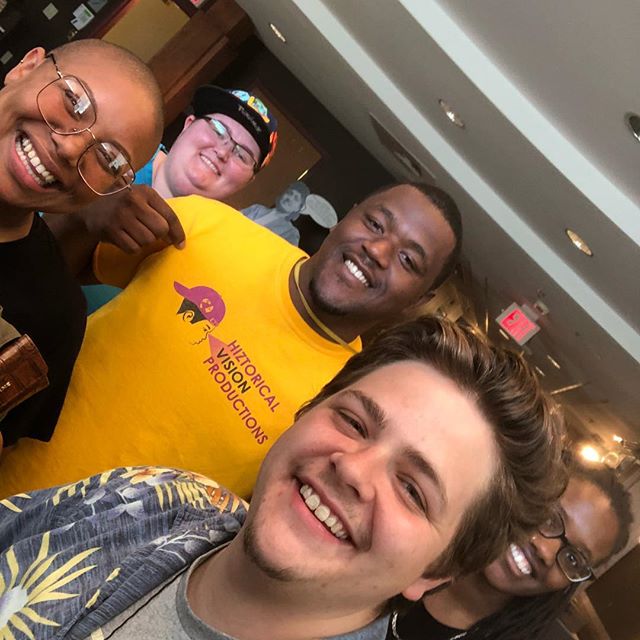 (Our road-trip team with Theo at the Tuskegee University Legacy Museum – look at those cute smiles!)
Our first stop was Tuskegee University, where we visited the Legacy Museum. We couldn't have asked for a better tour guide as Theo walked us through the tremendous impact that Tuskegee has had on modern science at the expense of poor black and brown people. He told us about the Tuskegee Syphilis Experiments, and how treatment for syphilis was withheld from these men. Their names were even put on a "do not treat" list and given to the hospitals in surrounding counties. We learned about Henrietta Lacks, whose cells were the source of the HeLa cell line, which is still one of the most important cell lines in medical research. But her cells were taken without her consent, and her family didn't even know about it until 1975 – nearly 25 years after her cells were taken.
As Theo told us the stories of these people who have had amazing impacts on our modern medical advancements, he also inspired dialog among our team about our bodies, and how they've been policed, disrespected, taken advantage of, and literally stolen for hundreds of years. As a group of black and trans folks these conversations moved beyond insightful – they were personal – as they are current issues folks in our communities are still dealing with every single day. These are conversations that will stick with me for a lifetime, and I'm not only grateful for Theo sharing his wisdom, but also my co-workers sharing their stories and holding space for me to share mine.
Theo, Britney, Maya, and Fletcher – I can't thank you all enough for all of the wisdom you have shared with me.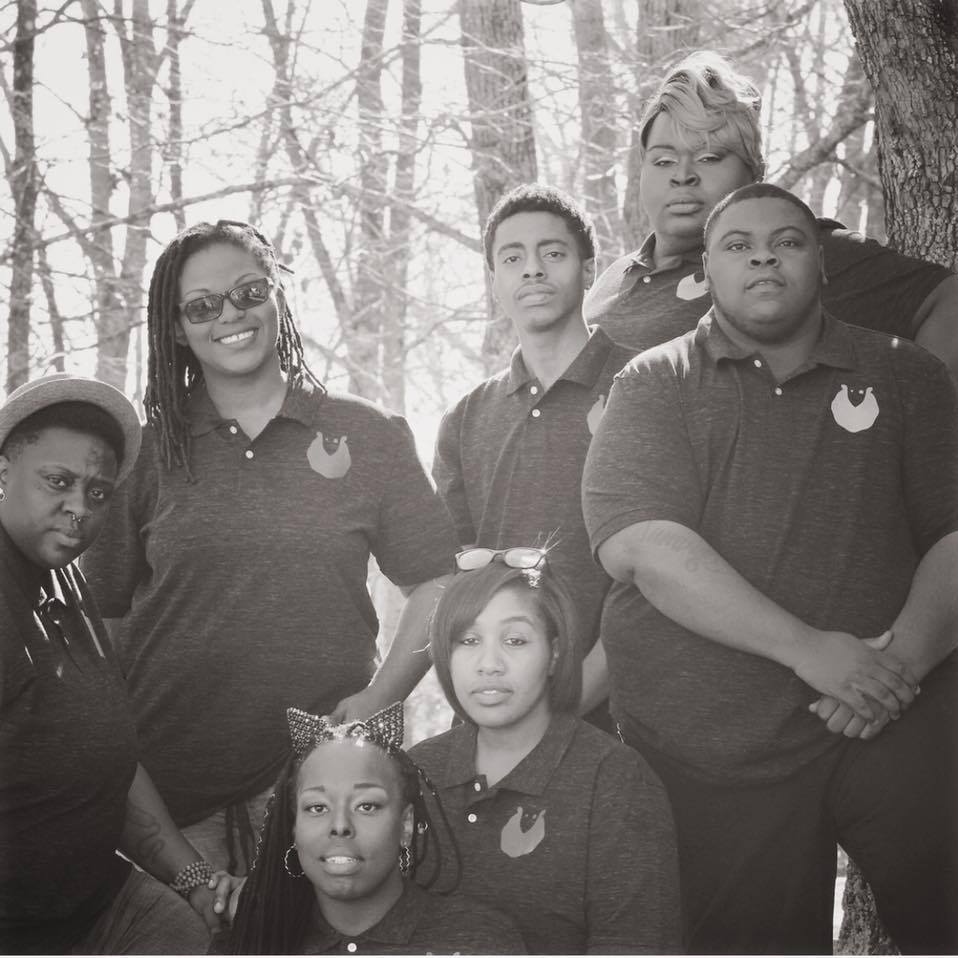 (The team behind the magic at The Knights and Orchids Society. Brilliant, bold, beautiful, powerful beyond measure.)
I was so excited to be in Selma for our next stop on the trip, because I consider our friends at The Knights and Orchids Society (TKO) to be more than friends – they are my family. We were able to be there to support their very first Black Sheep Pride, and truly be in service to the work. From hanging paper lanterns on the ceiling to moving heavy tables, to being present for long conversations late at night with the TKO team that strengthen my soul and put fuel in my tank to continue the work we do day after day.
The Black Sheep Relief Center is just about 200 feet from the Edmund Pettus Bridge. Every time I would step outside the center doors and look over my shoulder to the left the bridge was a staunch reminder of just how crucial the work of TKO is, and how beautifully strong and resilient our community is. If TKO can build trans queer magic 200 feet from the Edmund Pettus Bridge, and Gender Benders can build trans queer magic 5 minutes from Bob Jones University in Greenville, SC – we can truly build this community in every town across the South. Inspiring and transformational are not a strong enough words for how I feel about the TKO team.
Que, Jennine, TC, Maya, Mel, and the rest of the TKO team, thank you for everything you all do day in and day out to make this world we live in a better, safer place for our people. I am so grateful for our time shared together.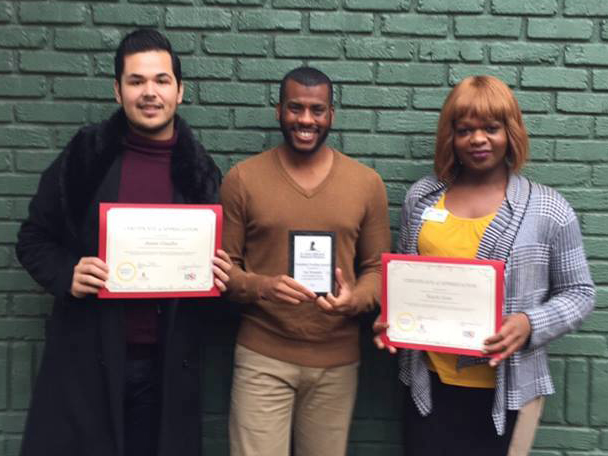 (Left to Right, Jessie, Martavious, and Kayla from the OUT Memphis team being recognized for their amazing work around HIV Prevention.)
The last stop on our trip was Memphis where we were lucky enough to get to work with our friends at OUT Memphis again. The only thing more welcoming than the outside of the OUT Memphis center is the amount of warmth you feel when you walk in the doors. Folks at the center work tirelessly to get support, and resources into the hands of the trans and LGBQ community in the tri-state area. In Memphis we were able to talk to 24 trans folks about their access to healthcare. The thing that continues to resonate with me from these brilliant folks is that our truly most valuable resource as a community is each other.
We can maintain the resource guides, and work tirelessly on expansion and updates. These things are important, but at the end of the day where folks are really going for the life-saving support they need is each other. OUT Memphis creates a container and gives space for these valuable connections to happen. Their staff works so hard, and the fruits of their labor are palpable when you get to spend even a few minutes with the vibrant community they have built.
Kayla, and the team and OUT Memphis you are truly rockstars in my book. I am so privileged to get to work with you, even in such a limited capacity. Thank you so much for all of your work for our people. Your impact on the community is clear to see from the moment I enter your space.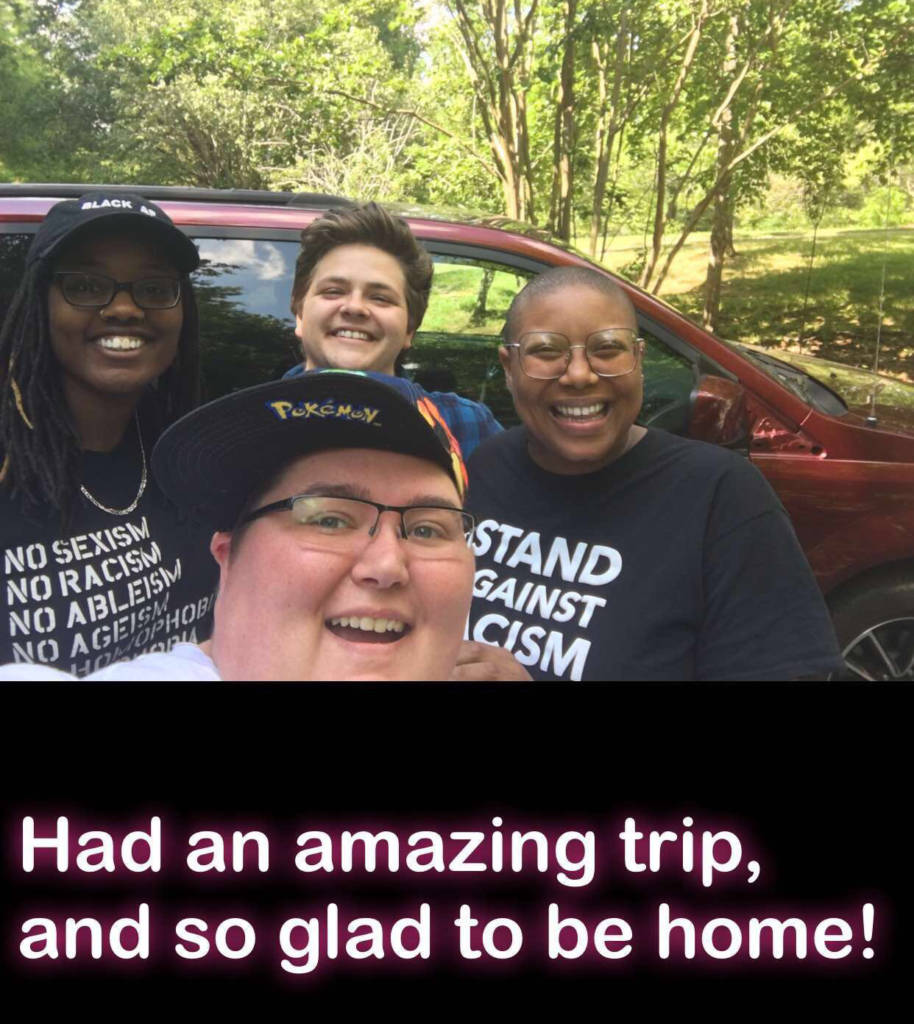 (Our cute but haggard team returns home from a long 6 days on the road.)
I'm taking so much away from this trip, but the thing that continues to resonate with me are just how powerful our black, brown, trans, and queer leaders are across the South. We have strength and resiliency beyond measure. We have not been given easy soil to till. But even in this rocky and seemingly barren political and cultural terrain, we are thriving.
By Maya Avery Washington, Tzedek Social Justice Fellow for Engagement and Operations
Spending time in Selma, AL with the TKO family had me thinking about the place where resistance lives. Here they were, existing just a short walk away from the Edmund Pettus Bridge where the March on Selma took place and now hosting Selma's first Pride. I wondered what it felt like to live near such a historical landmark doing historical work. That brought me to the idea that most of the places where black people live and worked are sites of resistance. These spaces where we create, built, thrive, work, cry and learn is where we are consistently reclaiming our space.
There is a memorial in a gorgeous park once you cross the Edmund Pettus Bridge.
I have an aversion to memorials for black leaders and people because they are never about being liberated from the chains of white supremacy. This memorial was no different. Even in death, black people are still talked about in conjunction with the suffering that comes with interpersonal and institutional white violence. There were literally chains coming out of the memorial grave. I want to see my people memorialized as the individuals that they were when they were in the safety of their own homes, one of the only places queer and trans black people can be without worrying about racism, transphobia and homophobia. There is always this pressure at sites of resistance for the black folks there to have to lean into activism and suffering of our people in order to do work that gets recognized. TKO chooses to do celebrate the lives of our people in a deeply historic site of resistance by celebrating the lives of the people before them with beautiful poetry, dancing, food and laughter. This is how we as black folks memorialize our people. This is how we support the work of our ancestors. Our lives are not about combating whiteness but rather living fully into ourselves, our culture and our truest identities. Queering blackness pushes this celebration to another level by having the audacity to radically live into the truth of the intersections that exist in our bodies.
This trip reminded me of how much the South truly holds who I am, not in the spaces that memorialize us but in those little buildings, homes and centers that we make for ourselves.
By Fletcher Page, LGBTQ Resources Navigator
Last week, our team drove nearly 1,000 miles across the South. From Asheville, NC, to Greenville, SC, to Atlanta, GA, to Tuskegee, Montgomery, and Selma, AL, to Memphis, TN, – we were burning up the road.
Hours in the car with folks really helps you get to know them. Our team spent a lot of our time in the car together listening to podcasts and music, but we had plenty of time for conversations too. I learned so much about my coworkers Maya, Britney, and Ivy – things I would've never learned otherwise. I learned that Maya loves true crime stories, Britney likes dried okra, and Ivy – well, to be fair, I've known Ivy for 20 years. I didn't learn much new about them on this trip, but I digress.

On Sunday of our trip, May 6, it was my two year anniversary on testosterone. My coworkers were sure to not let that go without some celebrating, even though we were spending that day traveling from Selma to Memphis. I picked us a place to go to lunch in Birmingham, and we talked about what my journey has been like thus far.

This was my favorite aspect of our trip through the Deep South. Yes, we connected with folks and built stronger relationships with our grassroots partners which is 100% invaluable in this work. But we built stronger relationships with each other, too. I have a deep sense of trust with these three individuals, and I'm pretty sure they would say the same for me.

People who do movement work, liberation work, work for social justice, whatever you want to call it – we so often forget to take care of ourselves. We often forget to invest in the people doing this work next to us. We forget to take care of each other. On this trip I was reminded to do that. To invest in the relationships with the people that I work with, and to invest in taking care of myself so that I can continue moving forward. It's easy to get bogged down and heavy with the weight of the work that we do, but it is essential to come up for fresh air and fresh perspectives.
By Britney Nesbitt, Southern Equality Fund Coordinator
Wow. Just wow. I knew that collecting information about best practices for trans and gender non-conforming (GNC) people from trans and GNC folks in the South was important. What I didn't know was that this project would leave me with such an overwhelming feeling of motivation and gratitude for my journey as a social justice leader and advocate.
Maya met us in Greenville, SC and from there we headed down to Tuskegee University with the goal of expanding our knowledge of the history of Black Americans and their relationships with healthcare providers. This was a priority for us since many of the participants in the focus groups we would be conducting would be people of color.
Since my early childhood days, growing up in Charleston, SC,  I have been taught to be wary of health care providers from family and close community members. Folks would say things like, "They [providers] just want to experiment on Black folks there [the local university hospital]" or  "Don't go to [that] hospital, they let Black folks die." Our tour of the Henrietta Lacks and Tuskegee Syphilis Study exhibits at the Tuskegee University's Legacy Museum provided supporting historical context for these very warnings I received as a child.
I was knowledgeable about the 40 year long Tuskegee Syphilis Study, where nearly 400 Black men with syphilis were denied treatment, so that researchers could study all three stages of the bacterial infection in the Negro male. However, I was not aware that many of these men didn't even know they had syphilis, a sexually transmitted infections. The CDC reports that participants were only told they were being treated for "bad blood." This led to the transmission of the bacterial infection to the wives and children of these men, many of whom were also denied treatment by hospitals participating in the study. The magnitude of the deceit involved in this experiment on Black people, by an institution founded on the commitment to "do no harm," is one of many historical examples of why the culture of mistrust of healthcare providers still exists today. Especially for Black queer and trans folks, who in addition to a traumatic racialized history with healthcare, also face discrimination due to their gender identity and/or their sexual orientation. Leading these predominantly Black queer and trans focus groups in Selma, AL and Memphis, TN is one way we can document these injustices and provide a vision for what quality, accessible and affirming care looks like for trans and queer individual.
While this qualitative data is important to promoting equity in health care, hosting a comfortable space where trans and queer folks feel comfortable exchanging information in safe and affirming places to receive adequate care in the Deep South was the most meaningful part of the whole experience for me. It reminded me that healing and support doesn't just happen in the doctor's office, that trusted, supportive community is also a resource for quality healthcare. This is why we must continue to fight not only for legal equality but for the lived equality for all people.