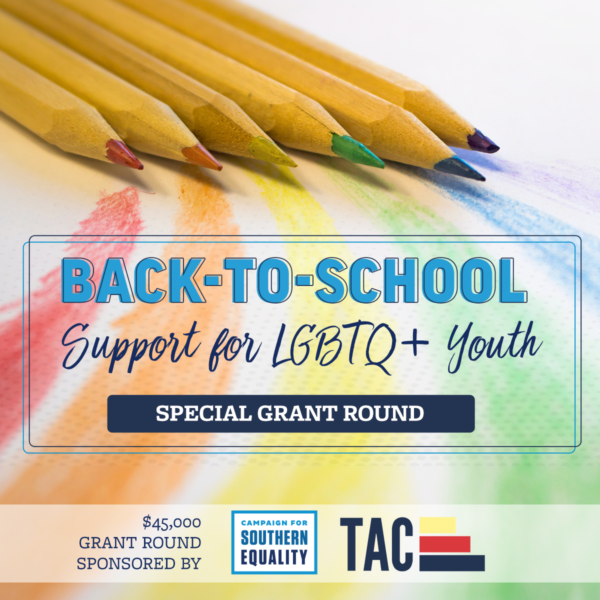 The Campaign for Southern Equality and The Ally Coalition (TAC) are working to support organizers and advocates caring for LGBTQ+ youth across the South with a special Back-to-School grant round. We are opening $45,000 in funding – through grants of up to $2,000 – to support organizations or projects in the South that support LGBTQ+ youth.
This special grant round is administered through the Southern Equality Fund, which has been making grassroots grants across the LGBTQ South since 2015. Since its inception, the Southern Equality Fund has prioritized supporting work led by BIPOC, transgender, and rural organizers.
Criteria for the Back-to-School Special Grant Round
We specifically seek applications for projects that are:
Focused on supporting LGBTQ+ youth in a Souther state (AL, AR, FL, GA, KY, LA, MS, NC, SC, TN, TX, VA, WV).
Groups are not required to be a 501(c)3 or have a fiscal sponsor in order to receive funding, but we do require that all grantees adhere to 501(c)(3) requirements for funded work.
Ready to Apply?
Thank you for your interest in the Back-to-School Grant Round, a special grant round of the Southern Equality Fund, supported by the Campaign for Southern Equality and TAC.
Click here to apply. Please keep in mind that you once you start your application, you are unable to save your progress. To make it easier to prepare your application ahead of time, please see the application questions below.
APPLICATION QUESTIONS (CLICK TO EXPAND)
Are You Representing An Organization Or An Individual?
Pronouns
Phone
Street Address*
City*
Zip Code*
Where Are You Based?
Your Role In Your Organization
If You Receive A Grant, How Should A Check Be Made Out (Name Of Group Or Individual) Or Would You Like To Receive The Funds With Paypal Or Venmo?
Tell Us About The Work/Project You Are Seeking Funding For
In 2-3 Sentences, Describe What You Will Do And How You Will Do It. (Ex: we will host three free virtual group therapy sessions for k-12 students in Birmingham, AL. We will fund the therapist and focus on creating this supportive space that specifically focuses on students. We will spread the word through social media and our group's members.)
In 2-3 Sentences, Tell Us Who Will Lead This Project And Who Will Be Served By This Project. If Available, Please Include Information, About The Age, Race, Gender, And Class Of Those Involved. (Ex: our group is led by black and brown LGBTQ people who live in the Birmingham, AL area. Our project focuses on serving LGBTQ youth in our community.)
When And Where Will This Project Happen? (Ex: This event will happen on Sep 1, 2022 in Hattiesburg, MS)
How Much Funding Are You Requesting, Up To $2,000?*
Tell Us How You Will Use This Funding, Listing Each Expense And The Estimated Amount It Will Cost.
Use This Space To Tell Us Anything Else You'd Like Us To Know About You, Your Group, The Needs And Dreams Of Your Community, Or The Work You Are Doing.
Submit an Application
Apply for a Southern Equality Fund grant as part of this special Back-to-School grant round. Fill out the short application by clicking here.
Apply for a Grant
Special Thanks to Grant Round Co-Sponsor TAC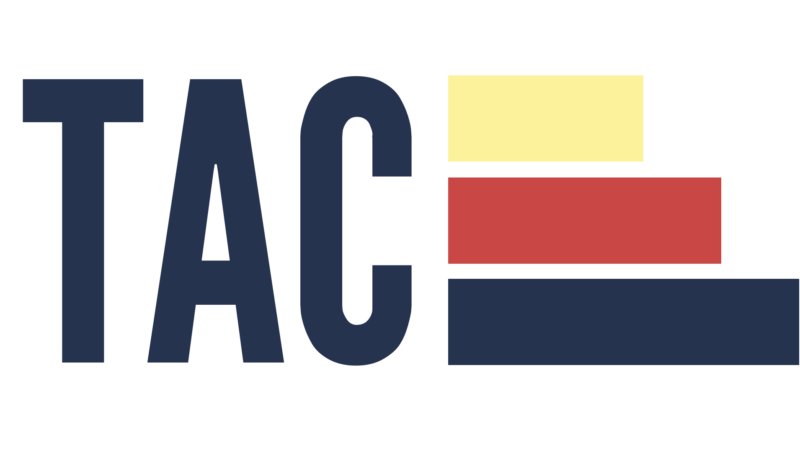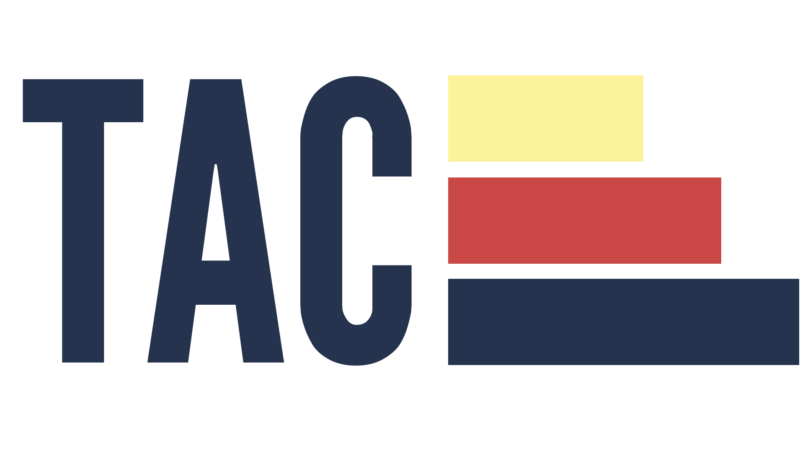 The Campaign for Southern Equality is proud to team up with The Ally Coalition (TAC) to support this special grant round.
"There is a robust and inspirational network of grassroots and direct service organizations in the South who show up every day to make the world brighter and better for LGBTQ+ young people," TAC Executive Director Jeb Gutelius said. "TAC and the Campaign for Southern Equality are proud to sustain the vital work of these organizations through this $45,000 Back-to-School grant round. We are eager to hear from advocates about how they're working alongside and on behalf of courageous LGBTQ+ youth, even in the face of tremendous state-sponsored hostility and discrimination."
Meeting the Moment
This special grant round is a part of the Campaign for Southern Equality's "Meeting the Moment in the LGBTQ South" campaign, announced in July in response to a brutal anti-LGBTQ legislative session and the U.S. Supreme Court's Dobbs ruling. Meeting the Moment is a new effort to respond to new attacks of LGBTQ rights, continue to advance LGBTQ rights, help people protect their rights and access care, and ensure that LGBTQ Southerners feel connected, loved, and supported. Learn more here.