Right now, we are seeing legislative attacks against LGBTQ youth – particularly trans youth – all across the South and the country. These are targeted assaults on every aspect of life, from health care access to taking part in youth sports.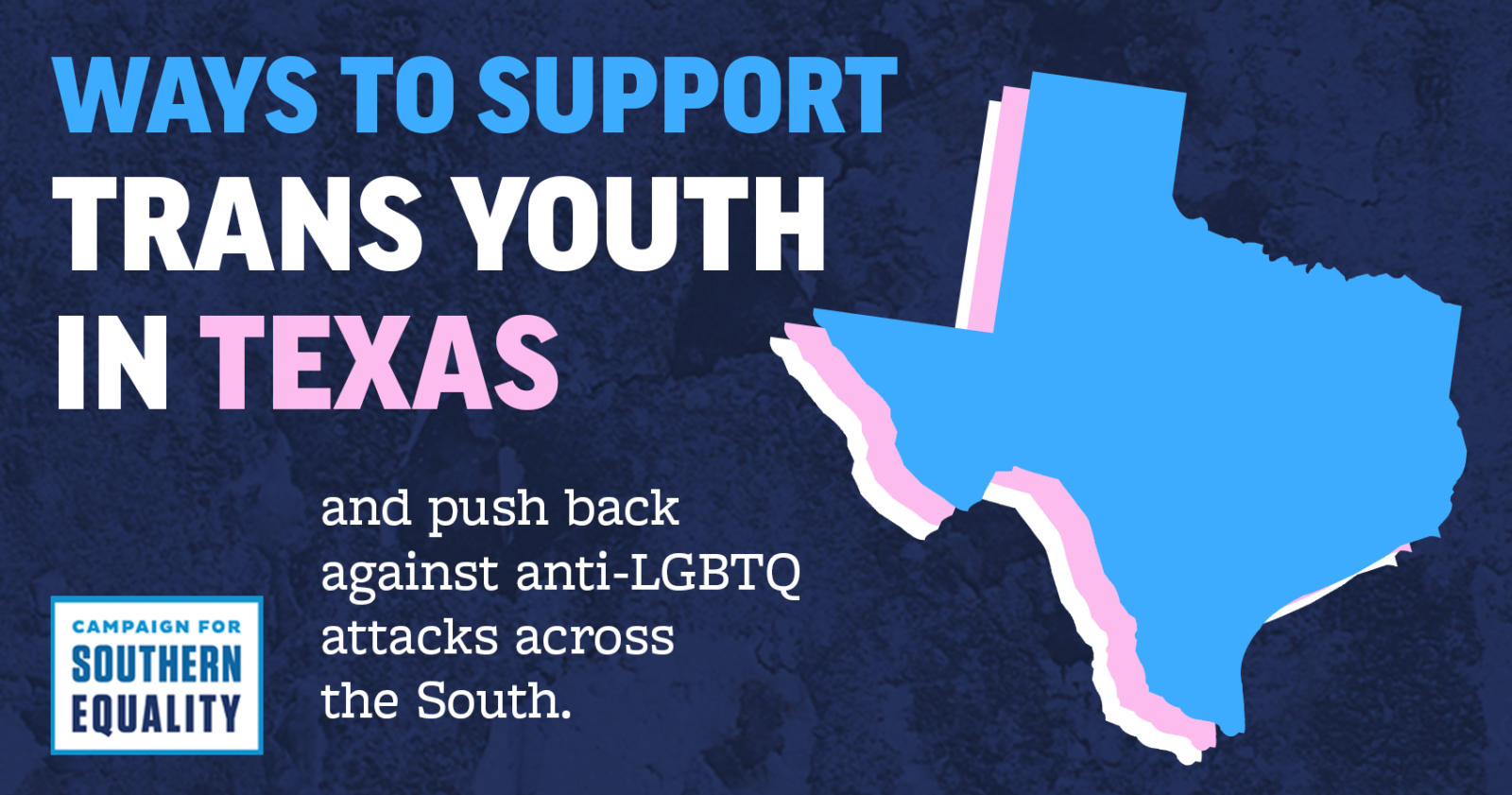 Mostly urgently today we are reaching out about Texas: This week, the Texas Attorney General issued a non-binding legal opinion saying that providing gender-affirming healthcare services to transgender youth is "child abuse" and directing the Department of Family and Protective Service to enforce the order. We join partners across the country in strongly condemning the opinion and directive, which is blatantly unconstitutional. 
This is a cruel attack on trans youth that is also meant to have a chilling effect on parents, health care providers, and others who support them.
And while the media have rightly suggested this is a calculated partisan and political stunt, the reality on the ground is that trans youth, their families, and allies are scared and hurting. We send our love and support to everyone impacted by this, especially trans and queer youth across Texas.
Texas organizations serving LGBTQ young people are being inundated this week with requests from families. To support them, the Campaign for Southern Equality is issuing three $500 emergency grants to Texas organizations that directly care for trans youth and their families, through our Southern Equality Fund: Transgender Education Network of Texas (TENT); TransAllies SA, a support resource in San Antonio hosted by Pride Center San Antonio; and Out Youth, which serves LGBTQIA+ youth in Central Texas. 
In moments like these, it is critical that we move support and resources to those on the frontlines of responding. Here are four ways you can take action right now, no matter where you live: 
We'll keep in touch with other ways to take action in the coming weeks, in Texas and across the South.
Thank you for your support, and for all that you're doing.
P.S. We know this is a difficult time for many people. If you are thinking about hurting yourself, call the National Suicide Prevention Lifeline at 1-800-273-TALK (8255). If you are a LGBTQ youth who is thinking about hurting yourself or is in crisis, call The Trevor Project's 24-Hour Suicide Prevention Hotline at 866-488-7386. And if you are a transgender person in crisis or needing support, please call Trans Lifeline at 877-565-8860.