For years now, the Campaign for Southern Equality has promoted the concept of "organizational tithing," giving out 10% of our budget to grassroots organizations serving LGBTQ Southerners, and directly to LGBTQ individuals in need.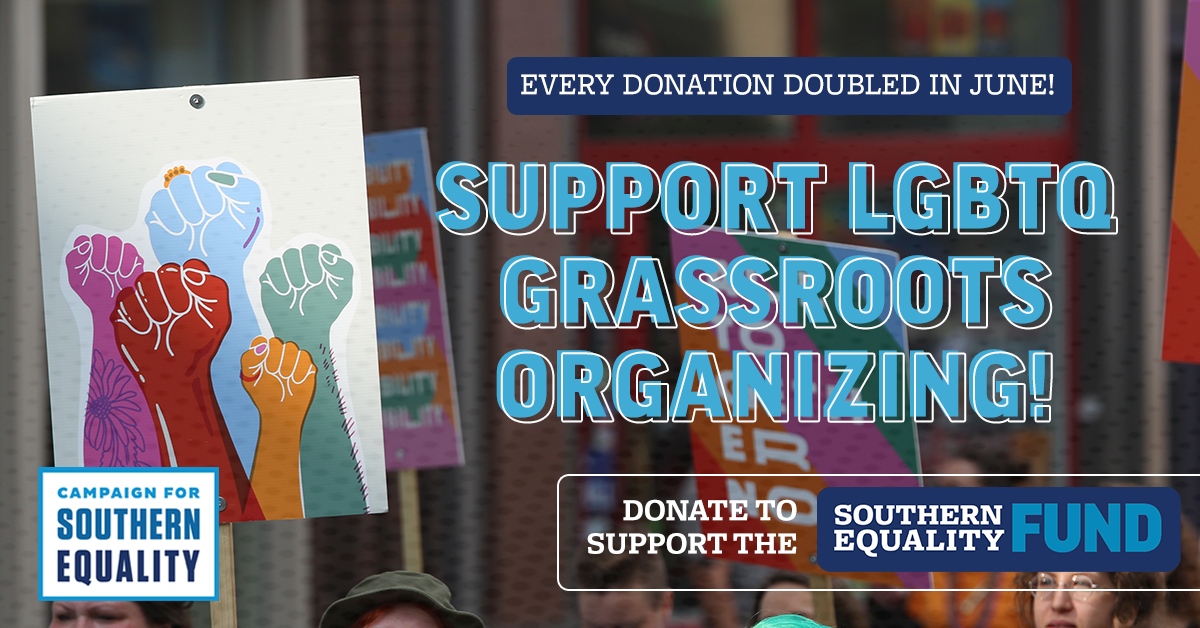 Donate to CSE
We do it through our Southern Equality Fund, and I want to take a minute here to explain the three main grant types we award. Throughout June, we're asking folks to donate to support these SEF efforts – in part to meet a $10,000 matching gift challenge from a generous donor to CSE. That means that your $100 gift becomes $200 – and your $50 gift becomes $100, just like that. If you're able to give, please make your donation here.
Here's what we mean when we talk about the Southern Equality Fund:
Grassroots Grantmaking: The centerpiece of SEF involves grants of $500, a simple application process, and a trust-based decision-making process aimed at supporting groups doing heroic on-the-ground organizing. These groups often cannot access support from other sources, so we focused on eliminating barriers to funding. Often, an SEF grant was the first-ever grant organizers applied for and received.
COVID-19 Rapid Response Grant Program: Last year we pivoted as quickly as we could in the face of the pandemic, awarding grants to frontline organizations providing direct relief services, boosting innovative community response projects and, most prominently, supporting LGBTQ individuals and families with direct emergency assistance grants.
Special Grant Rounds: SEF is intentionally nimble so we can respond to urgent needs and specifically fund emerging community needs. In 2020, for example, we hosted a special grant round to support Black LGBTQ organizers doing work around racial justice in the South. We've also hosted special rounds for queer fokls getting out the vote, and QTBIPOC artists.
In 2020 we quadrupled our goal, awarding $340,000 over the course of the year. Most of that went directly into the hands of LGBTQ Southerners, offering help with rent, groceries, and prescriptions.
Can you help us keep up this momentum and expand the impact of the Southern Equality Fund? Click here to make a donation and your gift will be immediately doubled.
Thank you,
Wynston Sanders
Southern Equality Fund Organizer