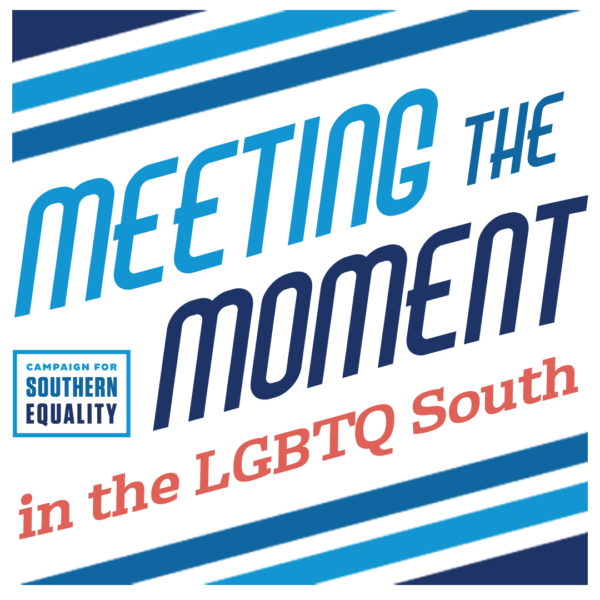 Today the Campaign for Southern Equality released a new three-pronged strategy for supporting LGBTQ Southerners in a post-Dobbs political and legal environment. The refreshed framework elevates a sobering paradox: That even as we see unprecedented levels of support for LGBTQ equality from individuals and institutions in the South, we are also bracing for the region to become an epicenter of attacks on LGBTQ rights at the legislative and administrative levels. 
The new strategy, Meeting the Moment in the LGBTQ South, will harness the Campaign for Southern Equality's resources and power – including staff, funding, infrastructure, supporters, and communications program – to respond to new attacks of LGBTQ rights, continue to advance LGBTQ rights, help people protect their rights and access care, and ensure that LGBTQ Southerners feel connected, loved, and supported. 
There are three prongs to Meeting the Moment in the LGBTQ South:
Take Action:

We'll mobilize supporters to take local, state, and federal actions through rapid response organizing, lobbying, public education, election engagement, and litigation to identify and defend attacks on rights and secure new protections. This includes our

Codify It, Congress

campaign (urging Congressmembers to pass federal legislation to codify Supreme Court precedents on the freedom to marry, the right to consensual same-sex relationships, federal nondiscrimination protections, abortion access, and contraception access),

Pride Vote '22

(registering new voters and ensure supporters are ready to vote in the 2022 midterm election), and a reinvigorated volunteer program. 
Take Care:

LGBTQ Southerners and allied communities are feeling the strain after so many attacks, underlining the need to care for and support each other. In the months ahead, CSE staff will host a series of Healing & Resilience virtual and in-person community workshops and launch a $30,000 Southern Equality Fund grant round supporting a frontline organization serving trans and queer youth in every Southern state. In August, we'll launch a Back-to-School campaign supporting LGBTQ youth with care packages, messages of love and solidarity, and a robust new "Know Your Rights" guide for LGBTQ students.

Take Steps to Prepare:

The Campaign for Southern Equality will also provide direct services, legal workshops, and digital resources to support LGBTQ Southerners in knowing their rights, protecting their rights, and accessing critical services. On Tuesday, July 26 we'll host our first

LGBTQ Family Law Workshop

in Asheville, NC, and in August we'll support a virtual

Trans Youth Law Workshop

as part of the SC United for Justice & Equality coalition. In September we'll host Pop-Up Health & Resilience Clinics at Sylva Pride and Blue Ridge Pride. And we're gearing up for an update of our

Trans in the South

guide

, a director of health and legal services for transgender people in the South.  
Rev. Jasmine Beach-Ferrara (she/her pronouns), Executive Director of the Campaign for Southern Equality, said today:
"In the first half of 2022, the Supreme Court overturned Roe v. Wade and all but invited challenges to LGBTQ rights, more than two dozen anti-LGBTQ bills became law, and the far right continued to weaponize faith to attack our community. There's no question that we are entering a new chapter in the movement for LGBTQ equality – one where the far-right political movement feels more emboldened than ever to roll back fundamental American rights and freedoms. All of this is happening despite growing public support for LGBTQ equality, especially here in the South, where communities continue to pass nondiscrimination ordinances and polls track higher and higher support. We must work harder than ever to mobilize these supporters to put pressure on their elected officials to stop attacking LGBTQ people and start building a country where everyone can thrive."
Stay updated about all of the Meeting the Moment programming at www.southernequality.org/meetingthemoment.