From May 27 through June 12, 2022, Southern Equality Studios (SES) and the Arts Council of Fayetteville | Cumberland County will present a new art exhibit, Vanguard Social: Visions of Southern Queer Resistance, featuring the work of 20 Southern QTBIPOC (Queer, Trans, Black, Indigenous People of Color) artists.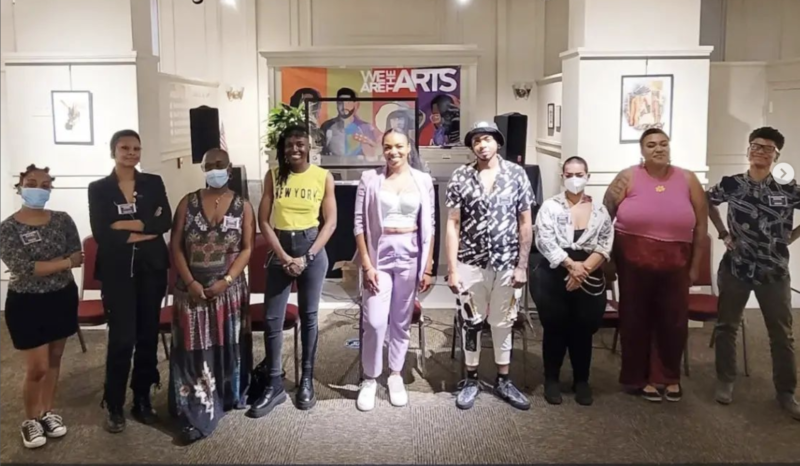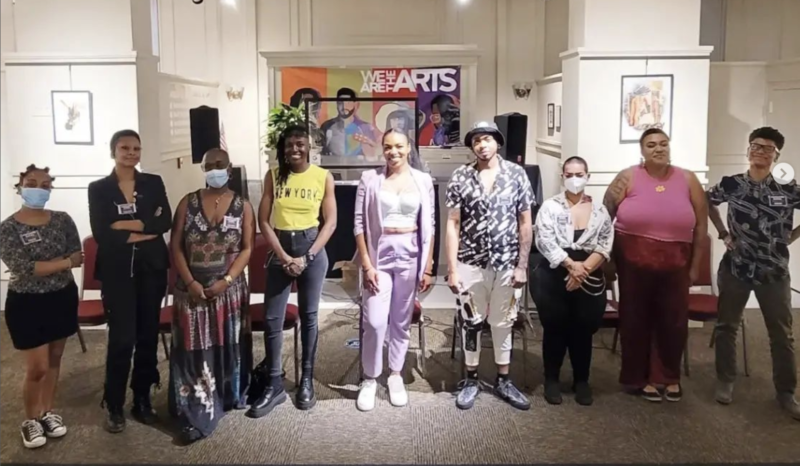 The exhibit, which is free and open to the public, opened over Memorial Day Weekend. From the Arts Council:
"The exhibition emphasizes the pivotal role of Black queer and trans creatives in the push for liberation. Their resistance underscores the need for solidarity throughout communities that are unequivocally marginalized by way of systemic oppression. Modeled in tandem with a multimedia arts-based initiative (of the same name), the Vanguard Social initiative equips QTBIPOC communities and their allies with the resources and tools needed to generate creative practices that are grounded in decolonized and queer-normative frameworks. The initiative delivers an intersectional and intergenerational approach to dismantling various forms of oppression that exist in society by employing transformative solutions that call for our collective liberation, all through creative means."
"Both as an exhibition and an initiative, Vanguard Social recognizes the increasing need to generate creative spaces for communities that have been historically marginalized and disempowered. The basic understanding that creativity can not only be used as a means of exploring the intersections of identity, but also as a catalyst to affect substantial change within society. Viewers of the exhibition are encouraged to thoroughly consider the role they personally assume in relation to movements that call for the decolonization of our social structures and the empowerment of underserved communities."
Carolyn Rose-Grayson, Curator and Resident Artist for Southern Equality Studios, said this week: "Vanguard Social is a call to action; a call to connect with people from all walks and intersections of life; a call to cultivate meaningful conversations centered around our collective liberation. It is an invitation to intentionally ground ourselves in the legacy of love and resistance, and an invocation of our community's transcendental offerings."
Liz Williams, Southern Equality Studios Director, is also a curator of the exhibit.
Southern Equality Studios is a core program of the Campaign for Southern Equality that explores how the
arts can be a catalyst and force in achieving lived and legal LGBTQ equality across the South. Since 2011, we've worked at the intersections of personal narrative and political organizing, working with LGBTQ people and families to share the stories of their lives, whether through the written word, film, or photography. We've seen the power that storytelling has had on changing hearts and minds here in the South and nationwide, and it's a vital tool as we continue our work to build a South where all are free and affirmed to live as their authentic selves. Art and storytelling have long played a powerful and central role in movements for social justice, and we're honored to be a part of that long legacy in our region.
"Vanguard Social: Visions of Southern Queer Resistance," is supported in partnership with the Arts Council of Fayetteville (@artscouncilfay ), the N.C. Arts Council ( @ncartscouncil ) , and Southern Fried Queer Pride ( @sfqp )