On Friday, May 29, the Campaign for Southern Equality is proud to host a special recurring webinar, "J. Chong Eats: A Cooking Show for These Times," the latest in our #LGBTQSouth virtual gathering series on The Front Porch.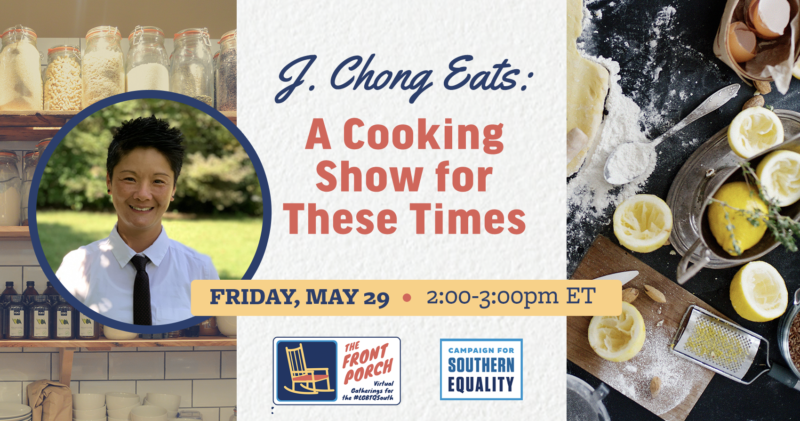 In this webinar, join professional chef J. Chong, a CSE board member, for an accessible and fun take on healthy eating and easy recipes you can make at home. J. prepares a meal in real time, answer your questions, and teach you strategies for staying fed and healthy in this era of social distancing.
RSVP for the Webinar:
Fill out this form to receive the dial-in information for the webinar! It will be held via Zoom on Friday, May 29 at 2:00pm ET.
Watch All of the J. Chong Eats Episodes!
Check out the full demo from J. Chong's May 8 webinar, where she makes chicken alfredo, with homemade alfredo sauce. And click here to see the full archive of episodes!
About The Front Porch
This event is part of "The Front Porch: Virtual Gatherings for the #LGBTQSouth," a new initiative from the Campaign for Southern Equality to support LGBTQ Southerners through the unique challenges of the COVID-19 pandemic. Virtual programming will include community support groups, skill-sharing and skill-building workshops, and presentations from practitioners in their fields. All members of the CSE community are invited to join. Information about each webinar from The Front Porch series – including dial-in information, is available at www.southernequality.org/frontporch.