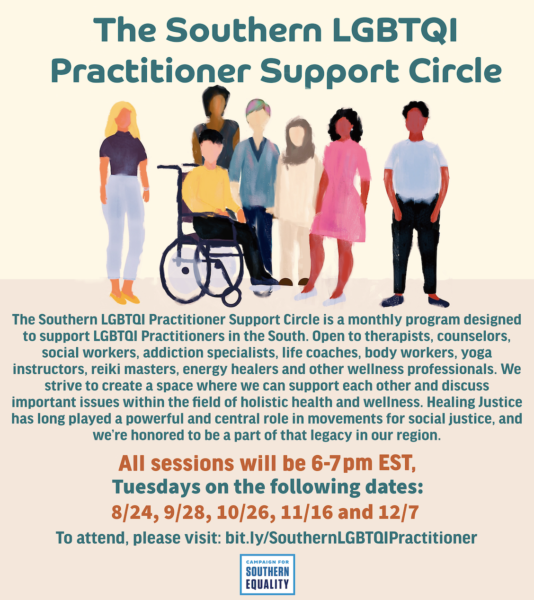 Practitioners dedicated to supporting the health, wellness, and healing of LGBTQ people across the South are vital components of an intricate ecosystem that helps provide LGBTQ Southerners the best opportunity to thrive. But these practitioners also need support themselves, and that's why the Campaign for Southern Equality is thrilled to announce the launch of the Southern LGBTQI Practitioner Support Circle.
The Southern LGBTQI Practitioner Support Circle is a monthly program designed to support LGBTQI Practitioners in the South, open to therapists, counselors, social workers, addiction specialists, life coaches, body workers, yoga instructors, reiki masters, energy healers and other wellness professionals.
Through the Southern LGBTQI Practitioner Support Circle, we strive to create a space where we can support each other and discuss important issues within the field of holistic health and wellness. Healing Justice has long played a powerful and central role in movements for social justice, and we're honored to be a part of that legacy in our region.
All sessions will be 6-7:00pm EST on August 24, September 28, October 26, November 16, and December 7.
Want to RSVP? Click here to register on Zoom, and you'll be notified about the meeting dates!